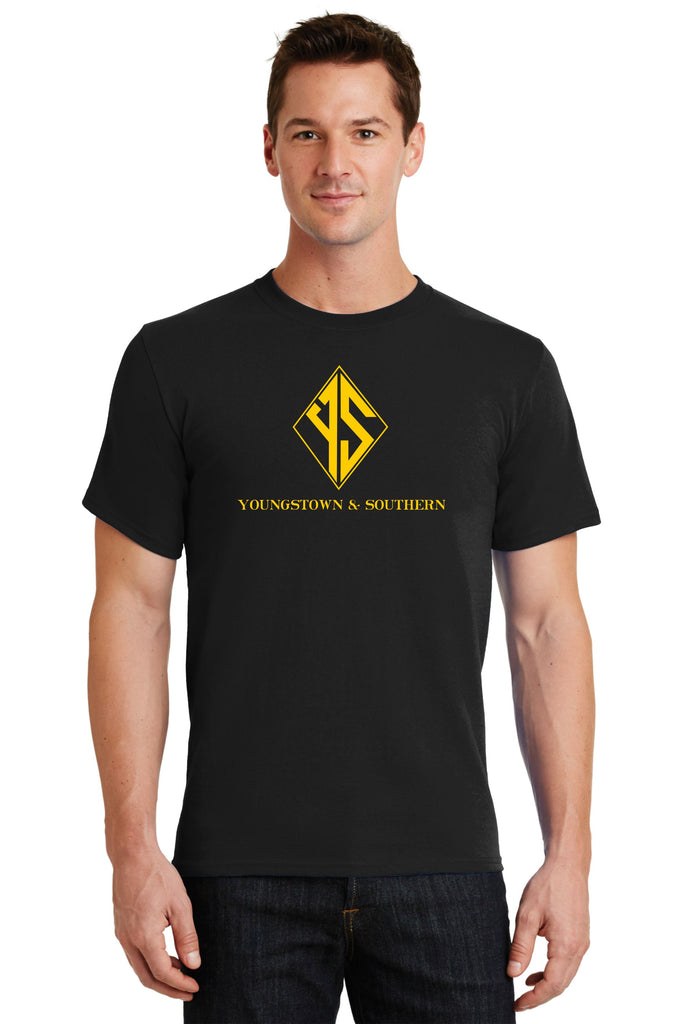 Youngstown and Southern Railway Logo Shirt
---
Youngstown and Southern Railway Logo Shirt
Logo Printed on Front
100% Cotton
Shirt Color - Jet Black 
The Youngstown and Southern Railway (Y&S) and Youngstown and Salem Railroad were both incorporated in May 1903,[8] and the former absorbed the latter in October of that year.[9] It began operations in 1904 as a 16-mile (26 km) steam line between Youngstown and Columbiana, and electrified the line with overhead wires in 1907, also extending it 3 miles (4.8 km) to Leetonia on the Youngstown and Ohio River Railroad (Y&OR) that year. In addition to carrying passengers as an interurban railway, the company handled freight, primarily coal from the electric Y&OR and the steam Pittsburgh, Lisbon and Western Railroad (PL&W). After the Y&S entered receivership in 1915, a 1916 reorganization produced the Youngstown and Suburban Railway.[2]

In the late 1920s and early 1930s, Mahoning Valley industries and the Pittsburgh Coal Company attempted to build a new rail line between the Ohio River and Youngstown, claiming that the existing railroad connections (Pittsburgh and Lake Erie Railroad and Pennsylvania Railroad) refused to build suitable river transfer facilities. The Interstate Commerce Commission denied the application in exchange for the construction of these facilities. Later the coal company built a private railroad from the river at Smiths Ferry, Pennsylvania to the PL&W at Negley, Ohio, where it connected to Youngstown through control, by its Montour Railroad subsidiary, of the PL&W (New Galilee, Pennsylvania to Lisbon, Ohio) and Y&S (the latter acquired in 1928[2]), and construction of a line between the PL&W at Signal and the Y&S at Columbiana. (The PL&W from Signal west to Lisbon was subsequently abandoned.) Large amounts of coal were shipped along the river from the mines to Smiths Ferry, and then over the rail line to Youngstown steel mills.[10][11] The Y&S changed its name back to Youngstown and Southern Railway in 1944,[2] and on January 1, 1945 it merged the PL&W into itself.[12]

After World War II, the Consolidated Coal Company, successor to the Pittsburgh Coal Company, decided to sell its railroad properties to the Pennsylvania Railroad (PRR). The PRR agreed to purchase the Montour, and with it the Y&S, jointly with the Pittsburgh and Lake Erie Railroad (P&LE), a subsidiary of the New York Central Railroad (NYC). The two companies gained control on December 31, 1946, and simultaneously conveyed the private railroad south of Negley to the Y&S.[10][11] Passenger service ended in 1948 on the Y&S, the last of Ohio's interurbans, and the Columbiana-Leetonia segment was abandoned that year, its connection to the Y&OR being long-gone. The eastern end of the old PL&W, from Darlington to New Galilee, was also abandoned then.[13] By 1960 the Y&S had completely dieselized.[2] After the Penn Central Transportation Company (successor to the NYC and PRR) declared bankruptcy in 1970, the newly independent profitable P&LE acquired full control of the Montour, and with it the Y&S.
---
Share this Product
---
More from this collection