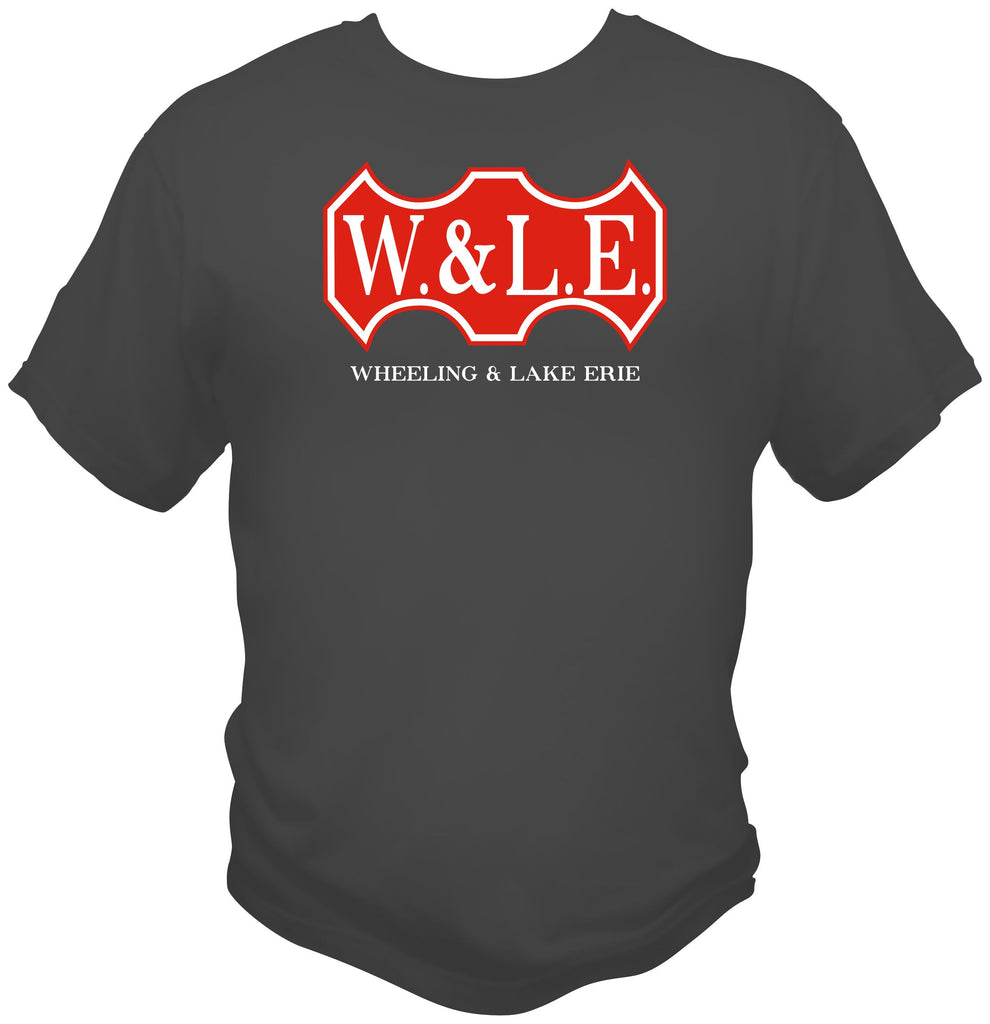 Wheeling & Lake Erie Railroad Bat Wing Logo Shirt
---
Wheeling & Lake Erie Railroad Bat Wing Logo Shirt
Printed on Front
100% Cotton
Shirt Color - Charcoal Grey
The original Wheeling and Lake Erie Railway's oldest predecessor rail line began in Ohio, with the organization of the Carroll County Railroad on March 9, 1850.
The Wheeling and Lake Erie Railroad was established on April 6, 1871, and was first built as a 3 ft (914 mm) gauge narrow gauge line between Norwalk and Huron, Ohio. Service began on the new line on May 31, 1877. However, the new road was unable to attract regular traffic, or financing for expansion, and had closed within two years.
With investment by railroad financier Jay Gould in 1880 and financial reorganization, the line was converted to standard gauge and construction began again. Service from Huron to Massillon, Ohio, was opened on January 9, 1882, and new lines were constructed that eventually reached the Ohio River and Toledo. The W&LE also developed new docks on Lake Erie at Huron that opened May 21, 1884, when the first cargo of iron ore was received.
In 1880, another 3 ft (914 mm) gauge line, the Connotton Valley Railway, was formed, building north from Canton to Cleveland and then south to Coshocton and Zanesville. The Connotton Valley became the Cleveland, Canton & Southern Railroad and was converted to standard gauge in one day on November 18, 1888. The Cleveland, Canton & Southern Railroad joined the W&LE in 1899 after its purchase at foreclosure sale, becoming W&LE's Cleveland Division.
The railroad's Brewster, Ohio, yards in 1910.
At its height, the W&LE ran from Wheeling, West Virginia, (via the Wheeling Terminal Railway) to Lake Erie at Huron and Toledo. However, the main lines of the W&LE never reached outside Ohio's borders. It also ran from Cleveland to Zanesville, with the lines crossing at Harmon, just east of Brewster, Ohio, which became the location of W&LE's corporate headquarters and locomotive shops. With two busy main stems crossing on the map of Ohio; the road's nickname for many years was "The Iron Cross". A branch between Steubenville and Martins Ferry, Ohio, was completed in 1891, which led to an indirect connection to Wheeling via the Ohio River bridge of the Wheeling Terminal Railway.
The W&LE began producing locomotives at its Brewster, Ohio, shops in 1910, and boasted one of the finest locomotive producing facilities in the country. Over the years, the W&LE built and rolled boilers and erected fifty of their own steam locomotives, a feat never tried by many larger and more famous railroads.
The W&LE was jokingly called the "Wailing and Leg Weary" but, after several early financial embarrassments, finally found prosperity in its later life. The W&LE was leased by the Nickel Plate Road in 1949. The Nickel Plate Road merged with Norfolk and Western Railway in 1964. The W&LE was finally consolidated into the Norfolk and Western on September 20, 1988
---
Share this Product
---
More from this collection