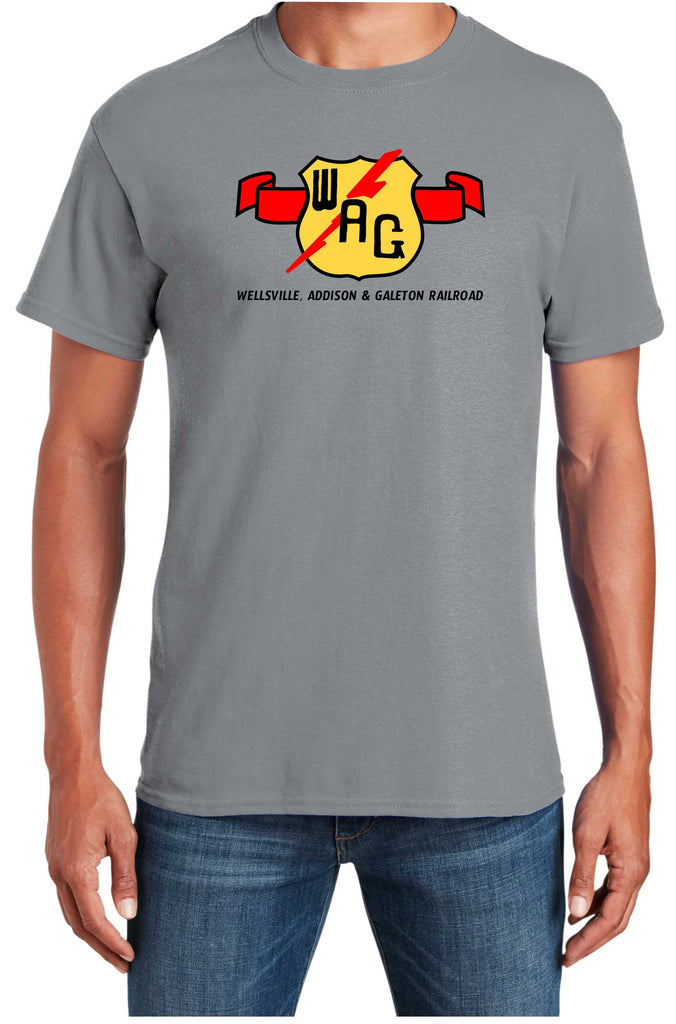 Wellsville, Addison and Galeton Railroad Logo Shirt
---
 Wellsville, Addison and Galeton Railroad Logo Shirt                            
 Logo Printed on Front
100% Cotton Gildan 5.6 oz
Shirt Color = Gravel
The original Wellsville, Addison & Galeton Railroad (WA&G) consisted of two main lines originating from Galeton, Pennsylvania. One ran northwest to Wellsville, New York, where it connected to the Erie Railroad; the other ran northeast to Addison, New York and also connected to the Erie. Two short segments completed the trackage, one running east to Ansonia, Pennsylvania and a connection with the New York Central Railroad, and another southwest to Burrows, representing the stub end of the former connection to the B&O. This totaled 91 miles of trackage and was sold for $250,000, along with six ex-B&S steam locomotives, four cabooses, and a miscellany of work equipment, to the H.E. Salzberg Company, which operated a number of other short lines. Operations began in 1956.

The future of the line was driven by line conditions and traffic. Major customers included a Sinclair refinery in Wellsville and tanneries in Elkland and Westfield. These latter supplied the sobriquet of "The Sole Leather Line", which was painted on some equipment.

The Burrows branch was abandoned soon after WA&G began operations. The Elkland-Addison portion followed in 1960. In 1964 the line expanded to include the Coudersport & Port Allegany Railroad (C&PA), which crossed at Newfield Junction on the Wellsville line. The CP&A was abandoned in 1973.

By the time Hurricane Agnes hit the northeast in 1972, WA&G was reduced to a 40-mile operation between Galeton to Elkland, with a branch (and its only outside connection) to Ansonia. A fire destroyed the Elkland tannery in 1973; and after more floods the railroad filed for abandonment in 1975. Approval to abandon was granted by the ICC in 1978, and the final freight ran on March 13, 1979. The line remained open until November to retrieve equipment and ship locomotives to various buyers.
*Image is a representation and may not be exact
---
Share this Product
---
More from this collection