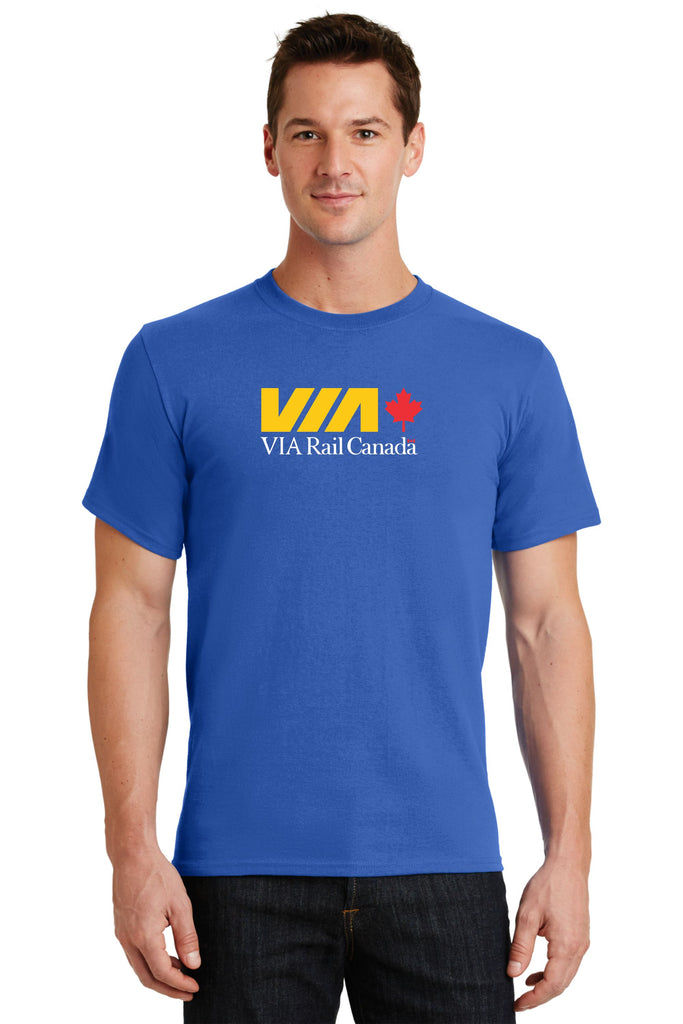 VIA Rail Canada Logo Shirt
---
VIA Rail Canada Logo Shirt                            
 Logo Printed on Front
100% Cotton
Shirt Color = Royal
On January 12, 1977, CN spun off its passenger services as a separate Crown corporation, Via Rail Canada. At its inception, Via acquired all CN passenger cars and locomotives. Following several months of negotiation, on October 29, 1978, Via took over operation of CP passenger train services, and took possession of cars and locomotives. Passenger train services which were not included in the creation of Via Rail included those offered by BC Rail, Algoma Central Railway, Ontario Northland Railway, Quebec North Shore and Labrador Railway, various urban commuter train services operated by CN and CP, and remaining CN passenger services in Newfoundland. At this time, Via did not own any trackage and had to pay right-of-way fees to CN and CP, sometimes being the only user of rural branch lines.[citation needed]

Via initially had a tremendous variety of equipment, with much of it in need of replacement, and operated routes stretching from Sydney, Nova Scotia to Prince Rupert, British Columbia and north to Churchill, Manitoba. Over 150 scheduled trains per week were in operation, including transcontinental services, regional trains, and corridor services.[citation needed]

While Via is an independent federal Crown corporation mandated to operate as a business, it is hindered by the fact that it was created by an Order in Council of the Privy Council, and not from legislation passed by Parliament. If Via were enabled by legislation, the company could be permitted to seek funding on the open money markets as other Crown corporations such as CN have done in the past. It is largely for this reason that critics say Via is vulnerable to federal budget cuts and continues to answer first to its political masters, as opposed to the business decisions needed to ensure the viability of intercity passenger rail service.
 *Image is a representation and may not be exact
---
Share this Product
---
More from this collection