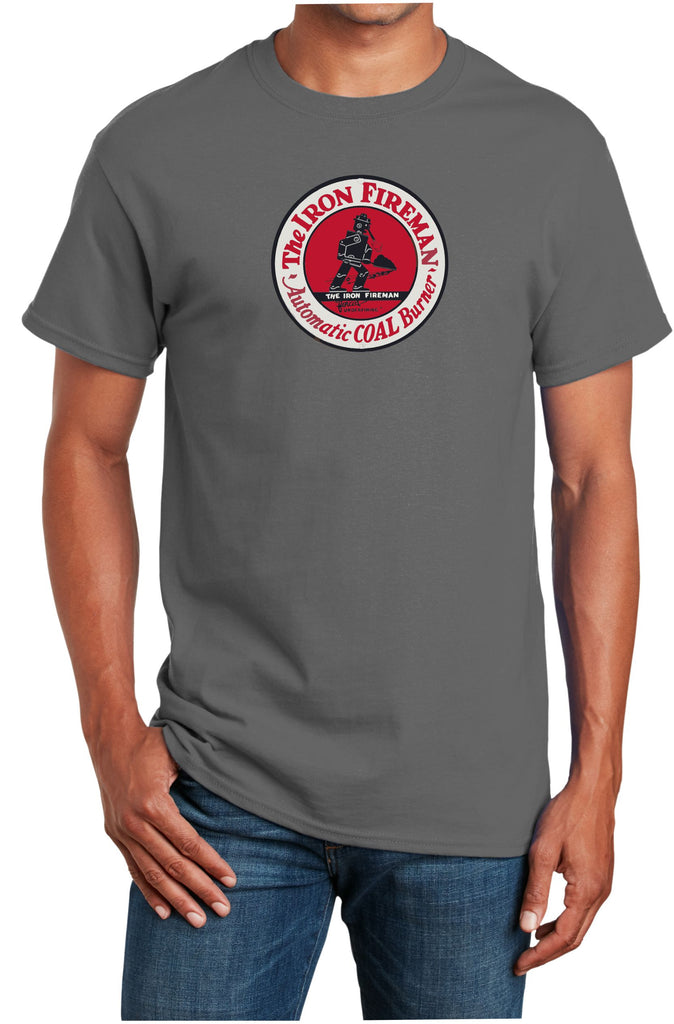 The Iron Fireman "Automatic Coal Burner" Logo Shirt
---
The Iron Fireman "Automatic Coal Burner" Logo Shirt                            
 Logo Printed on Front
100% Cotton Gildan 6.1 oz.
Shirt Color = Charcoal
The Iron Fireman Manufacturing Company produced automatic coal stokers for residential and commercial building furnaces, and large industrial boilers. In homes (the Iron Fireman Jr.) and smaller commercial buildings, it eliminated the need for someone to have to periodically shovel coal into the furnace, all day and all night. In industrial settings, it eliminated the need to employ men to stoke the boilers around the clock. By design, the Iron Fireman coal stoker created a hotter fire while reducing the amount of coal that was burned. And it could be retrofitted to existing furnaces and boilers, as well as being a component of a new heating plant. As coal was a very common heating fuel in much of the United States in the 1920s and '30s, the automatic coal stoker quickly became a commercial success. By the late 1920s, the Iron Fireman Manufacturing Company had offices and manufacturing facilities in Portland, Oregon, Cleveland, Ohio, and St. Louis, Missouri.



To market their product, the Iron Fireman Manufacturing Company utilized aggressive print and direct mail advertising, a network of dealers, and a corps of door-to-door salesmen. Anyone who agreed to listen to the sales pitch was rewarded with a promotional item featuring a die-cast Iron Fireman figurine.
 Please allow 10 business days to ship!
*Image is a representation and may not be exact
---
Share this Product
---
More from this collection