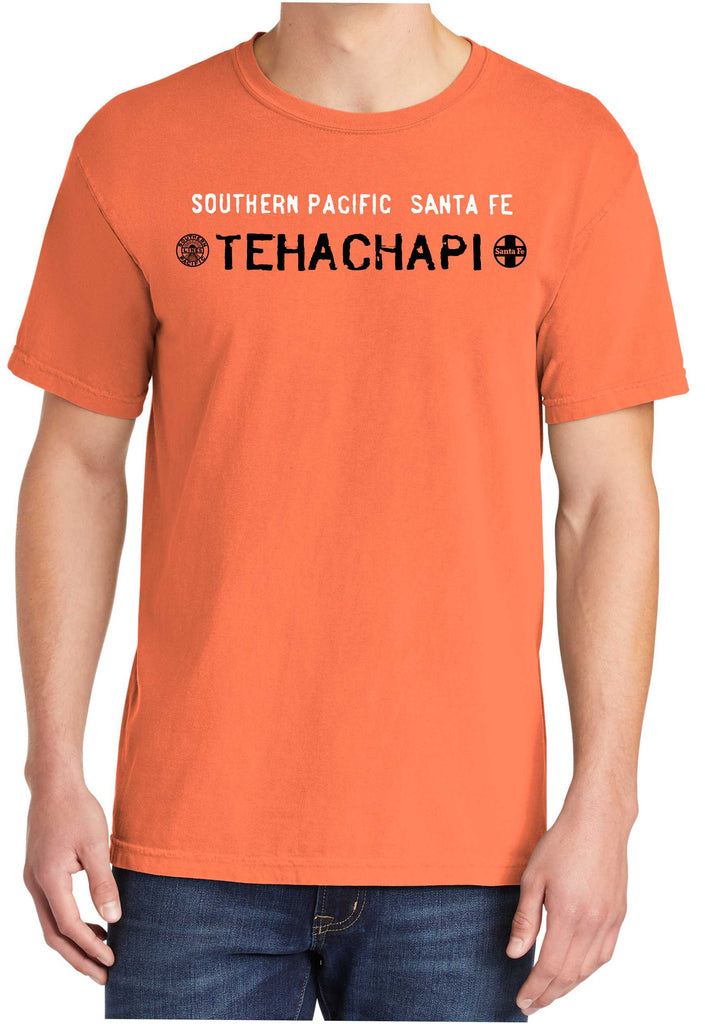 Tehachapi Loop Faded Glory Shirt
---
Tehachapi Loop Faded Glory Shirt
Printed on Front
Comfort Color 100% Cotton 6.1 oz
Shirt Color -  Orange
The Tehachapi Loop is a 3,779 feet (0.72 mi; 1.15 km) long spiral,[1] or helix, on the Union Pacific Railroad Mojave Subdivision through Tehachapi Pass, of the Tehachapi Mountains in Kern County, south-central California. The line connects Bakersfield and the San Joaquin Valley to Mojave in the Mojave Desert.
Rising at a steady two percent grade, the track gains 77 feet (23 m) in elevation making a 1,210-foot (370 m) diameter circle in the Loop.[1][2] Any train at least as long as the loop passes over itself going around the loop. At the bottom of the loop, the track passes through Tunnel 9, the ninth tunnel built as the railroad worked from Bakersfield.
The line averages approximately 36 trains each day.[1] Due to its frequent trains and scenic setting, the Tehachapi Loop is popular with railfans.[citation needed] In 1998 it was named a National Historic Civil Engineering Landmark and is designated as California Historical Landmark.
---
Share this Product
---
More from this collection