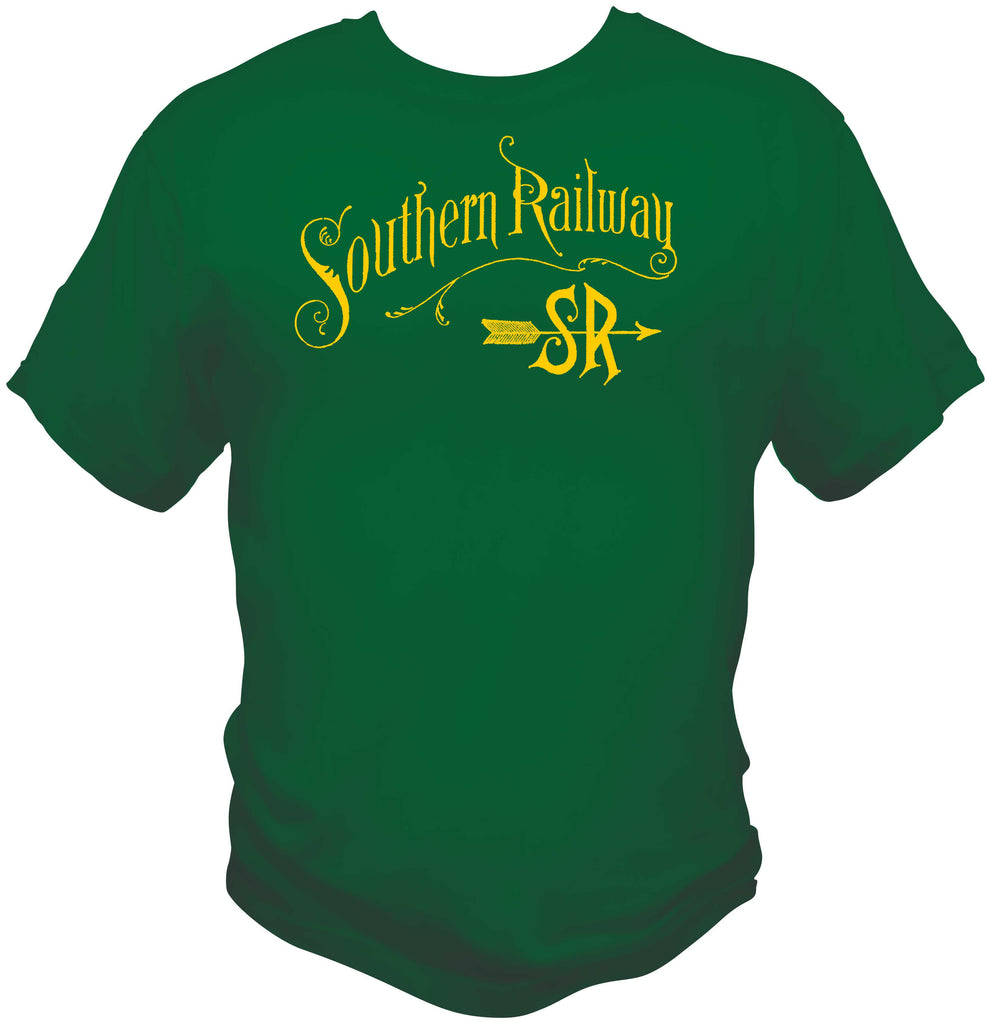 Southern Railway (SOU) Faded Glory Shirt
---
 Southern Railway Faded Glory Shirt                              
Printed on Front

100% Cotton

Shirt Color - Southern Apple Green 100% cotton Comfort Color
The Southern Railway (reporting mark SOU) (also known as Southern Railway Company and now known as the current incarnation of the Norfolk Southern Railway) is a name of a class 1 railroad that was based in the Southern United States. The railroad is the product of nearly 150 predecessor lines that were combined, reorganized and recombined beginning in the 1830s, formally becoming the Southern Railway in 1894.[1]

At the end of 1970, the Southern operated 6,026 miles (9,698 km) of railroad, not including its Class I subsidiaries AGS (528 miles or 850 km) CofG (1729 miles) S&A (167 miles) CNOTP (415 miles) GS&F (454 miles) and twelve Class II subsidiaries. That year, the Southern itself reported 26111 million net ton-miles of revenue freight and 110 million passenger-miles; AGS reported 3854 and 11, CofG 3595 and 17, S&A 140 and 0, CNO&TP 4906 and 0.3, and GS&F 1431 and 0.3

The railroad joined forces with the Norfolk and Western Railway (N&W) in 1982 to form the Norfolk Southern Corporation. The Norfolk Southern Corporation was created in response to the creation of the CSX Corporation (its rail system was later transformed to CSX Transportation in 1986). The Southern Railway was renamed to the current Norfolk Southern Railway in 1990 and continued under that name ever since. Seven years later in 1997 the former Southern Railway absorbed the Norfolk and Western Railway, ending the Norfolk and Western's existence.
---
Share this Product
---
More from this collection