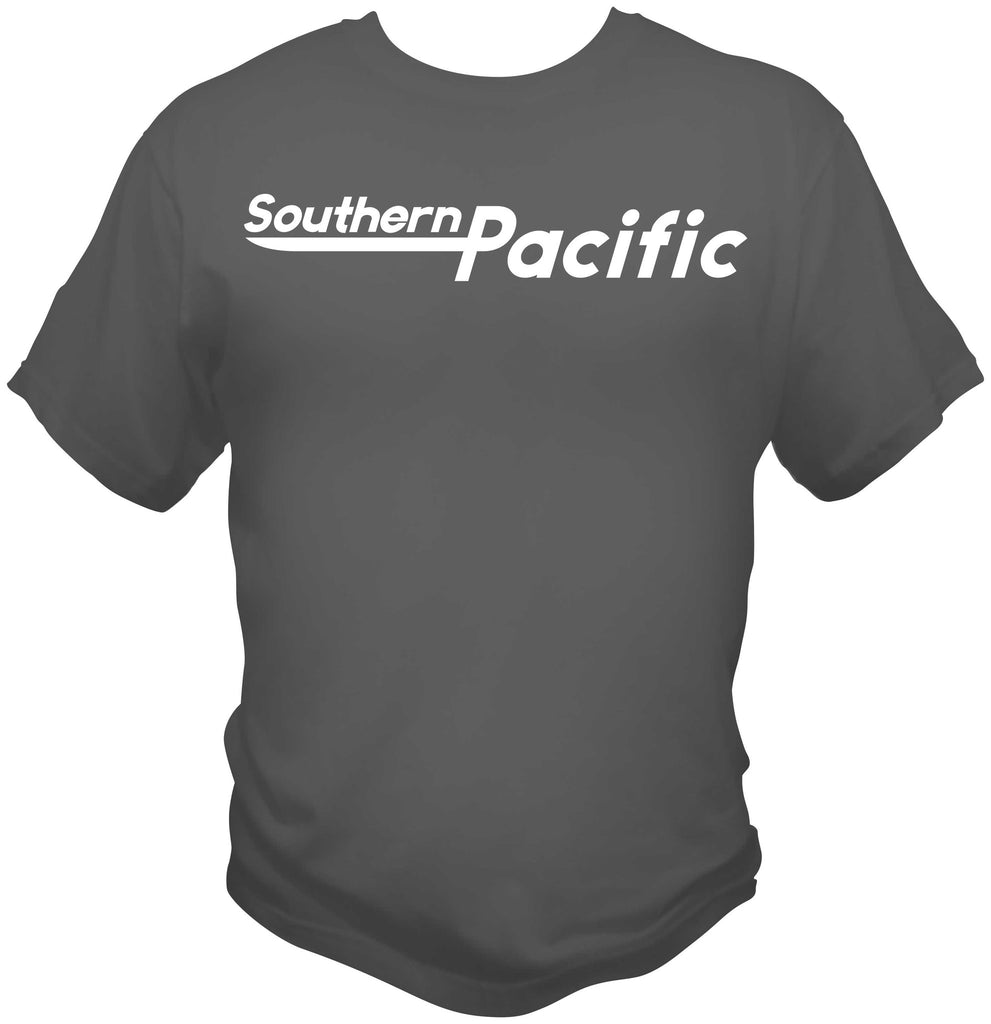 Southern Pacific Speed Lettering Logo Shirt
---
Southern Pacific Speed Lettering Logo Shirt
Logo Printed on Front
100% Cotton
Shirt Color - Lark Grey
A brief review of the D&RGW-inspired speed lettering applied to SP units after the October 1988 control of Southern Pacific by D&RGW's Rio Grande Industries parent company.
Back in September 2010, there was a discussion on the Espee group on Yahoo Groups, in which Kevin Bunker related the rest of the story of how Southern Pacific began using the speed lettering inspired by the similar lettering used by Denver & Rio Grande Western since 1939.
Following the merger of D&RGW and SP in late 1988, Kevin Bunker had painted a model of an EMD SD40T-2 locomotive in his own version of SP's famous Black Widow paint scheme that used a basic black background, with red, orange, and aluminum-colored stripes. He chose to letter his model with his own interpretion of of D&RGW's speed lettering, spelling Southern Pacific on the sides of the model. He had carefully designed the lettering, and cut each letter from plain white decal stock. He then presented the completed model to Phillip Anschutz as an example of a paint scheme that could be applied to both SP and D&RGW locomotives, reflecting the recent merger.
Apparently Mr. Anschutz took the completed model back to his Denver headquarters and suggested that the lettering scheme be adopted, applying the lettering designed by Kevin Bunker to locomotives that were purchased new, rebuilt, or simply repainted, using the existing SP gray background color and scarlet wing pattern. After contacting SP corporate headquarters about the background story for the lettering design, Kevin was told that the design had been completed by Chester Mack, a professional designer hired by Southern Pacific to design a paint scheme for the merged railroads. But Kevin recognized several details of the final design that he had introduced in his own design. The first SP speed-lettered locomotve was released in mid April 1991, and the change to larger "Pacific" lettering in May 1991 may have been in response Kevin's correspondence.
SP adopted this Rio Grande-inspired speed lettering for its own units in early 1991, with GP40M-2s rebuilt by Morrison Knudsen being the first units, at first using the early, small version in March 1991.
The first SP speed-lettered locomotive was SP no. 7107, a GP40M-2 rebuilt by Morrison-Knudsen. It was released on March 12, 1991. Numbers 7107-7111 had a smaller lettering size that was superseded with a larger version upon release of the SP no. 7112 a month later, on April 15, 1991. All subsequent GP40M-2 units in this order, nos. 7112-7138, carried speed lettering. SP continued to apply speed lettering to units from March 1991 through to October 1996.
The larger version of speed lettering was adopted in April 1991. Also in April 1991, SP began receiving 55 additional GP60s, joining an already existing fleet of 115 GP60s. These 1991-built GP60s were themselves joined in 1993 and 1994 by 25 more GP60s, all with the new larger version of SP's new image. After SP's rebuilt GP40M-2s and new GP60s, the first SP unit to be repainted to the new image was an MP15AC completed in October 1993. (Credit - Wikipedia)
---
Share this Product
---
More from this collection