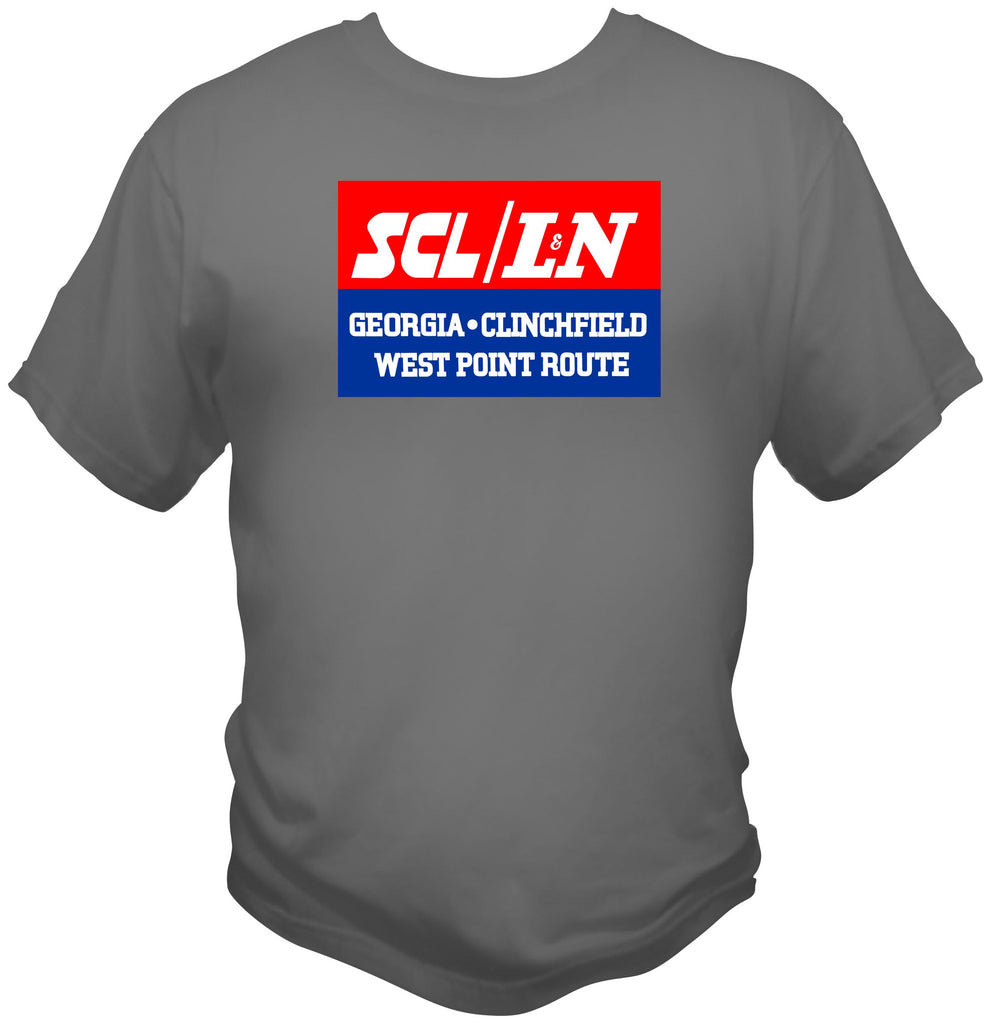 SCL/L&N Family Lines Shirt
---
SCL/L&N Family Lines Shirt
Printed on Front
100% Cotton
Shirt Color - Dark Grey
The Seaboard System's roots trace back to SCL Industries, a holding company created in 1968 that combined the SCL's subsidiary railroads into one entity. In 1969, SCL was renamed Seaboard Coast Line Industries. Known as the Family Lines System, this entity adopted its own logo and colors, but each railroad maintained its own identity. Over time, this caused confusion among customers. In comparison to the neighboring Chessie System, which had three railroads, the Family Lines had five railroads. In 1971 SCL bought out the remaining shares and made the Louisville & Nashville a subsidiary.
On November 1, 1980, the holding company CSX Corporation was created after the merger of Seaboard Coast Lines Industries and Chessie System. This now simplified ownership of both the Chessie and Seaboard's railroads under one holding company while still keeping their identities separate. On December 29, 1982, the Seaboard Coast Line and Louisville & Nashville (under the Family Lines entity) were merged to form the Seaboard System Railroad, Inc. This was the first step under the CSX Corporation holding company to combine all railroads into one railroad.
Considered as a "temporary railroad", the Seaboard System quickly began to merge away the smaller railroads that were owned under the Family Lines System entity, as well as to simplify equipment and management alongside the Chesapeake & Ohio/Baltimore & Ohio/Western Maryland (Chessie System) railroads. This included the Georgia Railroad (1983), South Carolina Pacific Railway (April 30, 1984), Louisville, Henderson & St. Louis Railway (July 1984), Gainesville Midland (1985), Atlanta & West Point Railroad (June 1986) and the Columbia, Newberry & Laurens (June 1986).
After the Seaboard System simplified itself as one railroad, it was renamed CSX Transportation on July 1, 1986. On April 30, 1987, the Baltimore & Ohio railroad was merged away into the Chesapeake & Ohio. Finally, on August 31, 1987, the Chesapeake & Ohio (still under the Chessie System entity for corporate reasons) was merged into CSX Transportation. All the major railroads under CSX Corporation were now one company. (The Western Railway of Alabama would remain an operating subsidiary until December 2002, when it was finally merged into CSX.  (Credit - Wikipedia)
---
Share this Product
---
More from this collection