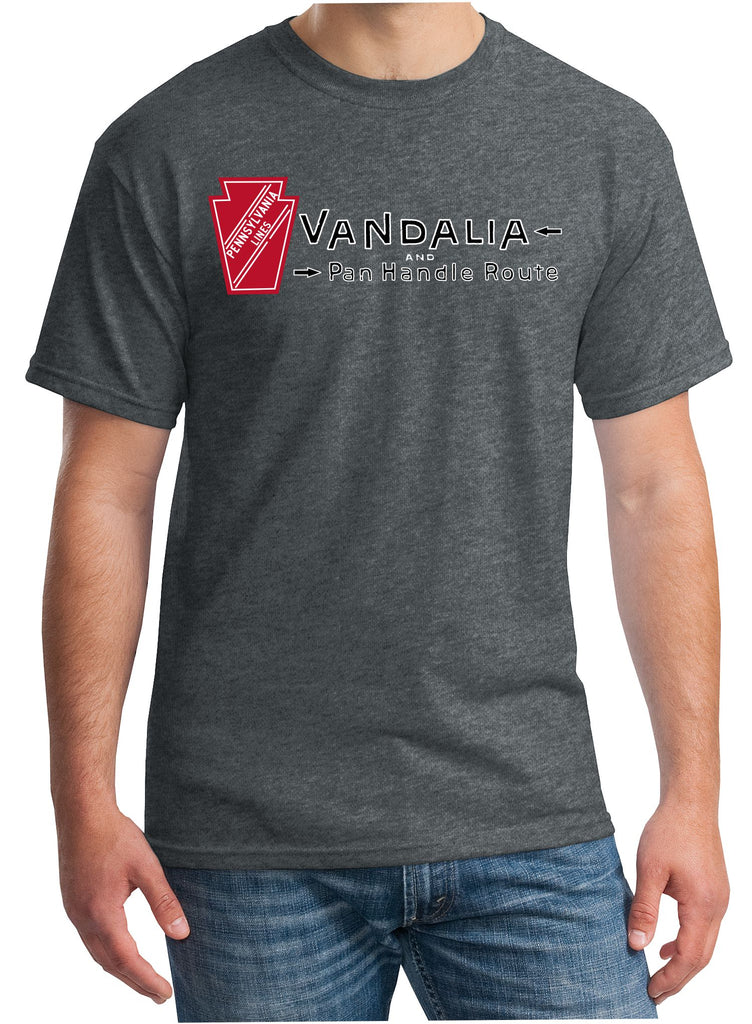 Pennsylvania Lines "Vandalia and Pan Handle Route" Logo Shirt
---
Pennsylvania Lines "Vandalia and Pan Handle Route" Logos Shirt
Printed on Front
100% Cotton
Shirt Color - Dark Heather
The '''Vandalia Railroad''' was formed in 1905 by a merger of several lines in Indiana and Illinois including the Terre Haute & Indianapolis Rail Road and the St. Louis, Vandalia & Terre Haute Railroad which covered a route from Indianapolis, Indiana to St. Louis, Missouri. Another route between Terre Haute, Indiana and Toledo, was created with the inclusion of the Terre Haute & Logansport and Logansport & Toledo branches.[1]

In 1917 the line was acquired by the Pittsburgh, Cincinnati, Chicago and St. Louis Railroad giving the Pennsylvania Railroad a direct route from New York City to St. Louis. In 1968 PRR merged with NYC to become Penn Central and in 1976 becoming part of Conrail. Much of the North-South line was abandoned with the Conrail formation but parts of the East-West line survive as part of CSX Transportation.
The East-West line ran from Indianapolis to St. Louis with a major branch connecting Decatur, Illinois and Peoria, Illinois. The line was double-tracked for much of its length serving the coal region of southern Illinois and as a passenger route for the Pennsylvania Railroad's Blue Ribbon named trains The St Louisan, the Jeffersonian, and the Spirit of St. Louis.[2]

The North-South route from Logansport, IN, to South Bend, IN. Logansport was a PRR hub, with six branch lines radiating in many directions. Logansport also featured a yard and engine terminal. From Logansport, the line proceeded northward intersecting every major east-west trunk line including the PRR's main east-west route and PRR's "panhandle" route. Upon reaching South Bend, the line proceeded northward through an industrial corridor toward the Studebaker plant to a depot just short of South Bend Union Station. Because the New York Central (NYC) trackage was elevated, interchange with NYC and tenant Grand Trunk Western (GTW) was indirect via a west-routed branch that reached the Studebaker plant railroad, New Jersey, Indiana, and Illinois (NJI&I) subsidiary of the Wabash Railroad, GTW, and NYC's Kankakee Belt Railroad subsidiary. PRR maintained few facilities other than the depot in town as there were no other connecting PRR lines in South Bend.
---
Share this Product
---
More from this collection