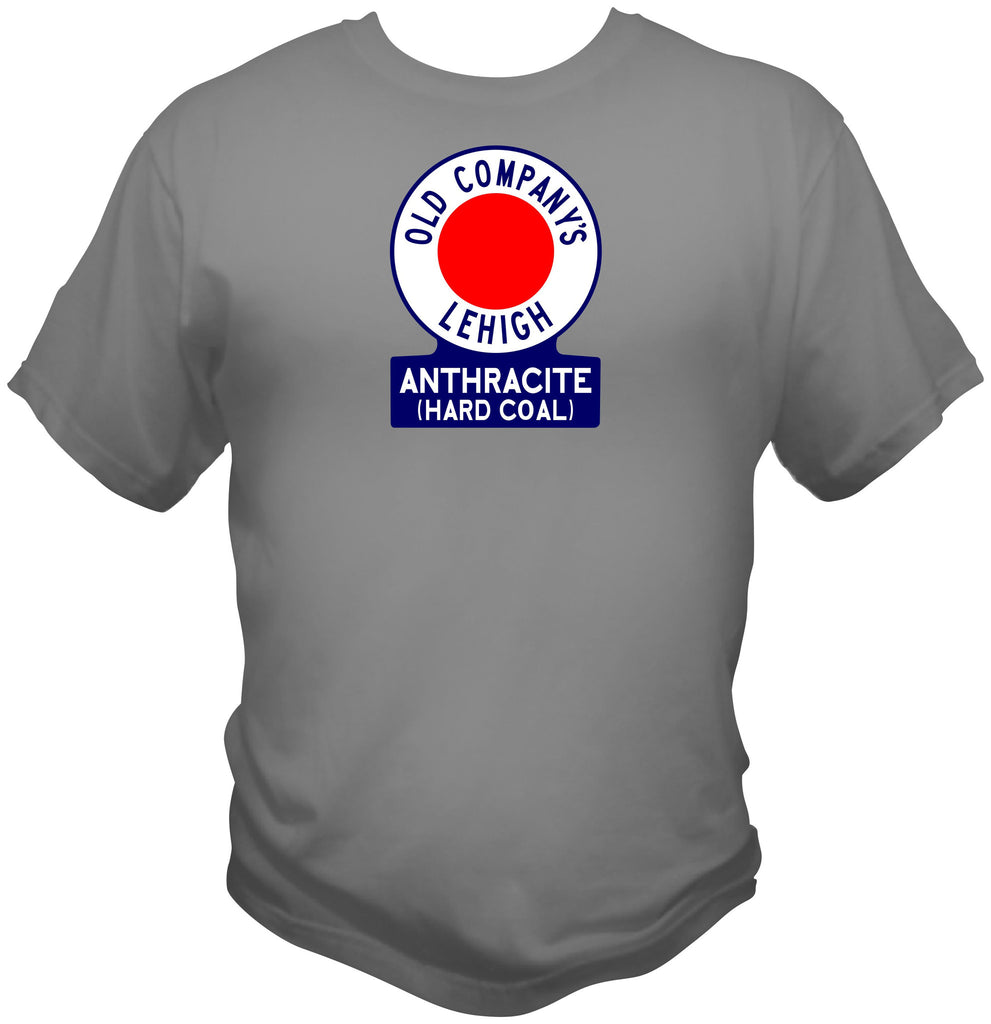 Old Company's Lehigh Coal & Navigation Shirt
---
Old Company's Lehigh Coal & Navigation Shirt
Logo Printed on Front
100% Cotton
Shirt Color - Old Company's Gravel 
This article is about the original company (or 'Old Company'[1]), the historic company (1822-1967), pivotal in the American Industrial Revolution and is not about the re-branded relaunched corporation of 1988, the Lehigh Coal and Navigation Company locally called 'The New Company'.[1]
Cautionary note: The name forms 'Lehigh Coal and Navigation' vs. 'Lehigh Coal & Navigation' both occur in the legal and historical records of both eras. Convention on Wikipedia is LC&N for company affairs before the 1967 collapse of railroad revenues took the original company into bankruptcy and LCAN (and links to this page) for the New Company's activities.

The corporate headquarters built in downtown Mauch Chunk (Now Jim Thorpe, Pennsylvania) across the street from the LC&N's train station on the subsidiary Lehigh & Susquehanna Railroad (LH&S or LH&SRR).[2]

Lehigh Coal and Navigation Company Stock Certificate

Victorian era Stereoscopic photo of the 1840s hand-hewn, mile-long, 75-foot-deep railroad cutting at the Solomon Gap for the Lehigh & Susquehanna Railroad subsidiary of the LC&N Company. The 'Solomon cut' connects the small siding in a flat lot-sized area which was the top of the Ashley Planes cable railroad[a] through the mountain pass to the conventional railway marshaling yard at Mountain Top, Pennsylvania. Trios of loaded hopper cars rose 1,000 feet (300 m) in about 1 mile (1,600 m) for almost 100 years.

From Karl Bodmer's 1832 'Travels in America' collection of engravings—a view from Bear Mountain at the outlet of the Lehigh Gorge opposite the Nesquehoning Creek and lost town of Lausanne Landing; the lightly settled shores of East Mauch Chunk[b] at the first coal chute at the terminus of its Summit Hill and Mauch Chunk Railroad. In the foreground, is the long slack water pool above the Lower Lehigh Canal enhanced by the LC&N Co.'s upper lock and first dam at the turn below Mauch Chunk.
Painting is fourteen years after the LCC and LNC were formally incorporated, probably while the Beaver Meadow Railroad was under construction.
This painting shows the view[c] from the (eventual) East Mauch Chunk near the foot of the Lehigh Gorge, across the mile-plus-long 'slack water pool' to the loading docks below Mount Pisgah. Its primitive company town, Mauch Chunk, now Jim Thorpe, Pennsylvania, sits in the shelf-land and gap under Mount Pisgah.
The Lehigh Coal & Navigation Company was an extremely impactful and important mining and transportation company in Pennsylvania that operated from 1818 (1820 & 1822) through 1964.[d] It had two predecessors both incorporated and which began operations in mid-1818.[2] It is widely cited in academia as a first case example of vertical integration in manufacturing in the U.S.,[5] combining source industries, transport, and goods output. In its first 50 years under the management of founders Erskine Hazard and Josiah White, the company spearheaded the Industrial Revolution in the United States greatly accelerating regional industrial development by taking on civil engineering challenges thought impossible and creating important transport and mining infrastructure.[5] The founders, having gotten into the coal industry as customers seeking a steady supply of fuel for their foundrys and mills on the falls of the Schuylkill River

Most Importantly for the United States industrial growth, the LC&N first established the Lower Lehigh Canal (begun 1818, usable 1820, improved 1821-24, and two-way 1827-29) and taught America how Anthracite could be burned to alleviate the ongoing first energy crises which was only getting worse. The Lehigh Canal would (using a 'bridging' river trip along the broad, generally placid Delaware River) inspire and connect with no less than four other canals by the early-1830s
Having tamed rivers and introduced mining technologies LCC & LNC's successes taken along with White's already tall reputation[5] created a newspaper and tavern buzz by 1821 that not only jump started America's brief Canal age[f] and were the talk of business circles in the early 1820s, but also inspired and spurred others to invest in other raw materials industries and bulk transportation infrastructure projects;[g] Further, the dawdling funding efforts behind the Schuylkill Canal project (begun in 1814) was finally funded and finished once the LNC had showed the way.[5] White and Hazard had backed the Schuylkill project since their mills were on the River, but became disgusted with the timid investment and management attitudes of its board, so explored the LCMC property and conducted feasibility examinations the winter of 1814-1815, so petitioned to build the canal that next year.[6]

Upon their return they inked what was effectively a no cost option to take over management of the LCMC mines and mining rights; guaranteeing one ear of corn per year as a rental for the next 20 years.[7][8] built the Lehigh and Susquehanna Railroad and had its hands in many other northeastern Pennsylvania shortline railroads, spurs, and subsidiaries; created the Ashley Planes and made or supported means to other novel solutions of transport problems;[h] and created transport corridors still important today.[i]It also pioneered the mining of anthracite coal in the United States, acquiring virtually the entire eastern lobe of the Southern Pennsylvania Coal Region,[9] and brought in Welsh experts to bootstrap Iron production using blast furnace technology in the Lehigh Valley, building the first six such furnaces and puddling furnaces to create steel,[5] which the company then provided to its own wire rope (steel cable) manufactury, the countries first it set up in Mauch Chunk.[5][6] Completing the vertical integration, the wire ropes were then marketed to other mining operations, cable railways, and other industries needing high tensile reliability in managing weighty loads.[5]

Buying out partner George Hauto, and forming the Lehigh Coal & Navigation Company (LC&N) in 1822 by combining the Lehigh Coal Mining Company (1893), the Lehigh Coal Company (then, leasing the lCMC's properties) and the Lehigh Navigation Company, it represented the first merger of interlocking companies in the United States.[5] Five years later,[j] the company built the Mauch Chunk and Summit Hill Railroad, the first coal railroad and just the second railroad company in the country to be constructed after the Granite Railroad of Quincy, Massachusetts.[k] It was founded by industrialists Josiah White (1780-1850) and Erskine Hazard (1790-1865),[10] who sought to improve delivery of coal to markets.[11] and a thickly accented German immigrant miner named Hauto.[8]

The company is known in the Lehigh Valley as the "Old Company", as distinct from the later 1988–2010 company: the nearly same named Lehigh Coal and Navigation Company— the 'New Company', to the people of the region.
---
Share this Product
---
More from this collection