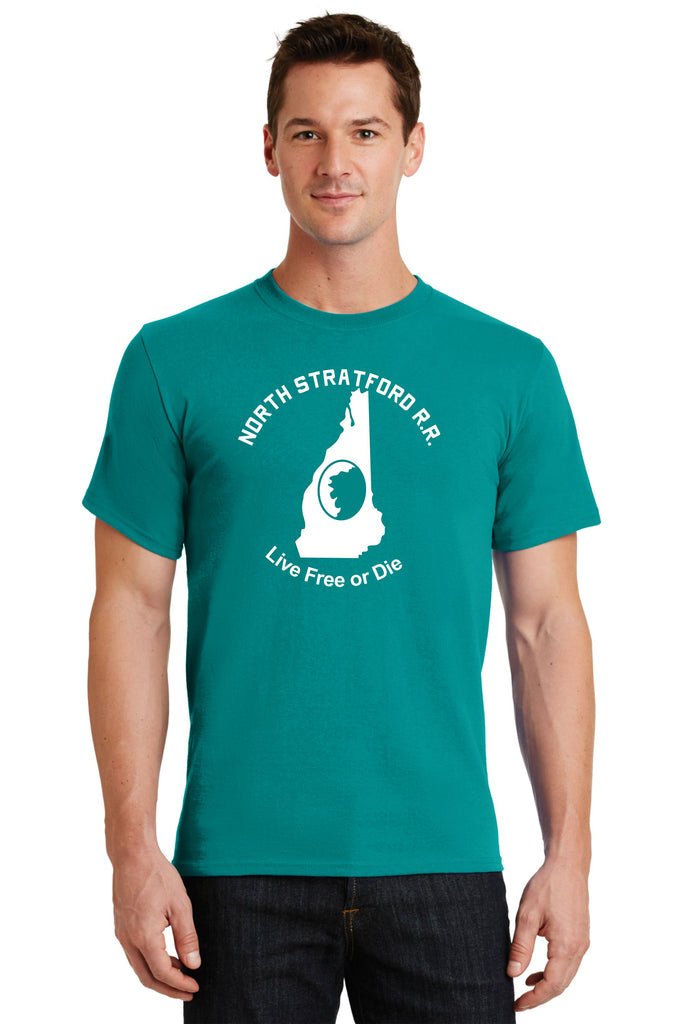 North Stratford Railroad Logo Shirt
---
 North Stratford Railroad Logo Shirt                            
 Logo Printed on Front
100% Cotton
Shirt Color = Jade
The North Stratford Railroad (reporting mark NSRC) was an interstate railroad in northeastern Vermont and northwestern New Hampshire. It ran from the village of North Stratford, New Hampshire (in the town of Stratford) to the village of Beecher Falls in Canaan, Vermont, a distance of approximately 23 miles (37 km).
The line was originally conceived by George van Dyke, who owned large tracts of forest in Vermont and Quebec. Starting in 1883, van Dyke obtained the following charters to build the line, listed from south to north:

Upper Coos Railroad of New Hampshire (first section) - 14 miles (23 km) in New Hampshire
Coos Valley Railroad - 12 miles (19 km) in Vermont
Upper Coos Railroad of New Hampshire (second section) - 30 miles (48 km) in New Hampshire
Upper Coos Railroad of Vermont - 2 miles (3.2 km) in Vermont
Hereford Railroad - 53 miles (85 km) in Quebec, Canada
Construction began in 1887 on the second section of the Upper Coos Railroad of New Hampshire between North Stratford, where the railroad connected to the Grand Trunk Railway, and Stewartstown, New Hampshire. Operations started the same year. A bridge across the Connecticut River from Stewartstown to Beecher Falls was built in 1888, and the Upper Coos Railroad of Vermont was completed north to the border a few months later. In Canada, 34 miles (55 km) of track of the Hereford Railroad from the border near Beecher Falls north to Cookshire, Quebec were laid in 1889, allowing interchange with the Canadian Pacific Railway. In 1890 the final 19 miles (31 km) of track in Quebec were laid to Lime Ridge, which allowed interchange with the Quebec Central Railway in Dudswell, Quebec. Construction south of North Stratford took longer, and the entire section went into service in 1891. In this area, the line connected to the Boston and Maine Railroad in Lancaster, New Hampshire, again at Waumbeck Junction in Jefferson, New Hampshire, and then met the Maine Central Railroad at Quebec Junction in Carroll, New Hampshire.




*Image is a representation and may not be exact
---
Share this Product
---
More from this collection