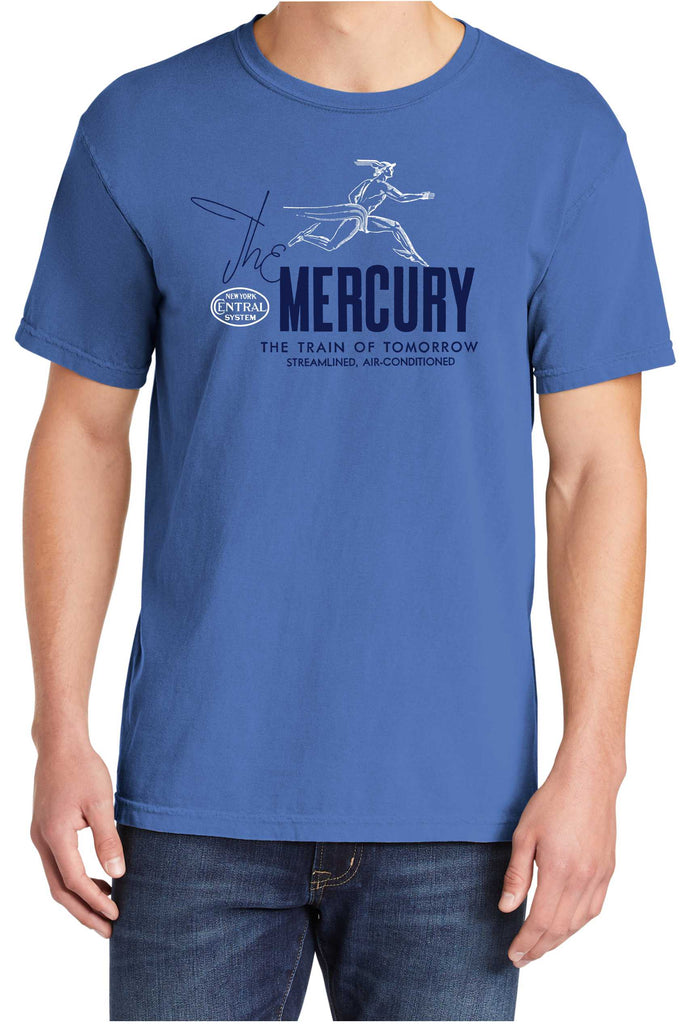 New York Central Mercury Faded Glory Shirt
---
New York Central Mercury Faded Glory Shirt
Printed on Front
100% Cotton Comfort Color 6.1oz
Shirt Color -  Flo Blue
 Mercury was the name used by the New York Central Railroad for a family of daytime streamliner passenger trains operating between midwestern cities. The Mercury train sets were designed by the noted industrial designer Henry Dreyfuss, and are considered a prime example of Streamline Moderne design. The success of the Mercury led to Dreyfuss getting the commission for the 1938 redesign of the NYC's flagship, the 20th Century Limited, one of the most famous trains in America.

The first Mercury, operating on a daily roundtrip between Cleveland and Detroit, was introduced on July 15, 1936.[1][2][3][note 1] The Chicago Mercury, between Chicago and Detroit, and the Cincinnati Mercury, between Cincinnati and Detroit, followed.[5] The Mercurys lasted until the 1950s, with the final survivor, the original Cleveland Mercury, making its last run on July 11, 1959.[6]

A fourth train, the James Whitcomb Riley between Chicago and Cincinnati, used the same design for its train sets and is considered part of the Mercury family, although it did not bear the Mercury name. The Riley debuted in 1941 and lasted into the Amtrak era, though no longer a streamliner.
---
Share this Product
---
More from this collection