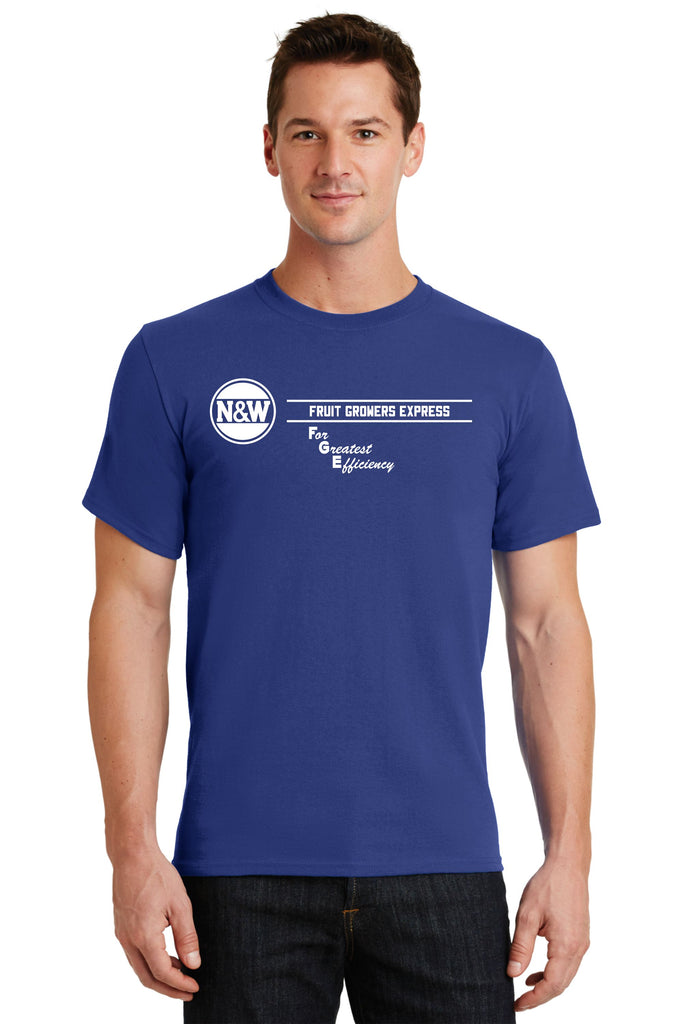 N&W Railroad Fruit Growers Express Logo Shirt
---
N&W Railroad Fruit Growers Express Logo Shirt                            
 Logo Printed on Front
100% Cotton
Shirt Color = Deep Marine
Fruit Growers Express (FGE) was a railroad refrigerator car leasing company that began as a produce-hauling subsidiary of Armour and Company's private refrigerator car line. Its customers complained they were overcharged.[1] In 1919 the Federal Trade Commission ordered the company's sale for anti-trust reasons.

Incorporated on March 18, 1920 the firm took possession of 4,280 pieces of rolling stock, repairs shops at Alexandria, Virginia and Jacksonville, Florida, and numerous ice plants and other facilities scattered throughout the East Coast on May 1. By year's end, the Chicago and Eastern Illinois, New Haven, and Norfolk and Western railroads became major stockholders.

In order to compete with the Pacific Fruit Express and Santa Fe Refrigerator Despatch in the west, FGE and the Great Northern Railway formed the Western Fruit Express (WFE) on July 18, 1923, a move that added 3,000 cars to the equipment pool. By 1926, FGE had expanded its service into the Pacific Northwest and the Midwest through the WFE and the Burlington Refrigerator Express (BREX), its other partly owned subsidiary (formed in partnership with the Chicago, Burlington and Quincy Railroad (CB&Q) on May 1). That same year, FGE purchased 2,676 36-foot-long (11 m) reefers from the Pennsylvania Railroad.

In February, 1928 FGE formed the National Car Company as a subsidiary to service the meat transportation market. Customers included Kahns, Oscar Mayer, and Rath Packing.
*Image is a representation and may not be exact
---
Share this Product
---
More from this collection