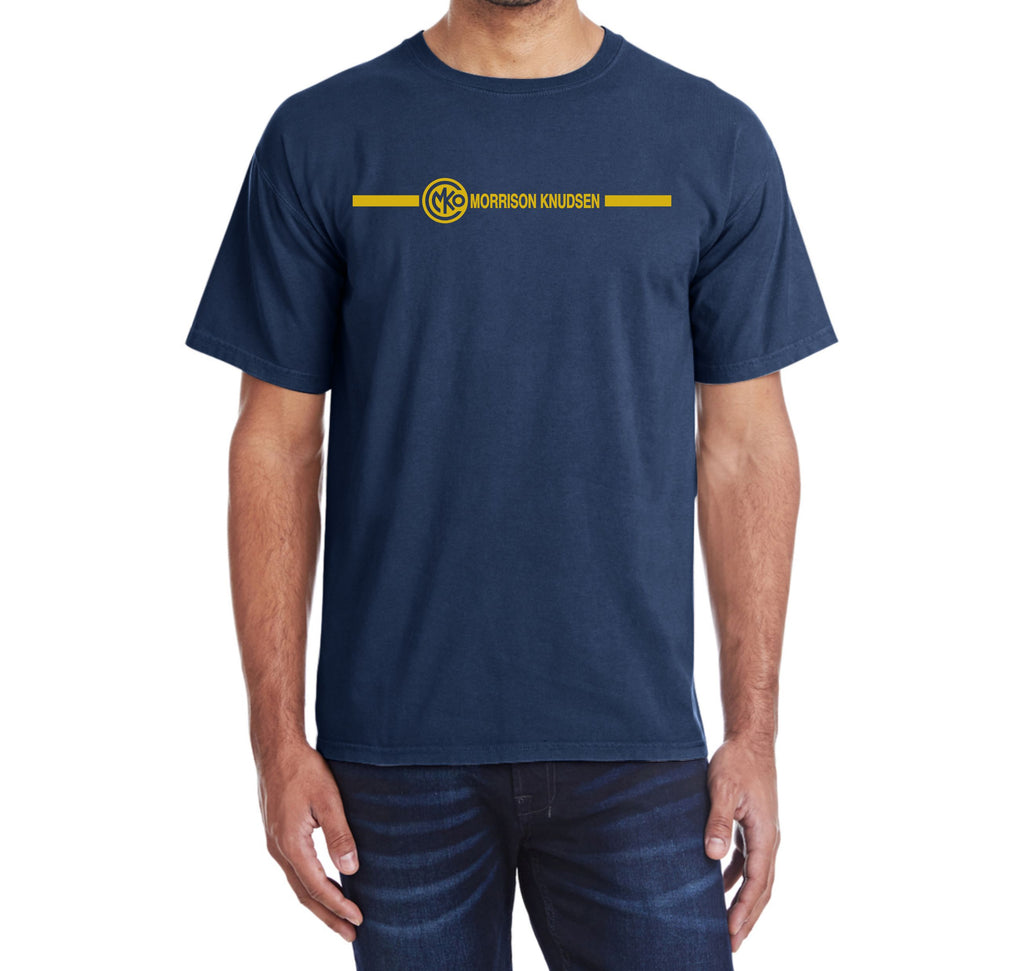 Morrison Knudsen Company Logo Shirt
---
 Morrison Knudsen Company Logo Shirt                            
 Logo Printed on Front
100% Cotton
Shirt Color = Navy
Morrison–Knudsen established a separate rail division, MK Rail, in 1972.[21] MK built the Caltrans California Cars (1994–96) as well as other rail passenger cars and light rail.[22][23] It also built locomotives, originally under its own name and later under subsidiary MK Rail from 1994 to 1996, such as the MK5000C and the F40PHM-2C. MK also rebuilt locomotives, including the four Delaware & Hudson ALCO PAs. Its Australian operation, based in Whyalla, South Australia, rebuilt 17 CL and eight AL class locomotives for Australian National and six DE class locomotives for BHP in the 1990s.[24] It rebuilt four Southern Pacific U25Bs with a Sulzer V-12 prime mover. These locomotives, designated M-K TE70-4S, operated from 1978 to 1987.[25]

MK was also one of the largest passenger railcar builders, located at the former Erie Railroad shop in Hornell, New York, overhauling and rebuilding many New York City Transit subway cars between 1984 and 1992 including R26/R28s, R29s, R32s (Phase I & II), some R36 World's Fair cars (pilot program), R42s, R44s, and R46s. It also overhauled NJ Transit's Arrow I series cars, converting from electric MUs to push-pull coaches, and SEPTA's Silverliner II and III series electric commuter cars in the late 1980s.[citation needed] The CTA 3200 series and Metro-North M-6 "Cosmopolitan" cars were built by MK in 1992–1994.[citation needed]

Morrison–Knudsen spun-off MK Rail in 1993; it became a publicly traded company in 1994. After Morrison–Knudsen's bankruptcy in 1996 the company renamed itself MotivePower, Inc. The company merged with Westinghouse Air Brake Company in 1999 to form the Wabtec Corporation. MotivePower is now a wholly owned subsidiary of Wabtec.
*Image is a representation and may not be exact
---
Share this Product
---
More from this collection