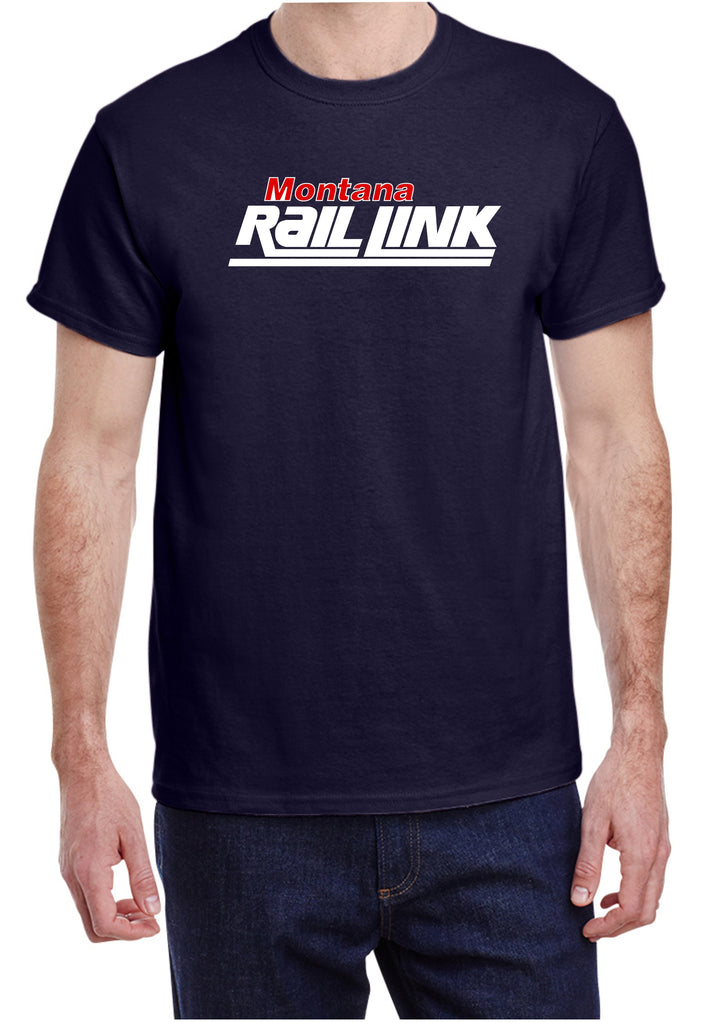 Montana Rail Link Logo 1 Shirt
---
Montana Rail Link Logo 1 Shirt                            
 Logo Printed on Front
100% Cotton
Shirt Color = Navy
Montana Rail Link (reporting mark MRL) is a privately held Class II railroad in the United States. MRL, which operates on trackage originally built by the Northern Pacific Railway, is a unit of The Washington Companies,[1] and is headquartered in Missoula, Montana.

The railroad runs between Huntley, Montana and Spokane, Washington, largely within Montana, and the main line passes through the towns of Missoula, Livingston, Bozeman, Billings, and Helena. Montana Rail Link connects with the BNSF on both ends and also in Garrison, Montana. The railroad has over 900 miles (1,400 km) of track, serves 100 stations, and employs approximately 1,000 personnel. The main classification yard is in Laurel, Montana, with engine roundhouse and repair and mechanical facilities in Livingston, Montana, and with smaller yards located in Missoula, Billings, Bozeman and Helena.
Montana Rail Link's present status and main line date back to 1987, when MRL under Missoula businessman Dennis Washington agreed to lease Burlington Northern's southern Montana main line between Sandpoint, Idaho and Huntley, Montana, near Billings. This spin-off was controversial as it happened during contract negotiations between Burlington Northern and the United Transportation Union. MRL workers are represented by various unions. Montana Rail Link trains operate between Billings, MT and Spokane, WA using trackage rights over BN successor BNSF Railway's tracks connecting those points.


Montana Rail Link boxcar on the CRANDIC at Cedar Rapids, Iowa
Montana Rail Link still uses cabooses, which are used to carry remote control switching equipment on Laurel switch engines. A significant number of MRL movements are actually BNSF trains, complete with locomotives, that MRL receives at one end of its track and forwards back to BNSF at the other end. MRL also operates trains of its own to gather and distribute local freight along its lines. Forest products and grain are primary commodities, and MRL also operates a special train, called the Gas Local, between Missoula and Thompson Falls, Montana, to bridge a gap in a long-distance gasoline pipeline.

On September 8, 2005, Montana Rail Link took delivery of locomotive number 4300, the first of 16 new EMD SD70ACe locomotives. This is the first locomotive that the railroad has ordered new from a manufacturer, and it and the rest of the class are intended to replace aging SD40 and SD45 class locomotives on trains crossing the Rocky Mountains over the continental divide at Mullan Pass near Helena, Montana and Bozeman Pass near Bozeman, Montana.[3]
*Image is a representation and may not be exact
---
Share this Product
---
More from this collection