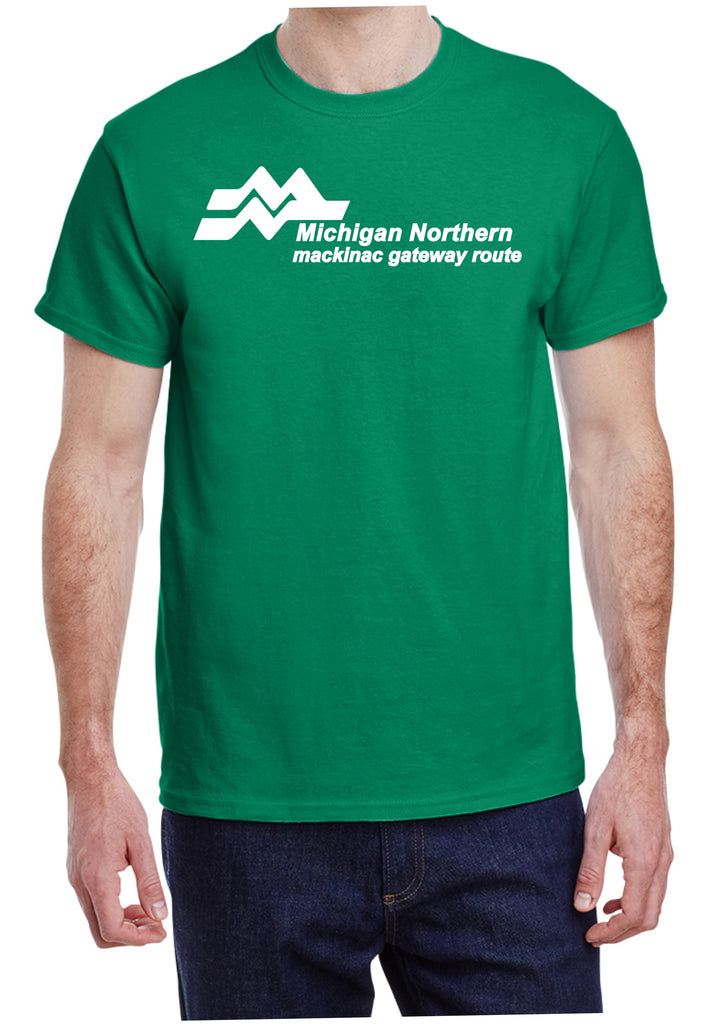 Michigan Northern Railroad Shirt
---
 Michigan Northern Railroad Shirt
Logo Printed on Front
100% Cotton
Shirt Color - Kelly Green 
The Michigan Northern Railway (reporting mark MIGN) was a railroad operating in the northwestern Lower Peninsula of Michigan. The main line stretched from a southern hub at Grand Rapids to a northern terminus at Mackinaw City. It operated from 1976 until 1986.
The Michigan Northern's trackage consisted of the northern half of the main line built between 1867 and 1882 by a predecessor railroad, the Grand Rapids & Indiana Railroad. During the 1900s, the spread of paved roads and alternate means of transportation reduced the profitability of this line. Although the GR & I main line was consolidated into the Pennsylvania Railroad and successor Penn Central (PC), usage continued to decline. The bankrupt PC won permission from the federal government to abandon lengthy sections of trackage in northern Michigan.

An intervention by the Michigan Department of Transportation prolonged the working life of the old GR & I main line. The state acquired most of the trackage and contracted with the Michigan Northern (MN) to operate it. The MN also offered service on branch lines to Charlevoix and Traverse City during their period of service. At the railroad's northern terminus, the MN turned freight cars over to the Detroit & Mackinac Railway, which switched them onto the SS Chief Wawatam, a railroad ferry that crossed the Straits of Mackinac. This allowed the MN to offer through freight service to Michigan's Upper Peninsula. A controversial rate "flag-out" starting in 1978 resulted in a rush of overhead traffic from the ferry onto the Michigan Northern. This soon went away after nationwide railroad deregulation in 1980.

The economic recession of the early 1980s forced the state of Michigan to reduce its subsidies to northern Michigan railroads and their customers. MN service ended in fall 1984 from Reed City to Grand Rapids (Comstock Park). A section of the former MN trackage stretching from Cadillac to Petoskey continued in service under another contractual operator, the Tuscola & Saginaw Bay Railway (now the Great Lakes Central Railroad); MN trackage between Grand Rapids and Cadillac was redeveloped as the White Pine Trail State Park.

The line from Petoskey to Charlevoix closed due to severe erosion of the land and thus making the track unusable. MN cut back to the 33-mile stretch from Bay View to Pellston, which had not been purchased by the state of Michigan. MN set up a purchase agreement with PC (which still owned the track), and established a truck-to-rail transfer facility at Pellston. Canadian Steel trucked to Pellston; MN hauled it to the Tuscola & Saginaw Bay interchange near Petoskey. This ended in January 1986.

In summer 1986, MN operated excursion trains. However, MN ran short on track payments to PC, and MN's last train left Pellston in April 1987. The line survived another five years (from Alanson to Petoskey) with the Little Traverse Scenic Railway, which used a MN GP-7 Locomotive in their first year of operation.
---
Share this Product
---
More from this collection