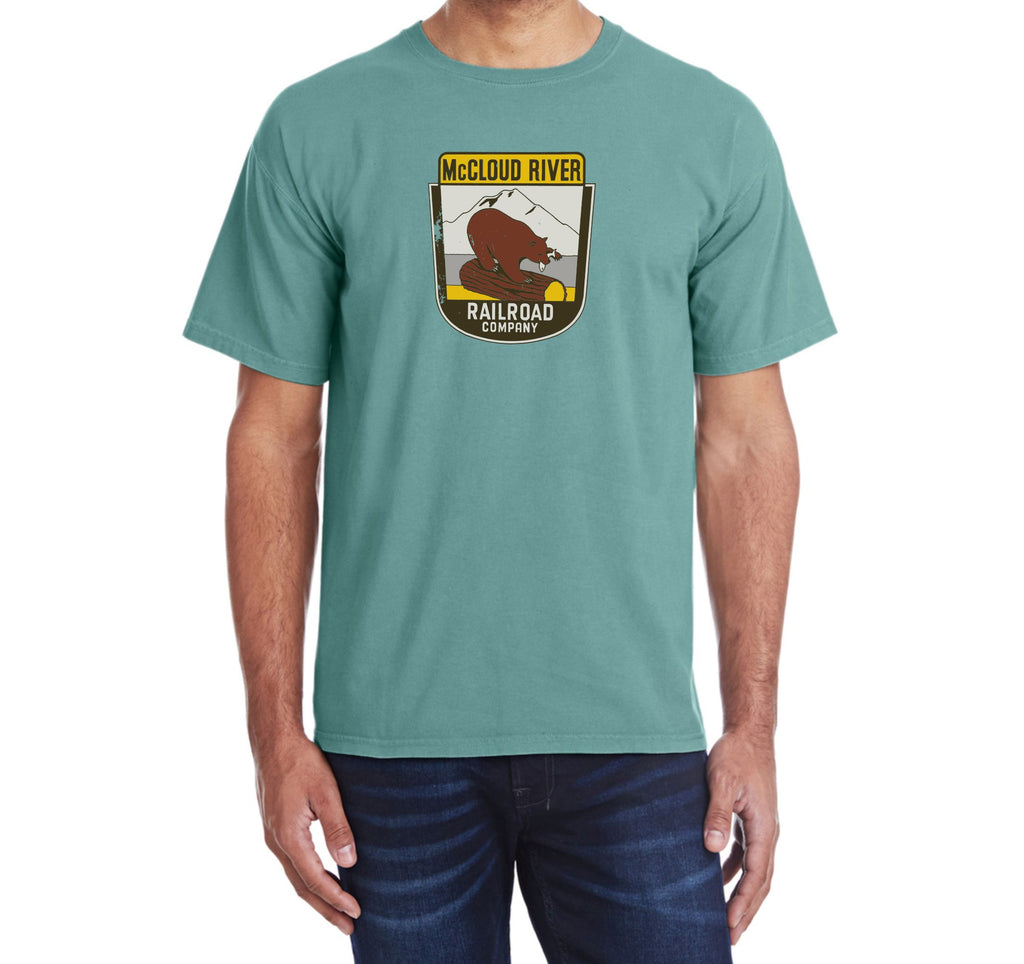 McCloud River Railroad Company Faded Glory Logo Shirt
---
McCloud River Railroad Company Faded Glory Logo Shirt
Printed on Front
100% Cotton Hanes Comfort Wash
Shirt Color - Cypress Green
The MCR was originally built as the McCloud River Railroad chartered on January 22, 1897, as a forest railway bringing logs to the company sawmill on the Southern Pacific Railroad at a place called Upton a few miles north of Mount Shasta, California. By 1901 the company sawmill was moved to McCloud, and the distance for hauling lumber produced at McCloud was reduced to 17.8 miles (28.6 km) by shifting the junction south to Mount Shasta in 1906. The locomotives shifted from wood to oil fuel as the railroad extended into the forests east of McCloud in 1907. Trains brought logs to the McCloud sawmill from the east, and carried lumber from the sawmill west to the Southern Pacific.[1]

In 1922 Pacific Gas and Electric Company (PG&E) built branches south from the McCloud main line at Bartle to build hydropower plants on the Pit River. Materials to build the Pit 1 powerhouse, the Pit 3 Dam, and the Pit 4 Dam were carried over the McCloud River Railroad to connection with the Pit River Railroad officially known as the Mount Shasta Corporation Construction Railroad. This activity encouraged the Great Northern and Western Pacific Railroads to claim a share of this traffic by building a branch west from their line at Lookout, California in 1931 giving McCloud interchange with three major railroad companies. After PG&E abandoned their Pit River Railroad, McCloud extended the former PG&E line south to Burney, California in 1955. Upon reaching Burney, McCloud operated a 130-mile (210 km) railroad including trackage rights over the 34-mile (55 km) Great Northern branch.[1]

The railroad remained primarily a logging railroad with several different owners over the following years including: U.S. Plywood Corporation (1963), U.S. Plywood-Champion Papers (1969), Champion International (1972), and Itel Corporation (1977). The railroad was sold to Jeff E. and Verline Forbis (4-Rails, Inc.) on July 1, 1992. On June 28, 2005, the railroad petitioned the STB to abandon most of its line. Service on all line east of the McCloud Sawmill (now abandoned) has been terminated. A small section of line between McCloud CA and Mount Shasta CA remained open briefly for excursion and dinner train service. As timber demand declined, the railroad slowly cut back although new ownership also led to its downfall. In 2009, the railroad ceased operation and closed down. The property is now for sale as a rail/trail as of 2012.

The railroad also had regular passenger service until 1952.

The railroad's bridge over Lake Britton was used in an iconic scene in the film Stand by Me.
---
Share this Product
---
More from this collection