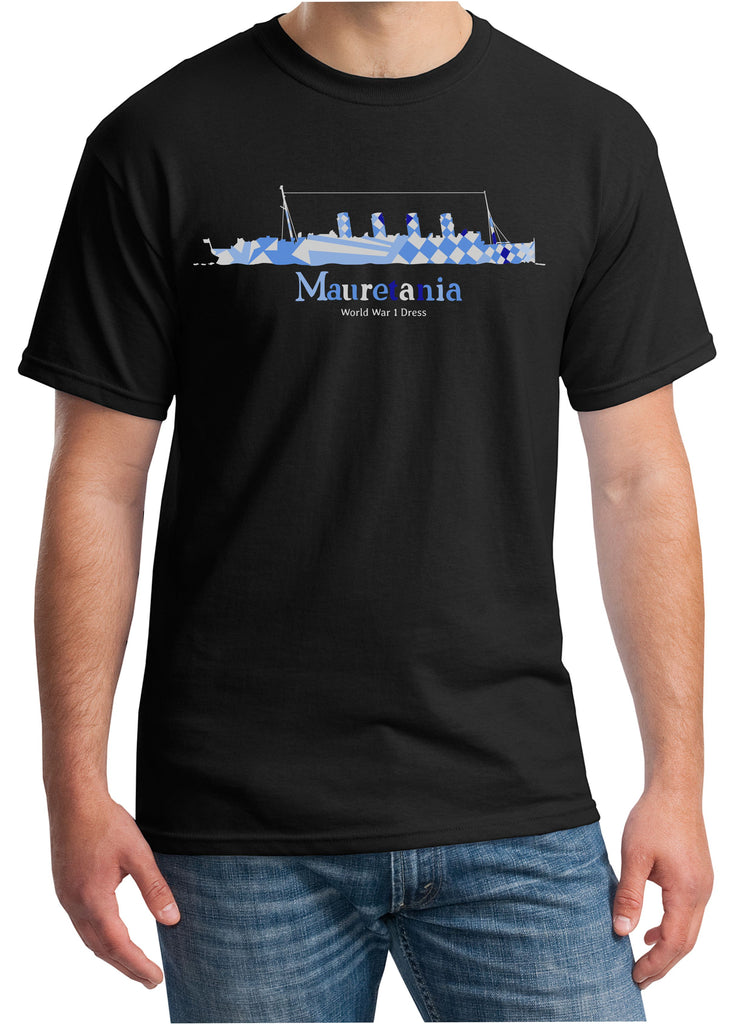 Mauretania Dazzle Scheme Logo Shirt
---
Mauretania Dazzle Scheme Logo Shirt
Printed on Front
100% Cotton
Shirt Color - Black
Shortly after Great Britain declared war on Germany on 4 August 1914, Mauretania made a dash for safety in Halifax, arriving on 6 August. Shortly after, she and Aquitania were requested by the British government to become armed merchant cruisers,[31] but their huge size and massive fuel consumption made them unsuitable for the duty,[32] and they resumed their civilian service on 11 August. Later, due to lack of passengers crossing the Atlantic, Mauretania was laid up in Liverpool until May 1915 at the time that Lusitania was sunk by a German U-boat.


HMT Mauretania with her second geometric dazzle camouflage scheme designed by Norman Wilkinson
Mauretania was about to fill the void left by Lusitania, but she was ordered by the British government to serve as a troop ship to carry British soldiers during the Gallipoli Campaign.[32] She avoided becoming prey for German U-boats because of her high speed and the seamanship of her crew. As a troopship, she was painted in dark greys with black funnels, as were her contemporaries.


HMHS Mauretania; a simulated image made from a retouched November trials postcard – the number of lifeboats confirms this
When combined forces from the British empire and France began to suffer heavy casualties, Mauretania was ordered to serve as a hospital ship, along with her fellow Cunarder Aquitania and White Star's Britannic, to treat the wounded until 25 January 1916. In medical service the vessel was painted white with buff funnels and large medical cross emblems[33] surrounding the vessel and possibly illuminated signs starboard and port. Seven months later, Mauretania once again became a troop ship late in 1916 when requisitioned by the Canadian government to carry Canadian troops from Halifax to Liverpool.[32] Her war duty was not yet over when the United States declared war on Germany in 1917, and she carried thousands of American troops. The ship was known by the Admiralty as HMS Tuberose[34] until the end of the war,[32] but the vessel's name was never changed by Cunard. Starting in March 1918, Mauretania received two forms of dazzle camouflage, a type of abstract colour scheming designed by Norman Wilkinson in 1917 in an effort to confuse enemy ships. The first camouflage scheme, applied early in March 1918, was curvilinear in nature and largely broad areas of olive with blacks, greys and blues. The second scheme was the more geometric design commonly referred to as "dazzle"; this design, applied by July 1918, was mostly several dark blues and greys with some black. After her war service, she was repainted in a drab grey scheme and finally full Cunard livery by the middle of 1919.
---
Share this Product
---
More from this collection