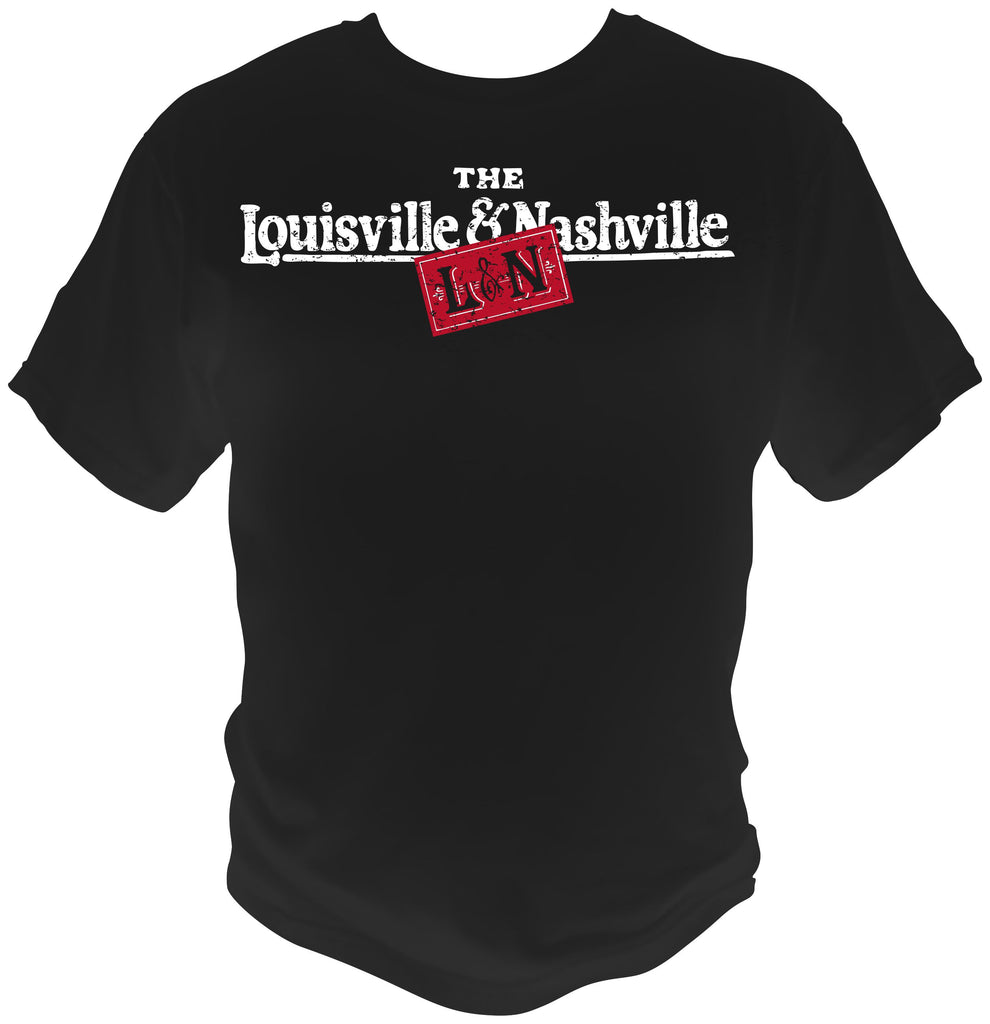 Louisville and Nashville (L&N) Railroad Faded Glory Shirt
---
 Louisville and Nashville Railroad Faded Glory Shirt
Printed on Front
100% Cotton Comfort Color
Shirt Color - L&N Heather Grey
The Louisville and Nashville Railroad (reporting mark LN), commonly called the L&N, was a Class I railroad that operated freight and passenger services in the southeast United States.

Chartered by the Commonwealth of Kentucky in 1850, the road grew into one of the great success stories of American business. Operating under one name continuously for 132 years, it survived civil war and economic depression and several waves of social and technological change. Under Milton H. Smith, president of the company for thirty years, the L&N grew from a road with less than three hundred miles (480 km) of track to a 6,000-mile (9,700 km) system serving fourteen states. As one of the premier Southern railroads, the L&N extended its reach far beyond its namesake cities, stretching to St. Louis, Memphis, Atlanta, and New Orleans. The railroad was economically strong throughout its lifetime, operating both freight and passenger trains in a manner that earned it the nickname, "The Old Reliable."

Growth of the railroad continued until its purchase and the tumultuous rail consolidations of the 1980s which led to continual successors. By the end of 1970, L&N operated 6,063 miles (9,757 km) of road on 10,051 miles (16,176 km) of track, not including the Carrollton Railroad.

In 1971 the Seaboard Coast Line Railroad, successor to the Atlantic Coast Line Railroad, purchased the remainder of the L&N shares it did not already own, and the company became a subsidiary. By 1982 the railroad industry was consolidating quickly, and the Seaboard Coast Line absorbed the Louisville & Nashville Railroad entirely. Then in 1986, the Seaboard System merged with the C&O and B&O and the new combined system was known as the Chessie System. Soon after the combined company became CSX Transportation (CSX), which now owns and operates all of the former Louisville and Nashville lines.
---
Share this Product
---
More from this collection