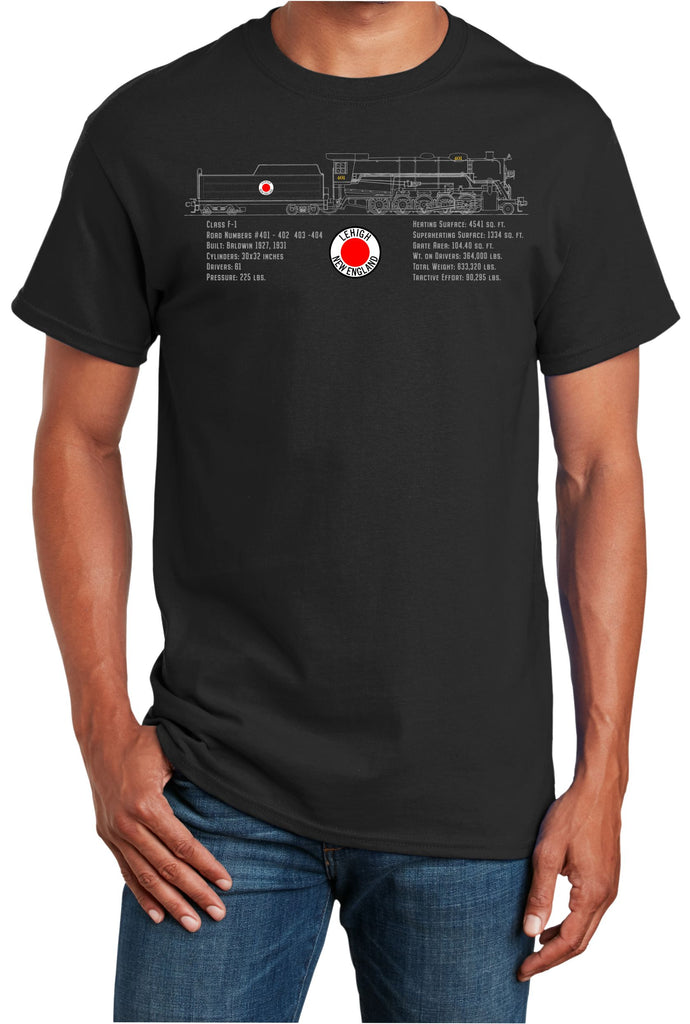 Lehigh & New England F-1 Decapod Locomotive Shirt
---
Lehigh & New England F-1 Decapod Locomotive Shirt
Logo Printed on Front
100% Cotton Gildan 6.1 oz.
Shirt Color - Black
Data from Baldwin Locomotive Works Specification for Engines as digitized by the DeGolyer Library of Southern Methodist University, Vol 81, pp. 86+. See also L&NE 8 - 1940 Locomotive Diagrams supplied in May 2005 by Allen Stanley from his extensive Rail Data Exchange. Works numbers were 61604-61605 in March 1931.

As the country (and Baldwin) spiralled down to its lowest output levels of the Great Depression, any order would have been welcome. This pair of decapods essentially repeated the order for the 1927 duo shown in Locobase 65, but substantially reworked the firebox by adding 143 sq ft (13.3 sq m) of thermic syphons (three in the firebox, two in the combustion chamber) and deleting three small tubes and the arch tubes. Steam admission came through 14" (356 mm) piston valves.
A comparison of the Elesco specs on the Baldwin orders for the two pairs of engines show that the superheater area increased by 80 sq ft (7.4 sq m) in the 403-404 because the thickness of the superheater element tubes decreased from 9 BWG (Birmingham Wire Gauge) to 10 BWG.
As in the 401-402, a relatively powerful Bethlehem booster drove the rear truck axles under the tender.
By 1940, the L&NE treated both pair as a single class, although it appears that the diagram shows the data for 401-402. 403 was scrapped in March 1949 and 404 in April 1950.
Please allow 10 business days to ship!
---
Share this Product
---
More from this collection