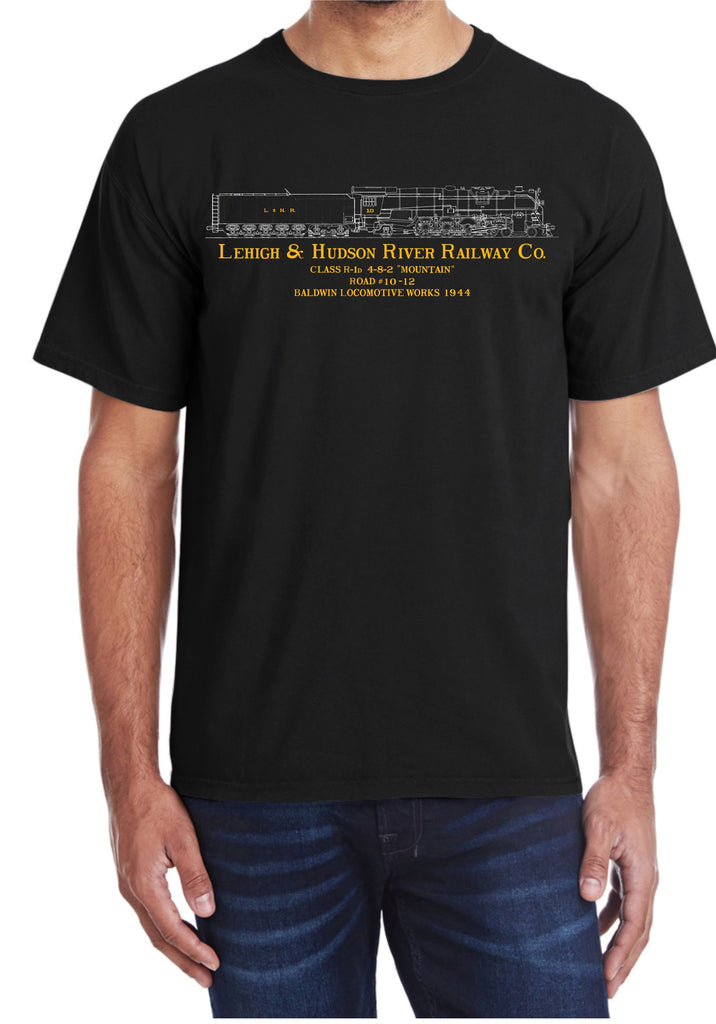 Lehigh & Hudson River Railway R-1d "Mountain" Faded Shirt
---
Lehigh & Hudson River Railway R-1d "Mountain" Faded Shirt
Printed on Front
100% Cotton
Shirt Color - Black Comfort Wash Hanes 100% Cotton
During World War II the Lehigh & Hudson River Railroad needed additional motive power. With new designs restricted it chose to buy duplicates of the Boston & Maine's Class R-1d "Mountain" locomotives. The Baldwin Locomotive Works delivered three (road numbers 10 through 12) in 1944.

Class R-1d (Locobase 207)
Data from tables and diagrams in 1947 Locomotive Cyclopedia. Works numbers were 70183-70185 in April 1944. (Thanks for Chris Hohl for reporting the tender coal capacity decimal error--NO tender ever had a 212-ton capacity--and for noting the later renumbering.)

Identical design to the Boston & Maine's R-1d (Locobase 4410), but built nine years later to handle high freight traffic demands on the Lehigh & Hudson River from Allentown to Maybrook, NY. Locobase can't explain the 37 sq ft (3.44 sq m) difference in the superheater area, but notes that it's less than 2% of the larger figure.
Marty Feldner, writing in his L&HR website (http://lhr.railfan.net/10steam.htm, visited 18 May 2005), says that these Mountains made a big impression when they went into service. Their boilers didn't handle the local water very well, however, foaming badly and suffering from scaling to a degree that other classes didn't seem to reach. They certainly were powerful and fast, sometimes hitting 70 mph (113 kph) as they gathered momentum for the long eastbound climb from McAfee to Sugar Loaf.
When the L&HR put 13 Alco diesels in service, the 10s (renumbered 40-42) were redundant. Attempts to sell them to other railroads fell through and they were scrapped.
---
Share this Product
---
More from this collection