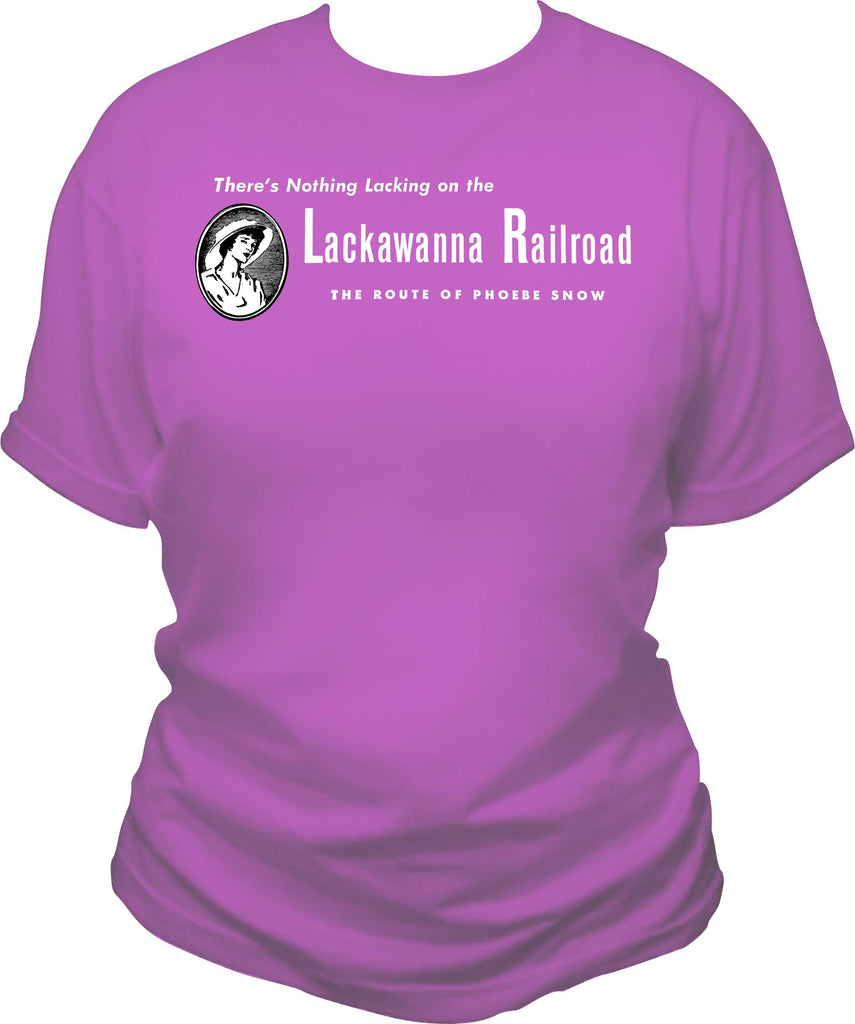 Lackawanna Railroad "Route of the Phoebe Snow" Shirt
---
 Lackawanna Railroad "Route of the Phoebe Snow" Shirt
Logo Printed on Front
100% Cotton
Shirt Color - Lanventer
The Delaware, Lackawanna & Western Railroad Company (DL&W or Lackawanna Railroad) was a U.S. Class 1 railroad that connected Buffalo, New York, and Hoboken, New Jersey, a distance of about 400 miles (640 km). Incorporated in 1853, the DL&W was profitable during the first two decades of the twentieth century, but its margins were gradually hurt by declining traffic in coal and competition from trucks. In 1960, the DL&W merged with rival Erie Railroad to form the Erie Lackawanna Railroad. (Credit - Wikipedia)DL&W era (1949-60)[edit]
Around 1900, DL&W launched a marketing campaign around the fictional character of Phoebe Snow to emphasize how the exhaust from its steam locomotives was cleaner than competitors' locomotives, as a result of using anthracite coal. The train took its name from the character.

Its route traveled across New Jersey, passing over the Paulinskill Viaduct and the Delaware River Viaduct of the Lackawanna Cut-off; Pennsylvania, passing over the Tunkhannock Viaduct; and the Southern Tier of New York.

The train operated for a few decades, then was suspended.

On November 15, 1949, the DL&W inaugurated a new streamlined passenger train named after its long-dormant promotional symbol. Launched by DL&W president William White, the new Phoebe Snow represented the DL&W's modernization of its passenger train fleet, and image, as it became Train No. 3 (westbound) and No. 6 (eastbound), which previously had been assigned the railroad's former premier train, the Lackawanna Limited. The Phoebe Snow ran on a daylight schedule between Hoboken, New Jersey, and Buffalo, New York, making the 396-mile (639-km) trip in about eight hours.[1] Westbound, the sleepers and some coaches would continue on to Chicago, Illinois, over the Nickel Plate Railroad's Nickel Plate Limited and, on return, would be transferred in Buffalo from Train No. 10, the New York Mail.

The train's reclining seat coaches were taken from a pool of 26 cars split between builders Pullman-Standard and American Car & Foundry (ACF). The dining cars and tavern-lounge-observation cars for the two Phoebe Snow consists were built by the Budd Company, while the through sleeping car in each consist was taken from a pool of nine 10-roomette, 6-double bedroom cars built for the Lackawanna by ACF.[2] Motive power was provided initially by an A-B-A set of passenger-equipped EMD F3 diesels, but their steam generators provided insufficient heat to the train in winter, and were supplanted by a pair of EMD E8A diesel-electric locomotives.[1]

In 1958, as part of the consolidation of operations between the Erie and DL&W railroads—the roads would merge formally in 1960 to form the EL—DL&W's mainline between Binghamton and Corning, New York, was severed and all trains traveling between those points were rerouted over the Erie mainline. Between April 29 and July 1, 1962, all passenger trains between Corning and Buffalo were re-routed off the DL&W mainline over Dansville Hill to the former Erie mainline via Hornell, New York, a route that was four miles (6.5 km) longer than the old one, and which added an hour to the scheduled time.
---
Share this Product
---
More from this collection