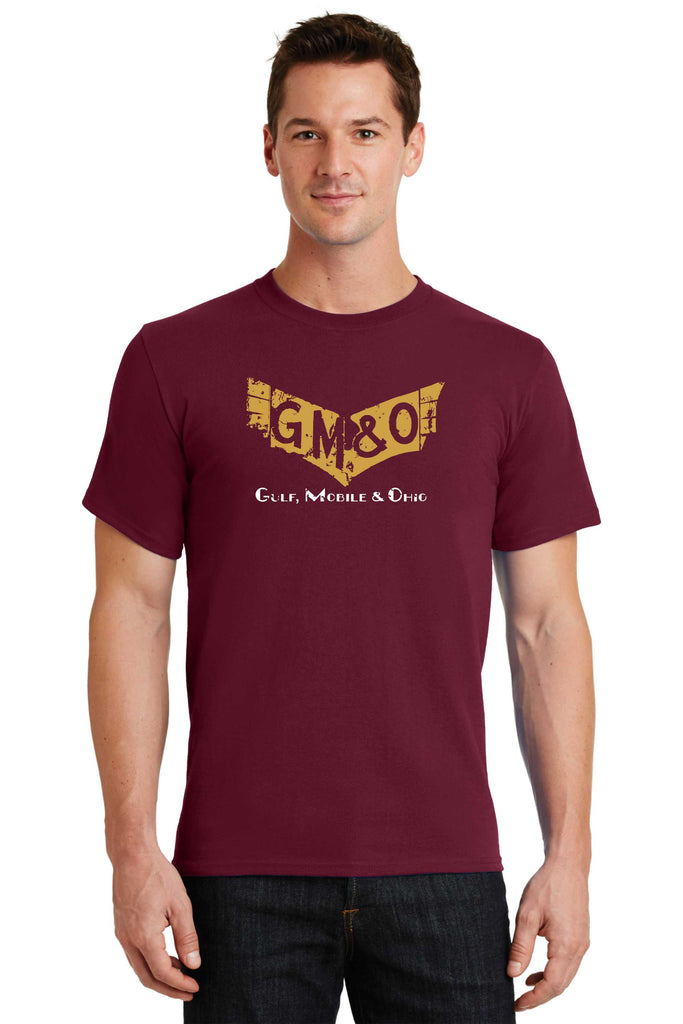 Gulf, Mobile and Ohio Railroad Logo Shirt
---
Gulf, Mobile and Ohio Railroad Logo Shirt                            
 Logo Printed on Front
100% Cotton
Shirt Color = GM&O Cardinal
The Gulf, Mobile and Northern Railroad was created as the reorganization of the New Orleans, Mobile and Chicago Railroad in 1917. The GM&O was incorporated in 1938 to merge the Gulf, Mobile and Northern Railroad and the Mobile and Ohio Railroad, which was accomplished in 1940. The GM&O later bought and merged the Alton Railroad in 1947.

Isaac B. Tigrett, a native of Jackson, Tennessee, was president of the GM&N from 1920 and of the GM&O from 1938 to 1952, and oversaw the development of the road from a nearly bankrupt operation into a thriving success. He was the great-uncle of Hard Rock Cafe founder Isaac Tigrett, also a native of Jackson.[2]

From 1952 to 1972 the headquarters of the GM&O were in Mobile, Alabama at 104 St. Francis Street. The President of the GM&O Railroad during this period was G. Paul Brock. The Railroad retained the passenger terminal at Beauregard Street for additional offices.

At the end of 1944 GM&O operated 1950 miles of road, including NOGN; at the end of 1950 it operated 2898 route-miles. At the end of 1970 route mileage was 2734 (3946 miles of track); GM&O reported 8285 million ton-miles of revenue freight and 44 million passenger-miles for that year.

The GM&O Railroad was the first "large" railroad in the United States to replace all its steam locomotives with diesels.[citation needed]

On August 10, 1972 the Gulf, Mobile and Ohio Railroad merged into the Illinois Central Railroad, forming the 9600-mile north-south Illinois Central Gulf Railroad. In 1996 Illinois Central spun off some of its redundant trackage, including most of the former Gulf, Mobile and Ohio. Most of this trackage was acquired by other railroads.

On February 11, 1998 the Illinois Central was purchased by the Canadian National Railway (CN) with the integration of operations beginning on July 1, 1999.
*Image is a representation and may not be exact
---
Share this Product
---
More from this collection