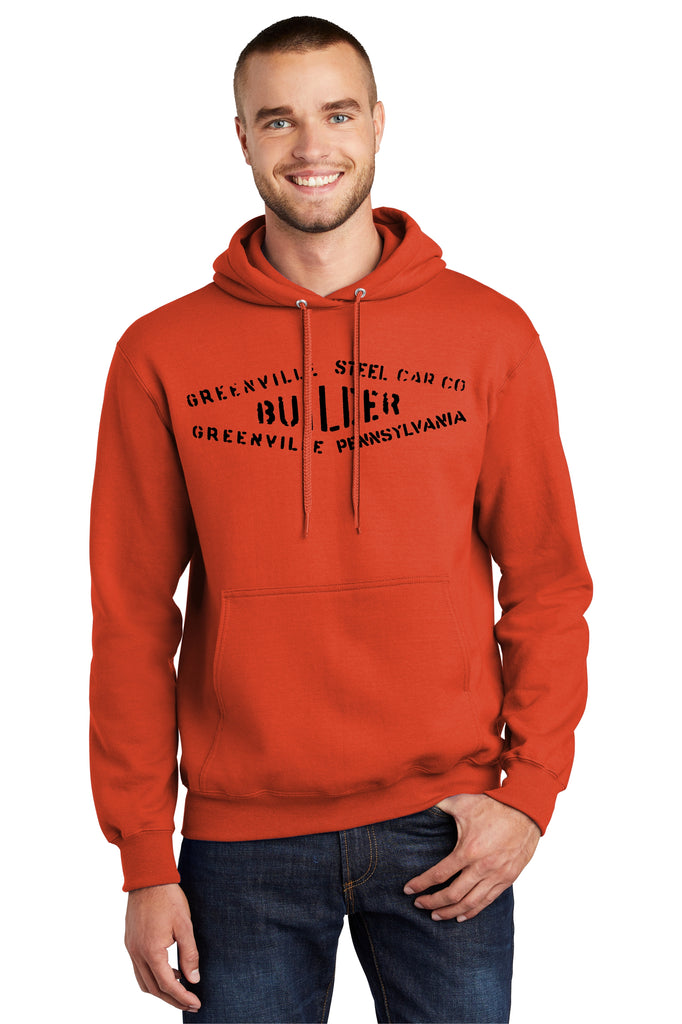 Greenville Steel Car Company Logo Hoodie
---
Greenville Steel Car Company Logo Hoodie    
9-ounce, 50/50 cotton/poly fleece, Port & Company PC90H

Printed Front Only   
Color Orange                          
 Greenville Steel Car Company
The Company was organized in 1910 as the Greenville Metal Products Company — a subsidiary of the Salisbury Axle Company, Jamestown, N. Y . — for the manufacture of automotive parts. Operations began with the production of front and rear axles, spindles, jack shafts, drop forgings, etc. The Company also manufactured stationary electric light plants, later built some of the first electric starters, and eventually produced complete automobiles, known as the Fay and Empire cars.

The Jamestown plant soon expanded facilities to the point where it could absorb some of the work done by Greenville. This created additional capacity at the Greenville plant. Meanwhile, early in the century, America's railroads had begun the switch-over from wooden to all-steel freight cars. This type of construction rapidly gained in popularity, and soon all-steel freight cars had been adopted as standard by most large railroads without much thought having been given as to the facilities which would eventually be required to repair them.

About 1914 large numbers of steel cars required repairs and rebuilding and the railroads needed facilities to do this work. The Greenville plant had the capacity and its management recognized the opportunity, negotiating a contract with the Bessemer & Lake Erie Railroad to make heavy repairs to 740 of the first all-steel hoppers ever placed in service. It was at this phase of the Company's history that its corporate name was changed to Greenville Steel Car Company.

The Company continued to repair and rebuild all types of freight cars for leading railroads, and in 1916 built its first new cars — 200 fifty-ton twin hoppers for the Baltimore & Ohio Railroad. From this time the Company continuously expanded its designing and construction of all types of standard steel freight cars, as well as highly specialized cars for transportation of all kinds of heavy machinery and equipment.

During World War II Greenville Steel Car offered its facilities and organization to the Navy and War Departments, and was called upon to produce tremendous quantities of war materials. These included buoys, mobile power plants, welded ship sections, dry dock sections, gasoline barges, locomotive tenders, and various types of freight cars which were shipped abroad for use by the Armed Forces.

The plant is situated at Greenville, about 75 miles north of Pittsburgh in the northwestern section of Pennsylvania. Here also are located Thiel College, shops of the Bessemer & Lake Erie Railroad, and a plant of the Chicago Bridge & Iron Company.

Frank L. Fay, an early executive of the Bessemer & Lake Erie Railroad, later a Pennsylvania State Senator, and now Chairman of the Board of Trustees of Thiel College, organized Greenville Steel Car Company and was its first president and general manager. He retired from active management of the firm in 1925. It is now operated as a wholly-owned subsidiary of the Pittsburgh Forgings Company, under the direction of Edwin Hodge, Jr., President and Chairman of the Board.
*Image is a representation and may not be exact
---
Share this Product
---
More from this collection