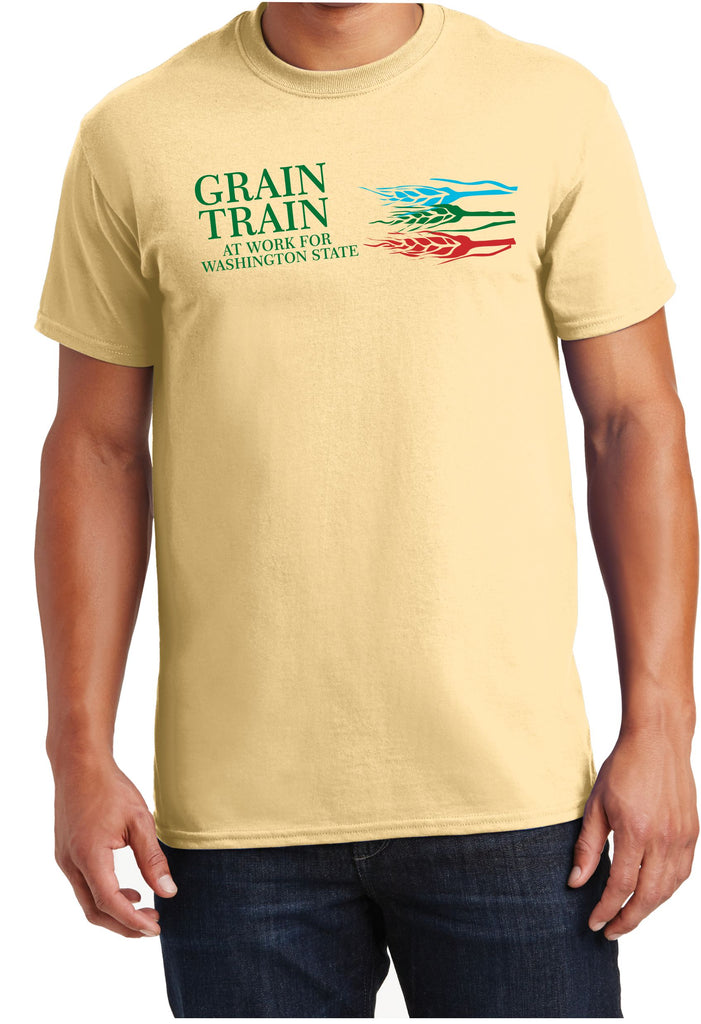 Grain Train Washington State Shirt
---
 Grain Train Washington State Shirt 
Logo on Front
Gildan 100% Cotton 6.1 oz
Shirt Color - Vegas Gold
Posted 10/30/2005 HistoryLink.org Essay 7530
Share
In the fall of 1994, the Washington grain train begins rolling. The Washington State Department of Transportation (WSDOT) and the Washington State Energy Office have purchased and repaired 29 used rail hopper cars to collect wheat and barley from grain elevators in Southeast Washington and haul it to grain-export facilities in deepwater ports along the Columbia River and Puget Sound. From the ports the grain will be loaded onto ships bound for Pacific Rim markets.
For Want of a Hopper Car

In the early 1990s, a national shortage of rail hopper cars made it difficult and expensive for Washington state farmers to get grain to market. The transcontinental railroads were earning more money hauling grain from the Midwest to ports in the Pacific Northwest than they could through shorter-distance trips within Washington. This reduced the supply of empty grain cars for Eastern Washington grain shippers.

The first "Washington Grain Train" was a joint effort between the Port of Walla Walla, Washington State Department of Transportation (WSDOT), the Blue Mountain Railroad, and four Walla Walla area grain co-ops. The $763,000 needed to purchase the original 29 cars came from successful litigation against oil companies that had overcharged farmers during the 1970s. Once the trains were in service, their income was used to acquire an additional 65 rail cars and to expand the service area to include 13 communities in Whitman, Grant, and Adams counties.

A Self-Sufficient System

By 2003 the Grain Train was collecting wheat and barley from grain elevators in Waitsburg, McCoy, Schrag, Spangle, LaCrosse, Prescott, Willada, St. John, Thornton, Plaza, Rosalia, Endicott, Oakesdale, Palouse, and Fallon, Washington. A total of 94 hopper cars had been purchased and were in use.

The grain is hauled to grain-export facilities in Portland, Vancouver (WA), Kalama, Tacoma, and Seattle. After the grain is off-loaded, the cars are hauled back to Eastern Washington by the Union Pacific Railroad and the Burlington Northern Sante Fe Railroad, and the cycle begins again. The program is managed by WSDOT and by the Port of Walla Walla, the Port of Moses Lake, and the Port of Whitman County. The short line railroads involved are the Blue Mountain Railroad, the Columbia Basin Railroad, and the Palouse River and Coulee City Railroad.

The program serves more than 2,500 cooperative members and farmers in one of the most productive grain-growing regions in the world. It also generates revenues for the short-line railroads, which can then upgrade their infrastructure and attract new business. The grain train operates at no cost to taxpayers.
---
Share this Product
---
More from this collection