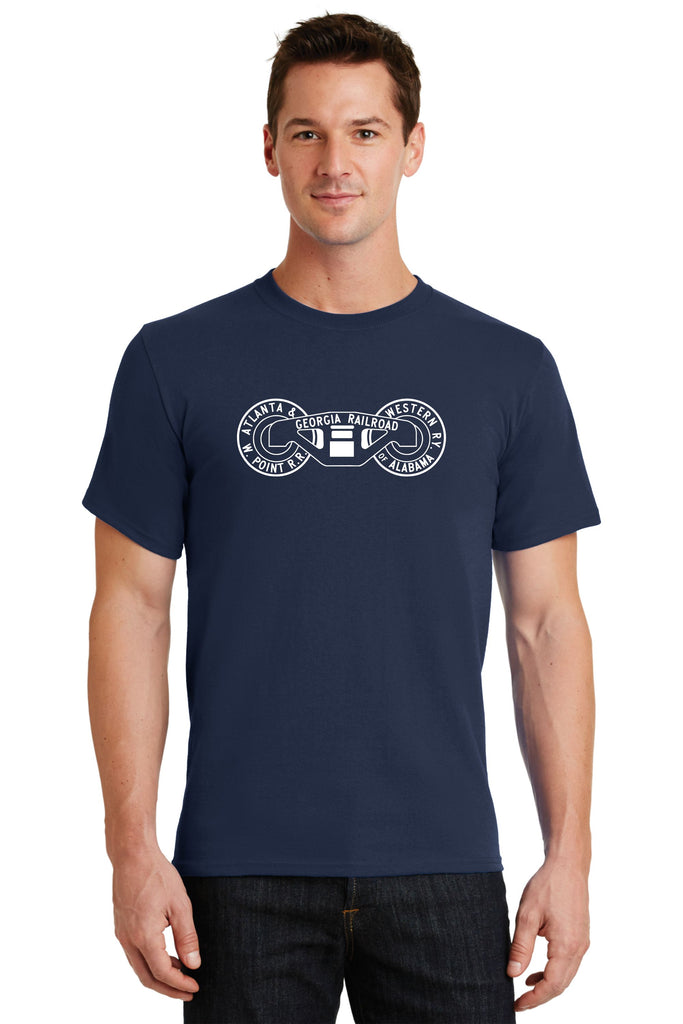 Georgia Railroad Freight Wheel Logo Shirt
---
Georgia Railroad Freight Wheel Logo Shirt    
100% Cotton Shirt
Printed Front Only   
Color Navy                             
The company was chartered in 1833 in Augusta, Georgia. In 1835, the charter was amended to include banking. Originally the line was chartered to build a railroad from Augusta to Athens, with a branch to Madison. It was converted to 1,435 mm (4 ft 8 1⁄2 in) in 1886[1].

The 5 ft (1,524 mm) gauge railroad opened in 1845 with J. Edgar Thomson as its Chief Engineer and Richard Peters as its first Superintendent.[3]

At that time the rates were as follows:

5¢ per mile for passengers
50¢ per 100 miles (160 km) for freight
Several other railroads were then under construction:

The Western and Atlantic Railroad was chartered to build a line from 7 miles (11 km) south of the Chattahoochee River, at a point named Terminus (present-day Atlanta), to Chattanooga, Tennessee (formerly Ross Landing).
The South Carolina Railroad was building a line from Charleston to North Augusta, South Carolina (formerly Hamburg).
The Memphis and Charleston Railroad was being built from Memphis to Chattanooga.
The Nashville and Chattanooga Railroad and the Louisville and Nashville Railroad (L&N) were both constructing rival lines between Louisville, Kentucky, and Nashville, Tennessee.
The Georgia Railroad decided to extend the Madison branch to Terminus (Atlanta) and thereby compete with the Central Railroad and Banking Company of Georgia (later the Central of Georgia Railroad), which together with the Macon & Western Railroad, was competing for traffic through Charleston's rival port of Savannah, Georgia. By 1850, this railroad had built 213 miles (343 km) of track and was up to 232 miles (373 km) by 1860.[4] At the time, goods from the Mississippi and Ohio valleys had to go by riverboat to New Orleans and then via coastal steamships around the Florida Keys, to get to the big population centers in the Northeast. Shipping cross-country by rail to the ports of Charleston and Savannah made perfect economic sense.
The banking side of the business was quickly more successful than the railroad side. The Georgia Railroad & Banking Company was perhaps the strongest bank in Georgia for many years. The bankers used some of their wealth to buy controlling interests in the Atlanta & West Point Railroad (A&WP) and the Western Railway of Alabama (WofA), which provided a continuous line from Atlanta to Montgomery, Alabama, although the WofA was standard gauge, while all the other lines in the South were broad gauge.
Shirts are printed in cycles based on demand, and typical turn-around is 5-7 business days.  Depending on other factors, the turn-around could be longer.  You will be notified if the expected ship date is longer than 7 business days from your order. 
*Image is a representation and may not be exact
---
Share this Product
---
More from this collection