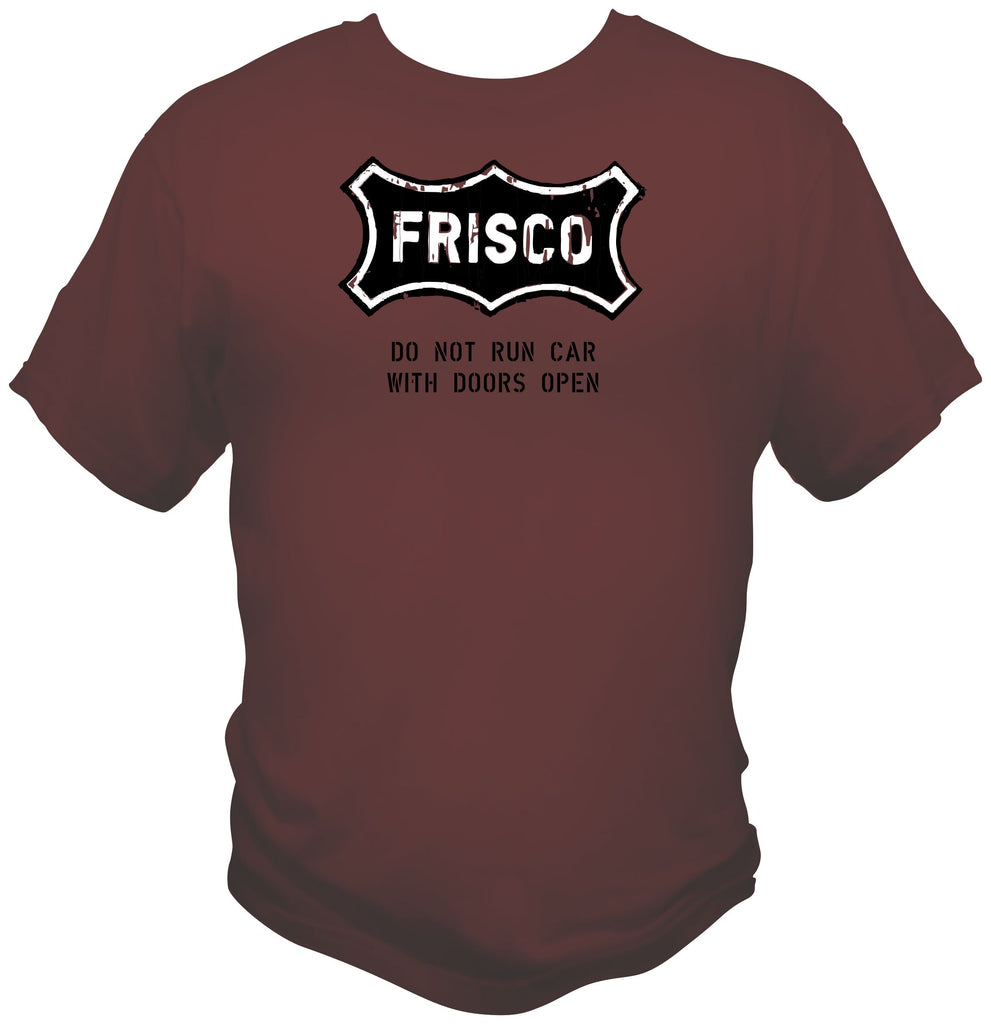 Frisco Raccoon Skin Logo Faded Glory Shirt
---
Frisco Raccoon Skin Logo Faded Glory Shirt                              
Printed on Front

100% Cotton

Shirt Color - Frisco Brown 100% cotton Bella Canvas
The St. Louis–San Francisco Railway was incorporated in Missouri on September 7, 1876. It was formed from the Missouri Division and Central Division of the Atlantic and Pacific Railroad. This land grant line was one of two railroads (the other being the M-K-T) authorized to build across Indian Territory. The Atchison, Topeka and Santa Fe Railroad, interested in the A&P right of way across the Mojave Desert to California, took the road over until the larger road went bankrupt in 1893; the receivers retained the western right of way but divested the ATSF of the St. Louis-San Francisco mileage on the great plains. After bankruptcy the Frisco emerged as the St. Louis and San Francisco Railroad, incorporated on June 29, 1896,[2][3] which also went bankrupt. On August 24, 1916 the company was reorganized as the St. Louis–San Francisco Railway, though the line never went west of Texas, terminating more than 1,000 miles (1,600 km) from San Francisco.

The St. Louis–San Francisco Railway had two main lines: St. Louis–Tulsa–Oklahoma City and Kansas City–Memphis–Birmingham. The junction of the two lines was in Springfield, Missouri, home to the company's main shop facility and headquarters. Other lines included:

Springfield–Kansas City (via Clinton, Missouri)
Monett, Missouri (Pierce City)–Wichita, Kansas
Monett, Missouri–Hugo, Oklahoma–Paris, Texas
St. Louis–River Junction, Arkansas (Memphis, Tennessee)
Tulsa, Oklahoma–Dallas, Texas
Tulsa, Oklahoma–Avard, Oklahoma
Lakeside, Oklahoma–Hugo, Oklahoma–Hope, Arkansas.
From March 1917, through January 1959, the Frisco, in a joint venture with the Missouri–Kansas–Texas Railroad, operated the Texas Special. This luxurious train, a streamliner from 1947, ran from St. Louis to Dallas, Texas, Ft. Worth, Texas, and San Antonio, Texas.

It was the last passenger railroad to end Jim Crow or segregation of passengers by race.[citation needed]

The Frisco merged into the Burlington Northern Railroad on November 21, 1980.

The city of Frisco, Texas, was named after the railroad and uses the former railroad's logo as its own logo. The logo is modeled after a stretched-out raccoon skin[4][5] (giving rise to Frisco High School's mascot, the Fighting Raccoons).
*Image is a representation and may not be exact
---
Share this Product
---
More from this collection