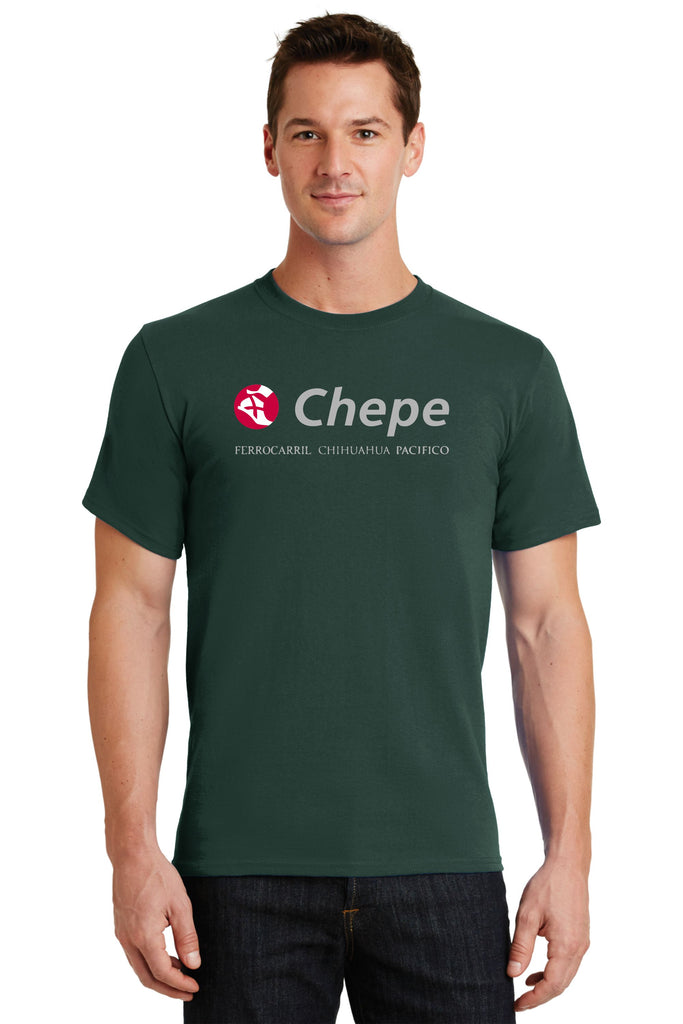 Ferrocarril Chihuahua-Pacific Railway Logo Shirt
---
  Ferrocarril Chihuahua-Pacific Railway Logo Shirt                            
 Logo Printed on Front
100% Cotton
Shirt Color = Orange Sherbet
The Ferrocarril Chihuahua al Pacífico (Chihuahua-Pacific Railway), also known as El Chepe from its reporting mark CHP, or Ferrocarril Chihuahua-Pacífico, is a major rail line in northwest Mexico, linking the Chihuahua City, to the Los Mochis and its port, Topolobampo.[4] It runs 673 km (418 mi), traversing the Copper Canyon, a rugged series of canyons that have led some to call this the most scenic railroad trip on the continent. It is both an important transportation system for locals and a draw for tourists.

The tracks pass over 37 bridges and through 86 tunnels, rising as high as 2,400 m (7,900 ft) above sea level near Divisadero (the continental divide), a popular lookout spot over the canyons.[5] Each one-way trip takes roughly 16 hours. The track also crosses over itself to gain elevation.
The concept of the railroad was officially recognized in 1880, when the president of Mexico, General Manuel González, granted a rail concession to Albert Kinsey Owen[1][6] of the Utopia Socialist Colony of New Harmony, Indiana, United States, who was seeking to develop a socialist colony. The railroad was actually built by Arthur Stilwell[2] as the Kansas City, Mexico and Orient Railway, starting about 1900. Financial difficulties caused by the cost of building a railroad through rugged terrain delayed the project, and the ChP was not completed until 1961.[1][2]

The private rail franchise Ferromex took over the railroad from the Mexican government in 1998.
*Image is a representation and may not be exact
---
Share this Product
---
More from this collection