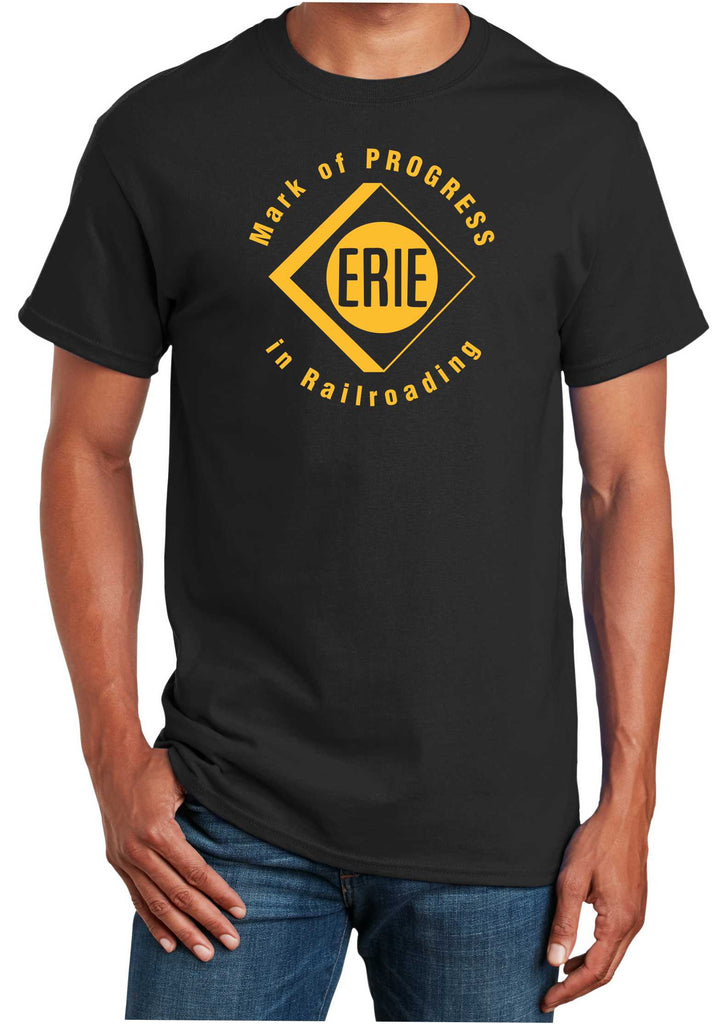 Erie, Mark of Progress Railroading
---
Erie, Mark of Progress Railroading
Logo Printed on Front
100% Cotton
Shirt Color - Black
Please allow 10 business days to ship!
The Erie Railroad (reporting mark ERIE) was a railroad that operated in the northeastern United States, originally connecting New York City — more specifically Jersey City, New Jersey, where Erie's former terminal, long demolished, used to stand — with Lake Erie. It expanded west to Chicago with its 1941 merger with the former Atlantic and Great Western Railroad, also known as the New York, Pennsylvania and Ohio Railroad (NYPANO RR). Its mainline route proved influential in the development and economic growth of the Southern Tier, including cities such as Binghamton, Elmira, and Hornell. The Erie Railroad repair shops were located in Hornell, and were Hornell's largest employer. Hornell was also where Erie's main line split into two routes, one north to Buffalo and the other west to Cleveland.
On October 17, 1960, the Erie merged with the former rival Delaware, Lackawanna & Western Railroad to form the Erie Lackawanna Railroad. The Hornell repair shops were closed, and repair operations moved to the Lackawanna's Scranton facility; this had a devastating effect on Hornell from which it has never recovered. (The repair shops have subsequently been used, intermittently, for the assembly of railroad/transit equipment.) Most of the former Erie line between Hornell and Binghamton was destroyed in 1972 by the floods of Hurricane Agnes. What was left of the Erie Lackawanna became part of Conrail in 1976.[1] In 1983, Erie remnants became part of New Jersey Transit rail operations, including its Main Line. Today, most of the surviving Erie Railroad routes are operated by the Norfolk Southern Railway.
---
Share this Product
---
More from this collection