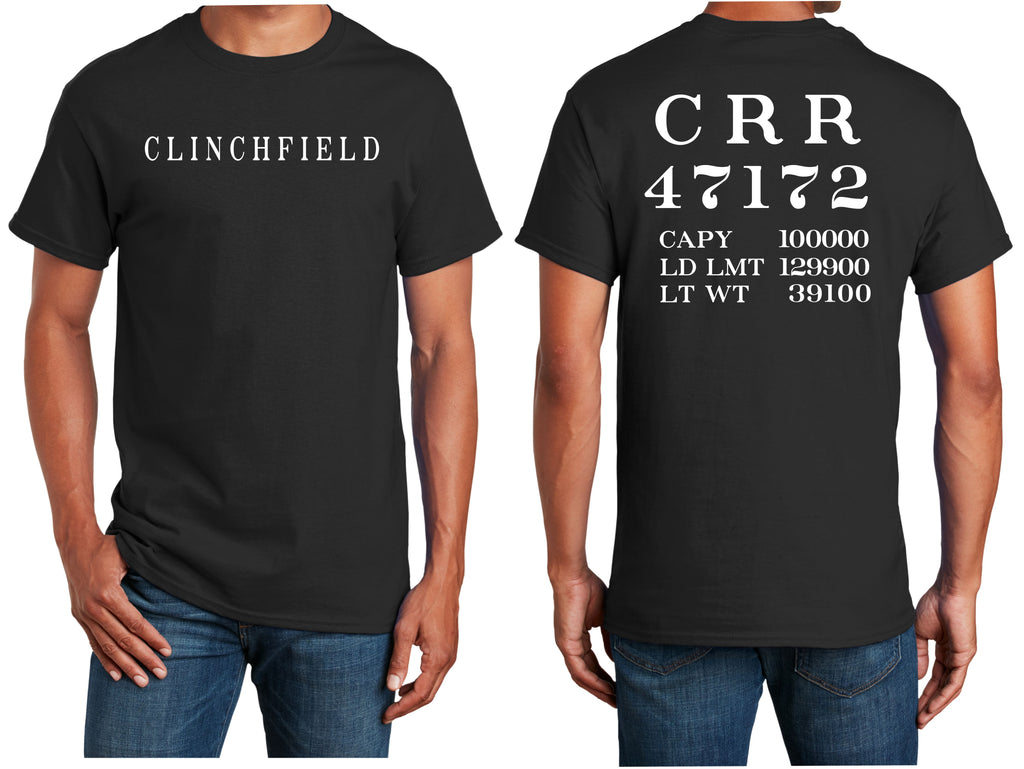 Clinchfield Railroad Hopper Car Recording Marks Shirt
---
Clinchfield Railroad Hopper Car Recording Marks Shirt
Logos Printed front and back
100% cotton Gildan 6.1oz. shirt
Color Black
The Clinchfield Railroad (reporting mark CRR) was an operating and holding company for the Carolina, Clinchfield and Ohio Railway (reporting mark CCO). The line ran from the coalfields of Virginia and Elkhorn City, Kentucky, to the textile mills of South Carolina. The 35-mile segment from Dante, Virginia, to Elkhorn City, opening up the coal lands north of Sandy Ridge Mountains and forming a connection with the Chesapeake and Ohio Railway at Elkhorn City, was completed in 1915.

The Clinchfield was the last Class I railroad built in the U.S. east of the Rocky Mountains. The 266-mile railroad provided access to numerous scenic wonders of the Appalachian region and is probably best known for the state-of-the-art railroad engineering techniques applied in its construction, as exemplified by the Clinchfield Loops climbing the Blue Ridge Mountains north of Marion, North Carolina.

The Clinchfield Railroad began operating the line December 1, 1924, and for many years it was leased jointly by the Atlantic Coast Line Railroad and Louisville and Nashville Railroad. When the L&N merged with the ACL's successor, the Seaboard Coast Line Railroad, effective January 1, 1983, forming the Seaboard System Railroad, the separate operating company was unnecessary and was merged into the Seaboard. The line is now owned and operated by CSX Transportation as their Blue Ridge Subdivision (Spartanburg to Erwin, Tennessee) and Kingsport Subdivision (Erwin to Elkhorn City).

At the end of 1925 the railroad operated 309 miles of road and 467 miles of track; mileages in 1970 were 312 and 501.
---
Share this Product
---
More from this collection