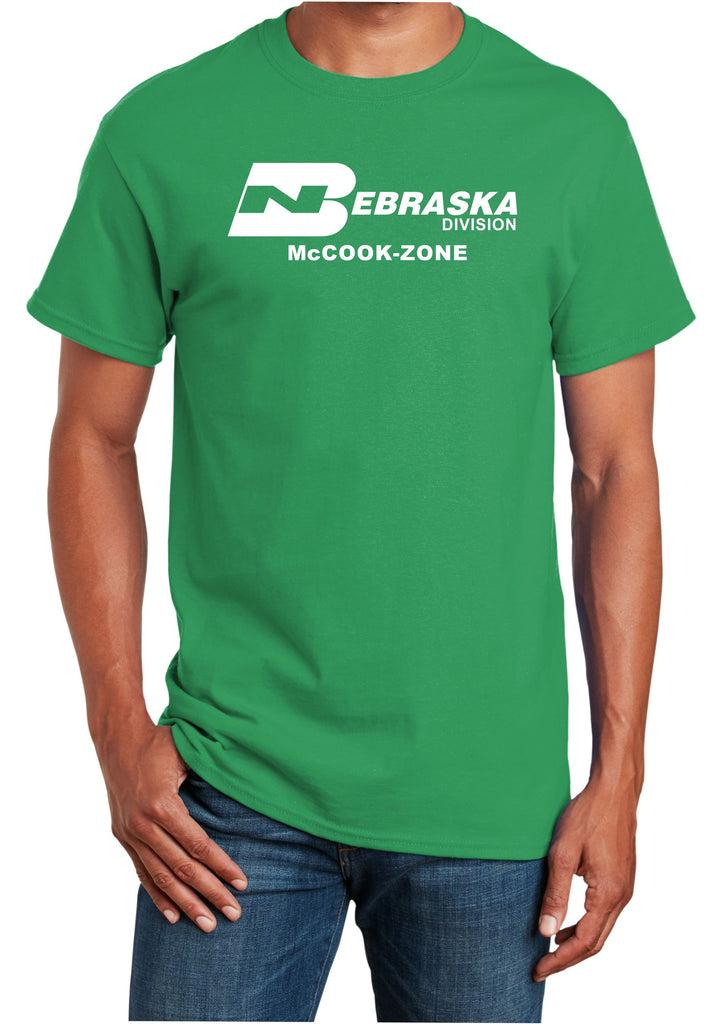 Burlington Northern Nebraska Division Logo Shirt
---
 Burlington Northern Montana Division Logo Shirt                            
 Logo Printed on Front
100% Cotton Gildan 6.1 oz
Shirt Color = Irish Green
The Powder River Basin is a geologic structural basin in southeast Montana and northeast Wyoming, about 120 miles (190 km) east to west and 200 miles (320 km) north to south, known for its extensive coal reserves. The former hunting grounds of the Oglala Lakota, the area is very sparsely populated and is known for its rolling grasslands and semiarid climate.

The basin is both a topographic drainage and geologic structural basin, drained by the Powder River, Cheyenne River, Tongue River, Bighorn River, Little Missouri River, Platte River, and their tributaries.

The major cities in the area include Gillette and Sheridan, Wyoming and Miles City, Montana.

In 2007, the region produced 436 million short tons (396 million tonnes) of coal, more than twice the production of second-place West Virginia, and more than the entire Appalachian region.[1] The Powder River Basin is the largest coal-producing region in the United States.[2] The region includes the Black Thunder Coal Mine, the most productive in the United States, and North Anteleope Rochelle Mine, the second most productive. In recent years, the region has become a major producer of natural gas, both conventional natural gas and coal-bed methane.
Please allow 10 business days to ship.
*Image is a representation and may not be exact
---
Share this Product
---
More from this collection