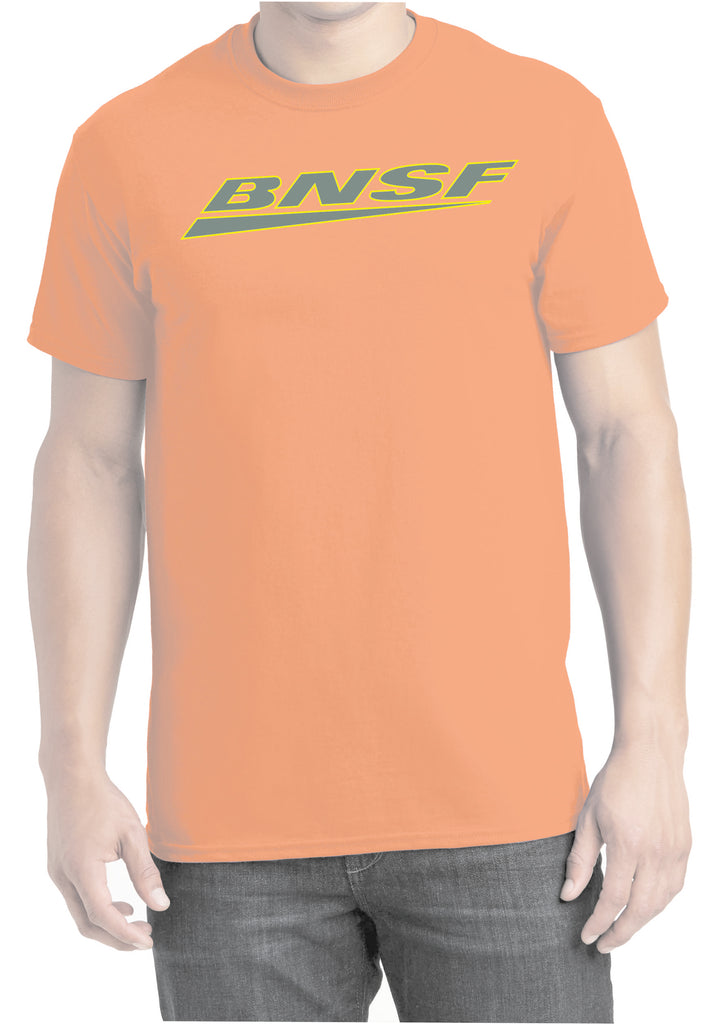 ---
BNSF Logo Shirt
Printed Front
Gildan 100% Cotton 6.2 oz
Color Orange
The BNSF Railway (reporting mark BNSF) is one of the largest freight railroad networks in North America, second to the Union Pacific Railroad (UP) (its primary competitor for Western U.S. freight), and is one of seven North American Class I railroads. It has 44,000 employees, 32,500 miles (52,300 km) of track in 28 states, and over 8,000 locomotives.[1] It has three transcontinental routes that provide rail links between the western and eastern United States. BNSF trains traveled over 169 million miles in 2010, more than any other North American railroad.[2] The BNSF and UP have a duopoly on all transcontinental freight rail lines in the Western U.S. and share trackage rights over thousands of miles of track.

According to corporate press releases, the BNSF Railway is among the top transporters of intermodal freight in North America. It also hauls bulk cargo. For instance, the railroad hauls enough coal to generate roughly ten percent of the electricity produced in the United States.

Headquartered in Fort Worth, Texas, the railroad is a wholly owned subsidiary of Berkshire Hathaway Inc.[3]

The creation of BNSF started with the formation of a holding company, the Burlington Northern Santa Fe Corporation on September 22, 1995. This new holding company then purchased the Atchison, Topeka and Santa Fe Railway (often called the "Santa Fe") and Burlington Northern Railroad, named after its center in the bustling Mississippi port town of Burlington, Iowa, and formally merged the railways into the Burlington Northern and Santa Fe Railway on December 31, 1996. On January 24, 2005, the railroad's name was officially changed to "BNSF Railway," using the initials of its original name.[4]

In 1999, Burlington Northern Santa Fe and the Canadian National Railway announced their intention to merge and form a new corporation entitled North American Railways to be headquartered in Montreal, Quebec, Canada. The United States' Surface Transportation Board (STB) placed a 15-month moratorium on all rail mergers, which ended this merger.

On November 3, 2009, Warren Buffett's Berkshire Hathaway announced it would acquire the remaining 77.4 percent of BNSF it did not already own for $100 per share in cash and stock - a deal valued at $44 billion. The company is investing an estimated $34 billion in BNSF and acquiring $10 billion in debt.[5][6][7][8][9] On February 12, 2010, shareholders of Burlington Northern Santa Fe Corporation voted in favor of the acquisition.
Logo printed on BNSF orange 100% cotton t-shirt.
---
Share this Product
---
More from this collection