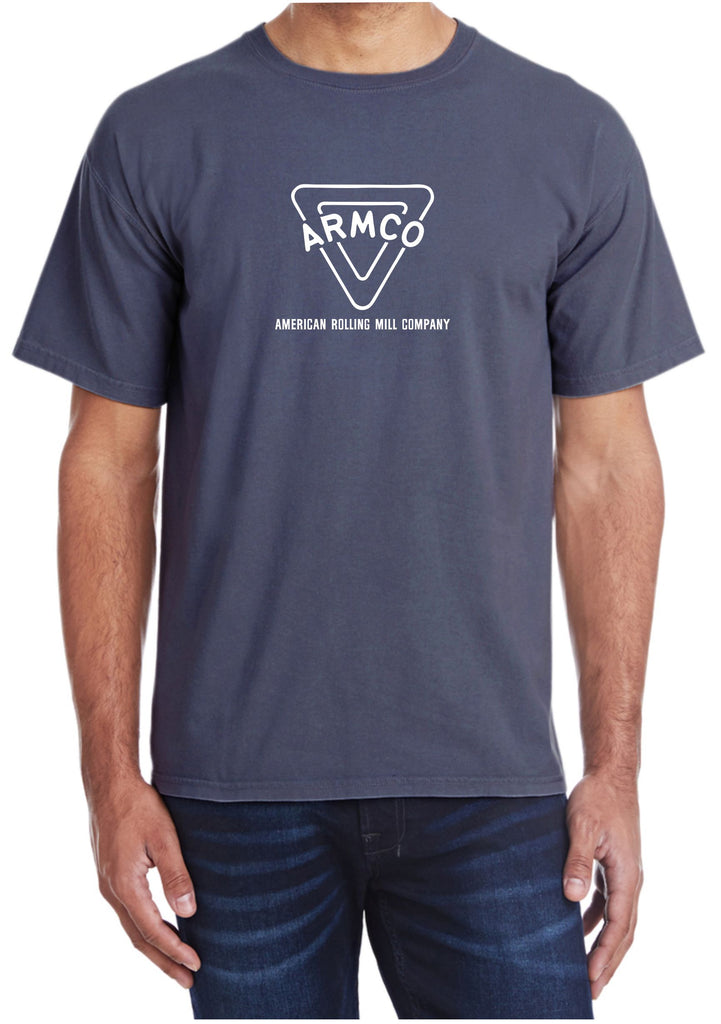 ---
Armco Steel Co Shirt                                           
Printed on Front

Hanes Comfort Wash 100% Cotton 5.5 oz

Shirt Color - Anchor Slate
The American Rolling Mill Company (ARMCO) opened in Middletown, Ohio, in 1910. Originally owned by George Verity, the company had its roots in the American Steel Roofing Company, which had been located in Cincinnati. The community of Middletown convinced Verity to move the business from Cincinnati to Middletown. From the beginning, ARMCO produced rolled sheets of steel, although the original production process was difficult and labor intensive.
ARMCO is one of the earliest Ohio companies to establish a shop committee, which allowed workers to organize. Shop committees were predecessors to unionization. The ARMCO shop committee was formed in 1904, making it not only one of the first companies in Ohio to take this step but also one of the first in the nation.
In 1921, ARMCO employee John Butler Tytus developed a process for producing rolled steel that was much more efficient and used fewer workers. The sheet metal was rolled into large coils. The old process produced approximately 520 tons of sheet per month, but the new process produced forty thousand tons a month. ARMCO experimented with this new process at a plant built in Ashland, Kentucky, but soon the company used the process at all of its facilities. Its innovations made ARMCO one of the most successful companies of its kind in the nation. Over time, ARMCO changed its name to Armco Steel Corporation, and then in 1978 Armco Steel Corporation became Armco Inc. The headquarters for Armco Inc. were located in Pittsburgh, Pennsylvania.
In 1999, Armco Inc. merged with AK Steel Corporation. At the time of the merger, Armco employed approximately 5,700 employees and had plants in Butler, Pennsylvania, and Coshocton, Mansfield, and Zanesville, Ohio. AK Steel's headquarters is located in Middletown, Ohio.
*Image is a representation and may not be exact
---
Share this Product
---
More from this collection