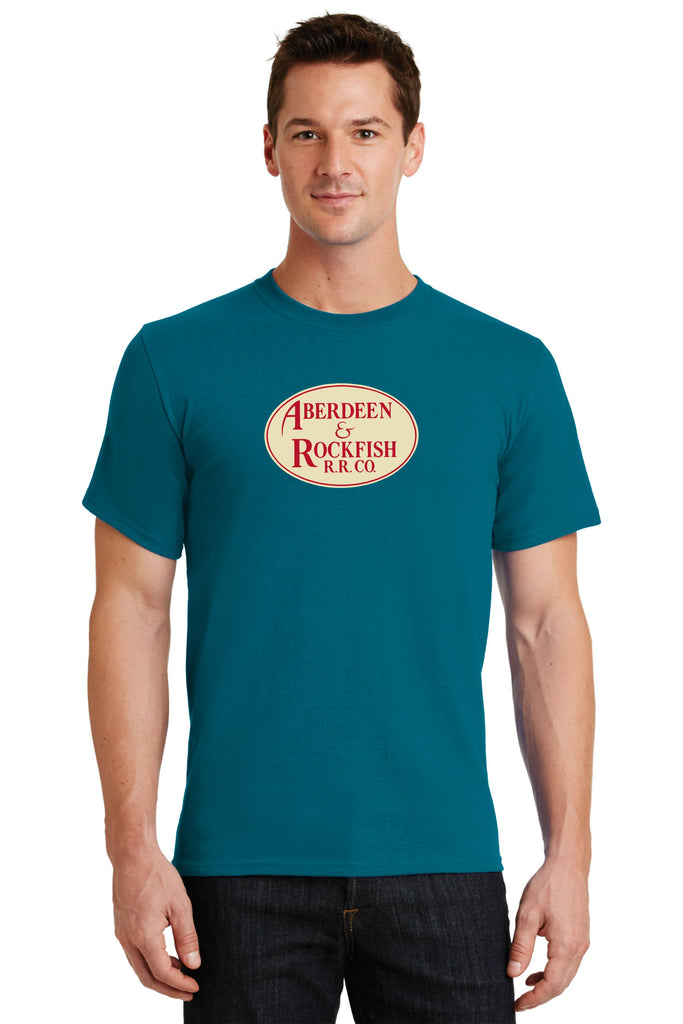 Aberdeen and Rockfish Railroad Logo Shirt
---
Aberdeen and Rockfish Railroad Logo Shirt                            
 Logo Printed on Front
100% Cotton Gildan 6.1 oz.
Shirt Color = Teal
The AR was incorporated in 1892 by businessman John Blue. He built the railroad to get his timber and turpentine products to market. On June 30, 1895, the first stretch of road was opened from Aberdeen to Endon. In 1898 the company added a line from Ashley Heights to Raeford which soon became the main line with the Endon line as a branch. Shortly thereafter, the Endon branch was extended to Juniper. The main line was extended to Dundarrach in 1900, Rockfish in 1902, Fenix in 1904 and a branch from Rockfish to Hope Mills was added in 1905. For a while, Aberdeen–Hope Mills became the main line, with branches to Juniper and Fenix.

On November 14, 1909, another branch from Raeford to Wagram was opened. In 1912, the company abandoned the Endon branch and used the rails to construct an extension from Fenix to Fayetteville which opened on December 23 that year. At the same time the line to Hope Mills was abandoned, as it became unnecessary with the new link to the main line of the Atlantic Coast Line Railroad in Fayetteville. Over the years the railroad's traffic has shifted from lumber to agriculture products. The AR has successfully focused on customer service and celebrated its 100th birthday in 1992.[1] The AR is still owned by the Blue family and operates freight trains from Aberdeen to Fayetteville. The Wagram branch was sold to the Laurinburg and Southern Railroad in 1921.[citation needed] Passenger service ended in 1949.
 Please allow 10 business days to ship!
*Image is a representation and may not be exact
---
Share this Product
---
More from this collection