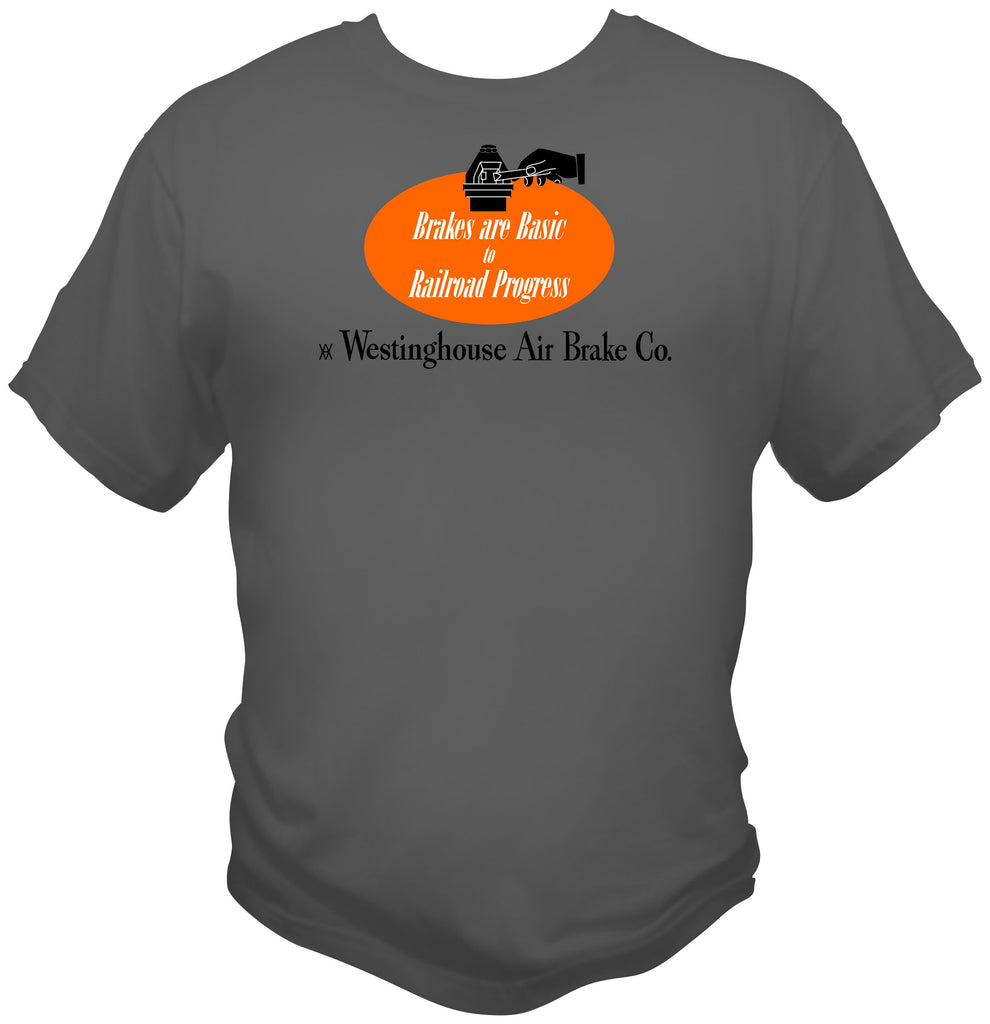 Westinghouse Air Brake Logo Shirt
---
Westinghouse Air Brake Logo Shirt
Printed on Front
100% Cotton
Shirt Color - Westinghouse Grey
The Westinghouse Air Brake Company was established by George Westinghouse in 1869. The Air Brake plant was moved to Wilmerding, Pennsylvania in 1889.[3] Wilmerding is a small town about 14 miles outside of Pittsburgh which, at the time, was only inhabited by about 5,000 people. Socialism was strong in Wilmerding and it was a peaceful non-violent farming borough. It was thought to be "The Ideal Town" for the company because of its location right along the Pennsylvania Railroad and its mainly blue collar inhabitants. The Air Brake Company employed 3,000 citizens from the surrounding Pittsburgh area, but its work force was composed almost entirely of individuals from Wilmerding.[3]

This stretch of lightly populated farmland known as Wilmerding developed completely around this new and industrially important company and was finally put on the map. A little under one third of its population was somehow related and more often than not one would end up raising their children in the same home that they were raised in. After the company's development business thrived.[4] Many of the passengers that were departing or coming into Wilmerding stopped to shop at these stores along the narrow sidewalk before heading home. One could get anything from hair cuts to comic books, groceries to lumber; Wilmerding was where you would find it.

Working conditions at the Westinghouse Air Brake Company (WA&B) were more than adequate and the company had many new developments in effect for its employees. In 1869 it was one of the first companies to institute a 9-hour work day and a 55-hour work week (typically working days were between 10 and 12 hours, sometimes more, during that era, and a 60-hour work week was only moderate).[3] WA&B also got the reputation for being the first industry in America to adopt half holidays on Saturday afternoons. A series of welfare options were also instituted to better the working and living conditions of its employees.

The Air Brake plant was obviously very prosperous and was nothing far from a gift for this small town. By 1905 over 2,000,000 freight, passenger, mail, baggage, and express cars and 89,000 locomotives were equipped with the Westinghouse Air Brakes. But just as in all big businesses, it had its ups and downs. There was one general complaint among the Wilmerding business men. It was that only about half of the workers could find work during the non-busy season. This made sense since these men and women depended entirely on the company. When the economy struggled and profits in the company declined, workers then had to alter their standard of living. Wilmerding's prosperity and misfortune all depended on the success of the Air Brake Company and when the company was failing the citizens just had to try and adjust to its losses.

During this time, in the early 1900s, the Westinghouse Company built houses on a tract of land that it had purchased, in turn, it then sold those homes to its workers cheaply. The company also offered educational and cultural activities, usually run through the local Y.M.C.A, to obtain better workers. WA&B catered to those who were not exactly fit in its working conditions. To insure a certain income to employees who might have been unfit for work because of illness or injury, an ordered sum would be paid to the beneficiary. Any employee under 50 was eligible for membership after a physical examination. The members contributed according to the class which they belonged, with their class being determined by the amount of money they made per month. Their contribution ranged from fifty cents to $1.50, which in turn in case of disability would receive benefits for thirty-nine consecutive weeks.[5] According to Wilmerding News during this time, about 76% of WA&B's employees held a membership with the company.

The Westinghouse Air Brake company was still producing products up until around the year 2000, under several different managers over the years. The company had become significantly less important with the shedding of Pittsburgh's industrial past, but continued manufacturing its products.[6]
---
Share this Product