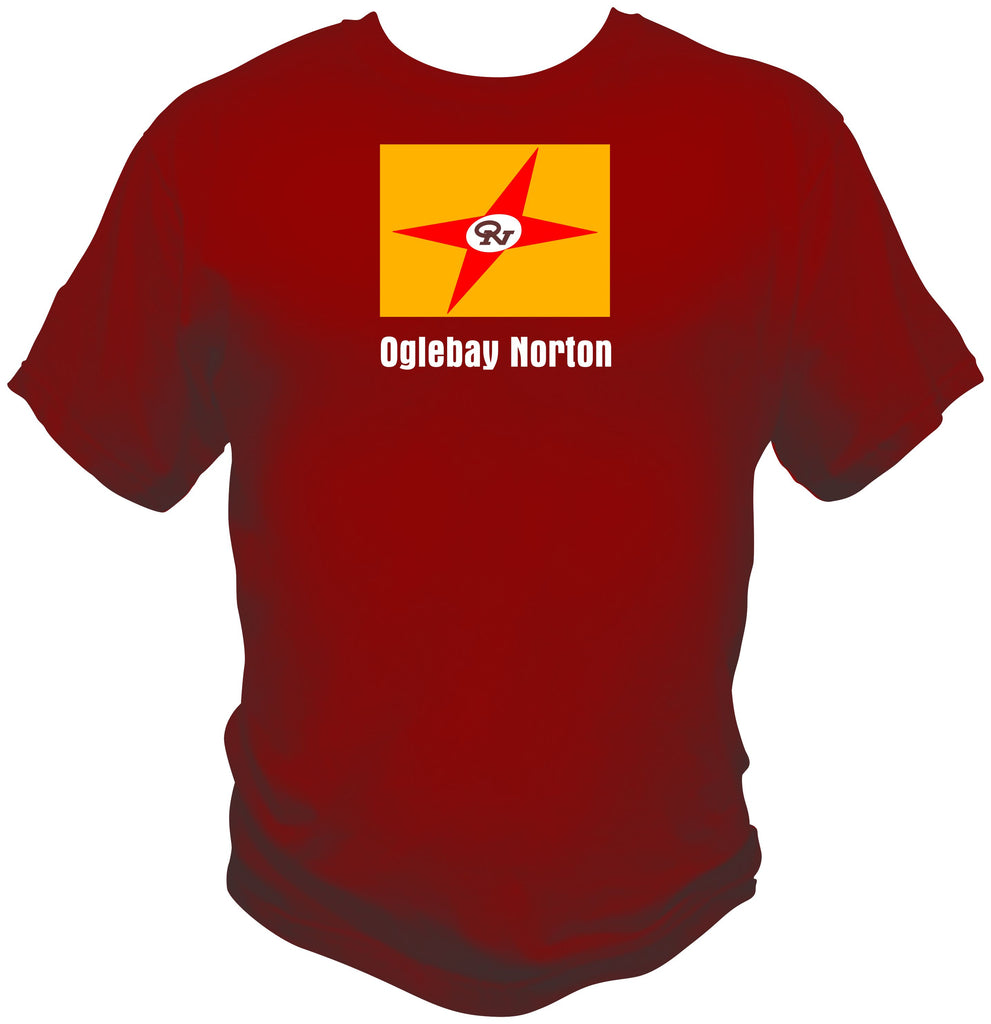 Oglebay Norton Corporation Logo Shirt
---
 Oglebay Norton Corporation Logo Shirt
Printed on Front
100% Cotton
Shirt Color - ON red
The company's roots go back to 1851, when Hewitt & Tuttle, an iron ore brokerage, formed a shipping subsidiary.[1] after several mergers over the years, the firm became Oglebay, Norton in 1890, named for Earl Oglebay and David Z. Norton. The company was incorporated in 1924[1] Oglebay Norton was acquired by Carmeuse Lime & Stone, Inc. in 2008.[2]<ref>"After 154 years, Oglebay Norton leaving Cleveland". Cleveland.com.
Chronological Company Timeline
1854: H.B. Tuttle & Co., predecessor to Oglebay Norton, created as a two-partner iron ore agency.
1855: John D. Rockefeller hired at $3.50 a week. Quits later over salary dispute.
1884: New partnership formed when Wheeling, W.Va., industrialist Earl W. Oglebay joins firm.
1890: Cleveland banker David Z. Norton joins; Oglebay, Norton & Co. formed.
1890: Company starts to manage Rockefeller's ore properties on the Mesabi Range in Minnesota.
1921: Company assembles its first Great Lakes shipping fleet with 11 freighters.
1975: Oglebay-owned ship, the Edmund Fitzgerald, sinks in Lake Superior.
February 1998: John Lauer takes over as CEO; stock is around $40; company has $52 million in debt. He completes half-dozen acquisitions in first 18 months, pushing company into limestone business.
April 1998: Stock reaches all-time high, $50.50.
2000: Company buys Michigan Limestone Operations; MLO executive Michael Lundin begins rise at Oglebay.
2002: Recession and weak construction market pummel stock to $3. Debt rises to more than $400 million. Lundin becomes CEO.
January 2004: Company misses bond interest payment.
February 2004: Oglebay files for Chapter 11 bankruptcy protection. Week later, stock falls to less than $1, delisted from Nasdaq stock exchange.
January 2005: Company exits bankruptcy after reorganizing finances and reducing debt to $275 million.
August 2006: Last three freighters sold to another Great Lakes shipper; Oglebay to concentrate on limestone and lime.
July 2007: Harbinger Capital Partners launches $31-a-share hostile takeover. Oglebay adopts anti-takeover plan.
September 2007: Oglebay says it has multiple proposals to buy the company for more than Harbinger's bid.
October 2007: Subsidiary of Belgian-based Carmeuse Group, global producer of lime, agrees to buy Oglebay for $36 a share.
November 2007: Oglebay shareholders approve merger with Carmeuse.
Feb. 8, 2008: Announcement that Carmeuse has antitrust approval to buy Oglebay.
---
Share this Product
---
More from this collection