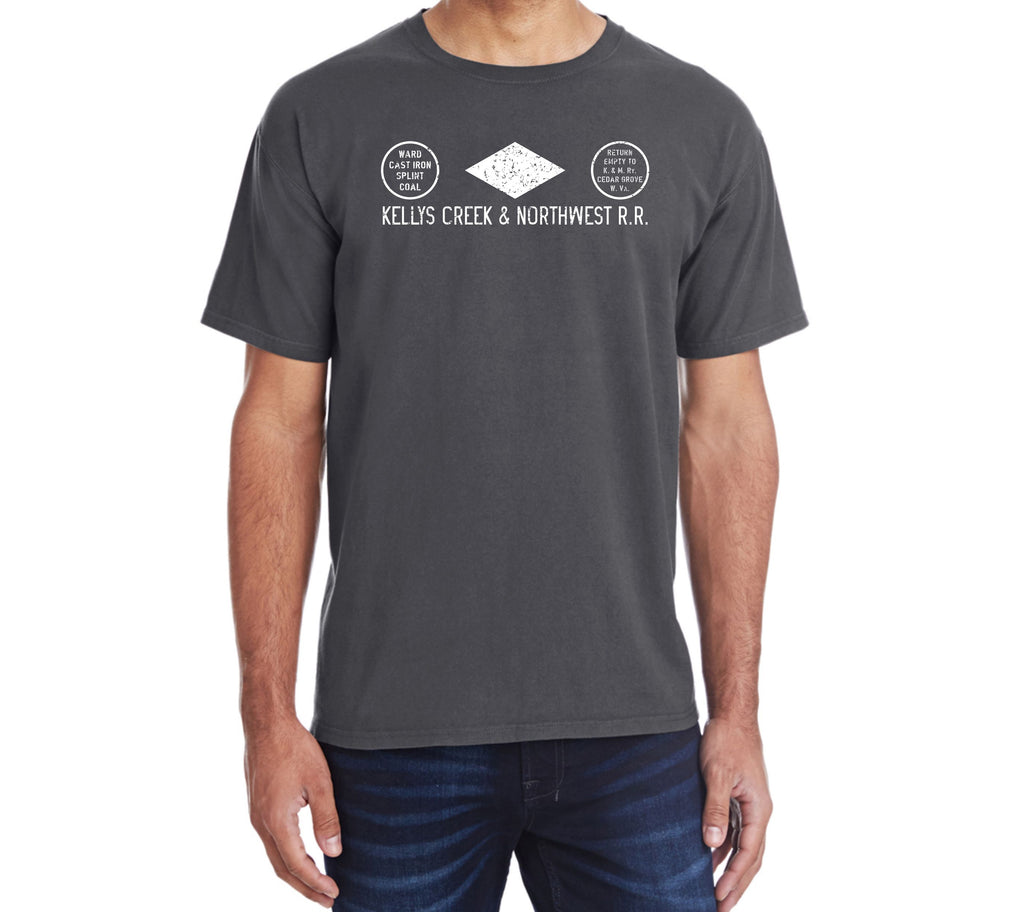 Kellys Creek & Northwest Railroad Faded Glory Shirt
---
Kellys Creek & Northwest Railroad Faded Glory Shirt
Printed on Front
100% Cotton
Shirt Color - Railroad Grey Comfort Wash Hanes 100% Cotton
The railroad of the Kelly's Creek and Northwestern Railroad Company, hereinafter called the carrier, is a single-track standard-gauge steam railroad, located in West Virginia. The main line extends from Cedar Grove to the Lewis mines, about 2 miles east of Ward, W. Va., a distance of 6.792 miles. The carrier also owns 1.383 miles of yard tracks and sidings. Its road thus embraces 8.175 miles of all tracks owned. The entire right of way of this railroad is leased from the Kellys Creek Colliery Company. The carrier is an industrial railroad, serving principally the coal mines of the Kellys Creek Colliery Company, which controls the railroad.
The carrier was incorporated May 9, 1903, under the general laws of the State of West Virginia for the purpose of constructing and operating a railroad from Cedar Grove to Sutton, W. Va. The date of organization of the carrier has not been ascertainable from the records reviewed.

DEVELOPMENT OF FIXED PHYSICAL PROPERTY
The owned mileage of the carrier, 6.792 miles, not including right of way, was all acquired by construction. The years when the various portions of the line were constructed are indicated in the following statement:

Cedar Grove to coal mine No. 2, 1903-1904-1905 3.25
Coal mine No. 2 to Lewis coal mines, 1911 3.10
Total 6.35
Difference between total recorded mileage and mileage inventoried as of date of valuation .442
Mileage inventoried as of date of valuation 6.792
The entire right of way that forms a part of the railroad railroad of the carrier is owned by the Kellys Creek Colliery Company, the company that constructed the railroad for mining.
---
Share this Product
---
More from this collection