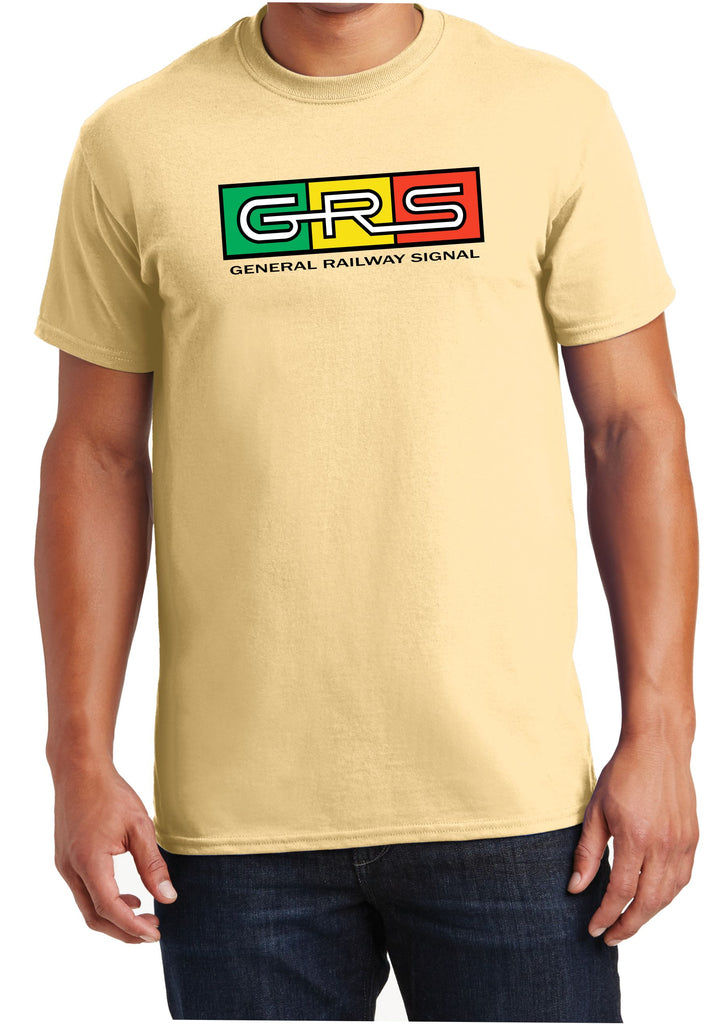 General Railway Signal Logo Shirt
---
General Railway Signal Logo Shirt  

Printed on Front
Gildan 100% Cotton 6.1 oz
Shirt Color - Vegas Gold
GRS was founded in 1904 with the merger of three companies (Pneumatic Signal Company of Rochester, New York, Taylor Signal Co. of Buffalo, New York and Standard Railroad Signal Company of Arlington, New Jersey). In 1923 GRS acquired the Federal Signal Company of Albany, New York.[2]


Company's former logo.
General Railway Signal was one of the 30 stocks when the Dow Jones Industrial Average[3] was expanded from a 20-stock average on October 1, 1928. It was replaced in the DJIA by Liggett & Myers on July 18, 1930. In 1965, General Signal Corporation (GSX) was created with the intent to diversify into areas other than railway signaling. GRS was a wholly owned subsidiary of GSX.

In 1960, GRS opened the "General Railway Signal Company de Argentina" (GRSA) division in Buenos Aires, which provided manufacture, installation and technical support of GRS railroad signalling systems in Argentina. Some local railroad lines that were provided with GRSA products were Belgrano Norte, Belgrano Sur, Urquiza and Sarmiento. Most of the signals remain active. Among their products are railroad crossing signalling parts, branded with the GRSA logo, instead of the usual GRS. This facility was closed in the early 1980s.

In 1986, GRS joined with China National Railway Signal & Communication Group Corporation (CRSC) to form the Chinese-American Signal Company (CASCO) in Shanghai, China, which produces products and systems for railways in the People's Republic of China.[4]

In 1989, GRS was acquired by the Italian company Sasib and joined the Sasib Railways group. From its founding until 1993, GRS main office and manufacturing facilities were located at 801 West Avenue in Rochester. In 1993, it moved to two new suburban facilities: administration and engineering to Sawgrass Drive in Brighton, and manufacturing to John Street in West Henrietta. In 1998, it became part of Alstom, when Alstom acquired Sasib Railways.[1] The GRS name is no longer used. All products now use the Alstom brand.
Shirts are printed in cycles based on demand, and typical turn-around is 7-10 business days.  Depending on other factors, the turn-around could be longer.  You will be notified if the expected ship date is longer than 10 business days from your order. 
*Image is a representation and may not be exact
---
Share this Product
---
More from this collection