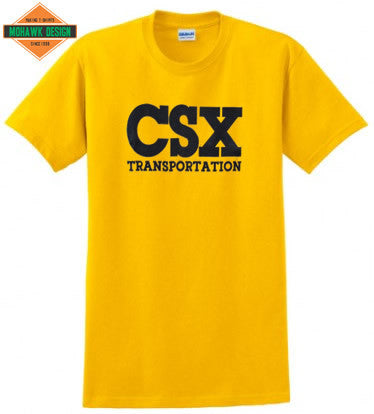 ---
CSX Transportation Shirt                                        
- Printed on Front
CSX Corporation was formed on November 1, 1980, by combining the railroads of the former Chessie System with Seaboard Coast Line Industries.[4]


Original logo for the CSX Corporation, emphasizing the "multiplication symbol" X
The name came about during merger talks between Chessie System and SCL, commonly called "Chessie" and "Seaboard". The company chairmen said it was important for the new name to include neither of those names because it was a partnership. Employees were asked for suggestions, most of which consisted of combinations of the initials. At the same time a temporary shorthand name was needed for discussions with the Interstate Commerce Commission. "CSC" was chosen but belonged to a trucking company in Virginia. "CSM" (for "Chessie-Seaboard Merger") was also taken. The lawyers decided to use "CSX", and the name stuck. In the public announcement, it was said that "CSX is singularly appropriate. C can stand for Chessie, S for Seaboard, and X, which actually has no meaning." However, an August 9, 2016, article on the Railway Age website stated that " ... the 'X' was for 'Consolidated' ".[5] The T had to be added to CSX when used as a reporting mark because reporting marks that end in X means that the car is owned by a leasing company or private car owner. The company introduced its current slogan, "How Tomorrow Moves", in 2008.[6]

The originator of SCL was the former Seaboard Air Line Railroad, which previously merged with the Atlantic Coast Line Railroad in 1967 to form the Seaboard Coast Line. In later years, it merged with the Louisville & Nashville Railroad, as well as several smaller subsidiaries such as the Clinchfield Railroad, Atlanta & West Point Railroad, Monon Railroad and the Georgia Railroad. From the late 1960s onward these railroads were known collectively as the Family Lines. In 1982, they were merged into a single railroad, the Seaboard System Railroad.[4]

The origin of the Chessie System was the former Chesapeake & Ohio Railway, which had merged with the Baltimore & Ohio Railroad, and the Western Maryland Railway.[4]

Despite the merger in 1980, CSX Transportation never had its own identity (meaning no CSX painted locomotives or rolling stock) as a common carrier railroad until 1986. In that year, Seaboard System changed its name to CSX Transportation. On April 30, 1987, the B&O merged into the C&O. With the Western Maryland having already merged into the C&O, this left the C&O as the sole operating railroad under the Chessie System banner. Finally, on August 31, 1987, C&O/Chessie System merged into CSX Transportation, bringing all of the major CSX railroads under one banner.
Shirts are printed in cycles based on demand, and typical turn-around is 5-7 business days.  Depending on other factors, the turn-around could be longer.  You will be notified if the expected ship date is longer than 7 business days from your order. 
*Image is a representation and may not be exact
---
Share this Product
---
More from this collection