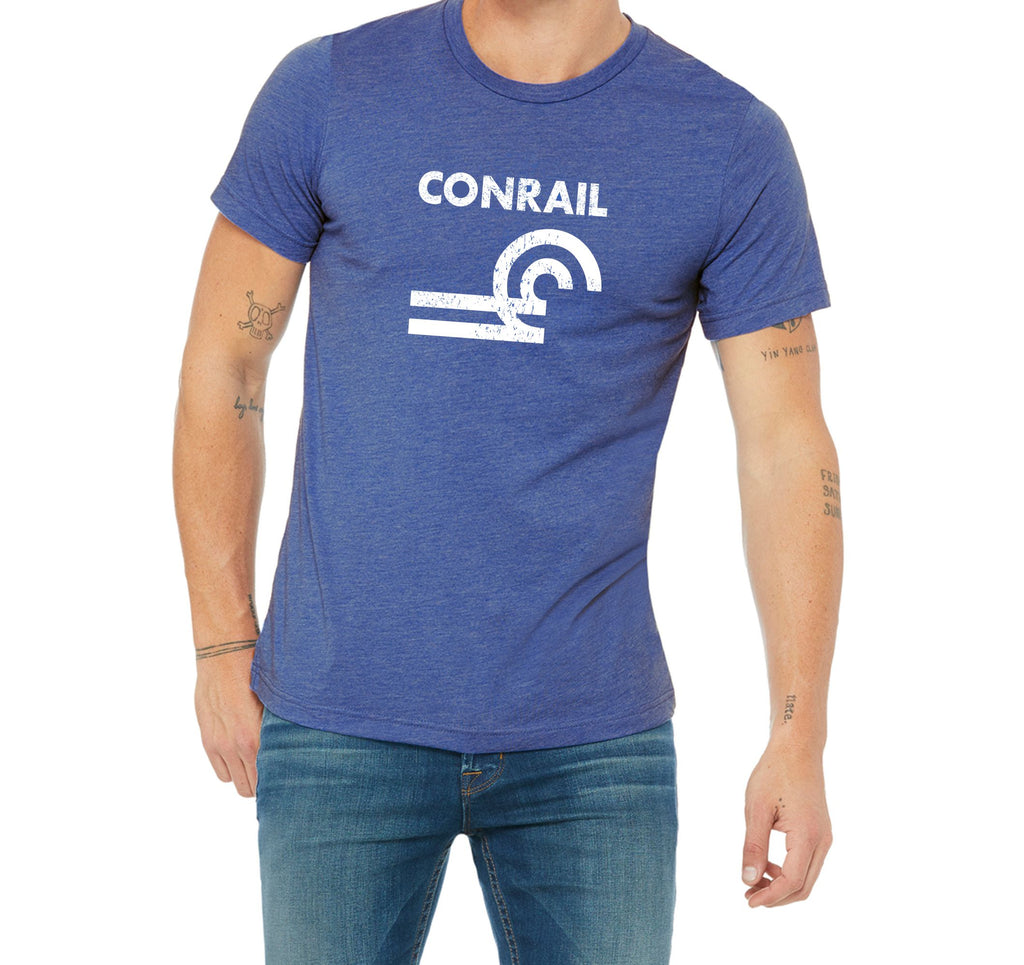 Conrail Faded Glory Shirt
---
Conrail Faded Glory Shirt
Printed on Front

4.2 oz., 52% airlume combed and ringspun cotton, 48% polyester, 32 singles

Shirt Color - Heather True Royal, 

Bella + Canvas Unisex shirt
 Conrail (formally the Consolidated Rail Corporation, with reporting mark CR) was the primary Class I railroad in the Northeastern United States between 1976 and 1999. The trade name Conrail is a portmanteau based on the company's legal name, and while it no longer operates trains, it continues to do business as an asset management and network services provider in three Shared Assets Areas that were excluded from the division of its operations during its acquisition by CSX Corporation and the Norfolk Southern Railway.

The Federal Government created Conrail to take over the potentially-profitable lines of multiple bankrupt carriers, including the Penn Central Transportation Company and Erie Lackawanna Railway. After railroad regulations were lifted by the 4R Act and the Staggers Act, Conrail began to turn a profit in the 1980s and was privatized in 1987. The two remaining Class I railroads in the East, CSX Transportation and the Norfolk Southern Railway (NS), agreed in 1997 to acquire the system and split it into two roughly-equal parts (alongside three residual shared-assets areas), returning rail freight competition to the Northeast by essentially undoing the 1968 merger of the Pennsylvania Railroad and New York Central Railroad that created Penn Central. Following approval by the Surface Transportation Board, CSX and NS took control in August 1998, and on June 1, 1999 began operating their respective portions of Conrail.

The old company remains a jointly-owned subsidiary, with CSX and NS owning respectively 42 percent and 58 percent of its stock, corresponding to how much of Conrail's assets they acquired. Each parent, however, has an equal voting interest. The primary asset retained by Conrail is ownership of the three Shared Assets Areas in New Jersey, Philadelphia, and Detroit. Both CSX and NS have the right to serve all shippers in these areas, paying Conrail for the cost of maintaining and improving trackage. They also make use of Conrail to perform switching and terminal services within the areas, but not as a common carrier, since contracts are signed between shippers and CSX or NS. Conrail also retains various support facilities including maintenance-of-way and training, as well as a 51 percent share in the Indiana Harbor Belt Railroad.
---
Share this Product
---
More from this collection