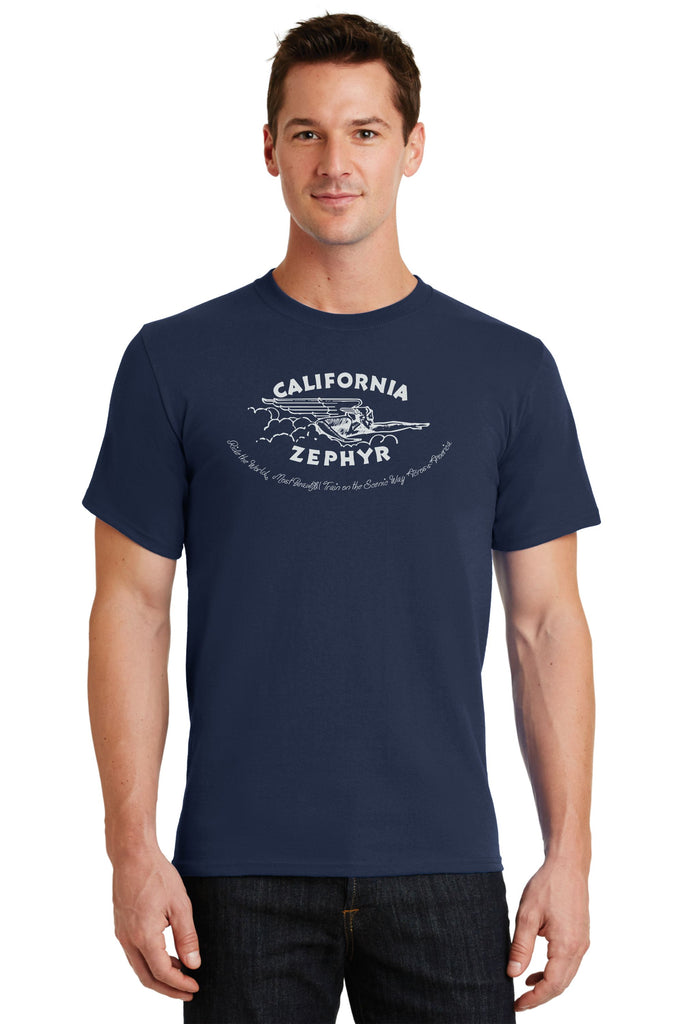 California Zephyr Logo Shirt
---
California Zephyr Logo Shirt    
100% Cotton Shirt
Printed Front Only   
Color Navy                            
Individually, the three roads could not offer a flagship, transcontinental streamlined train such as the Santa Fe, Union Pacific, Southern Pacific, Great Northern, Northern Pacific, or even the Milwaukee Road. The Burlington provided the longest stretch of unbroken territory reaching as far west as Denver. The railroad was also the gateway to Chicago, the key to any successful long-distance passenger train; without large markets at each end point no train would garner considerable patronage and there was no bigger market than the Windy City. The Burlington understood this (as did all other western lines) and already worked with allying roads GN and NP to provide service from Chicago to the Pacific Northwest with popular trains like the North Coast Limited and Empire Builder. In a first within the industry, and perhaps only time it proved wildly successful, the California Zephyr was routed specifically as a scenic train. It sacrificed speed for viewing and the concept proved a huge success.
In December of 1945 all three agreed on what was dubbed the California Zephyr. In 1947 they placed an order for six sets of stainless-steel cars from the Budd Company, all of which carried a western theme but with the prefix "Silver" as per Burlington's standards.  As the authors point out in "Streamliners," each CZ trainset normally consisted of a baggage, three reclining-set Vista-Domecoaches, a Vista-Dome dormitory-buffet-lounge, diner, four sleepers, and the Vista-Dome sleeper-lounge observation bearing the train's famous neon "California Zephyr" drumhead featuring the Golden Gate Bridge. Officially, the new train debuted on March 20, 1949 when the first eastbound consist, train #18, departed from Oakland under the Western Pacific.  It was immediately splashed as "The most talked about train in America" and despite its slower schedule the use of new lightweight cars and diesels enabled the CZ to sped up its running times from 60 hours, under the Exposition Flyer, to just 51 hours.
Shirts are printed in cycles based on demand, and typical turn-around is 5-7 business days.  Depending on other factors, the turn-around could be longer.  You will be notified if the expected ship date is longer than 7 business days from your order. 
*Image is a representation and may not be exact
---
Share this Product
---
More from this collection