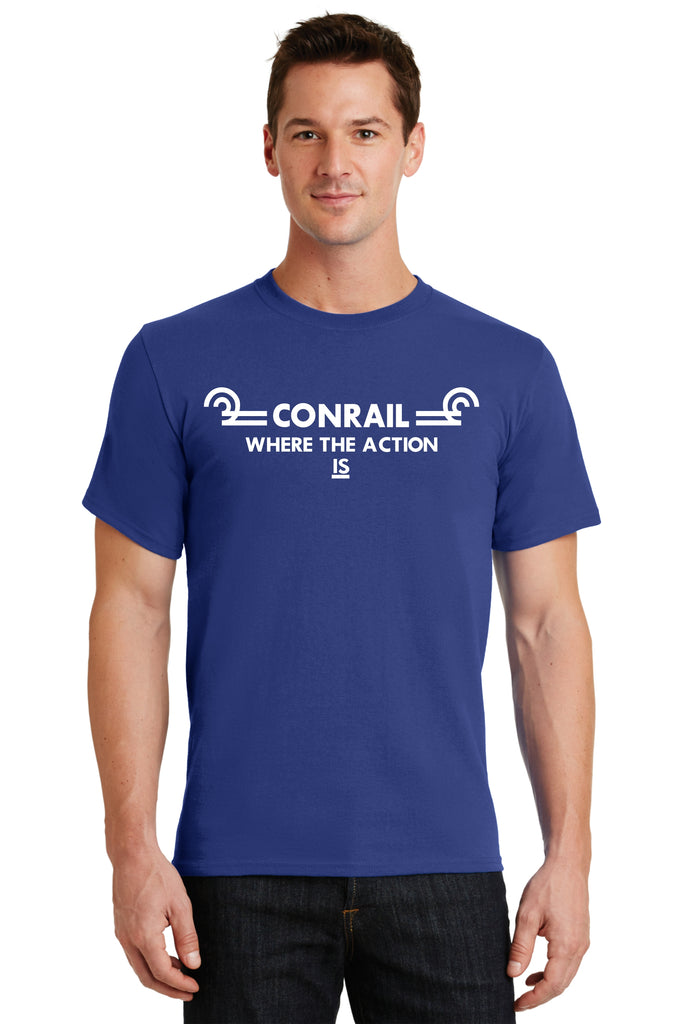 Conrail "Where the action is" Shirt
---
 Conrail "Where the action is"Shirt                             
Printed on Front

100% cotton 

Color Deep Marine
The Consolidated Rail Corporation, commonly known as Conrail, was the primary Class I railroad in the Northeast U.S. between 1976 and 1999. Conrail is a portmanteau of "consolidated" and "rail" from the name of the company.
The U.S. federal government created Conrail to take over the potentially profitable lines of multiple bankrupt carriers, including the Penn Central Transportation Company and Erie Lackawanna Railway. With the benefit of industry-wide regulatory requirements being reduced (via the 4R Act and the Staggers Act), Conrail began to turn a profit in the 1980s and was turned over to private investors in 1987. The two remaining Class I railroads in the East, CSX Transportation and the Norfolk Southern Railway (NS), agreed in 1997 to split the system approximately equally, returning rail freight competition to the Northeast by essentially undoing the 1968 merger of the Pennsylvania Railroad and New York Central Railroad that created Penn Central. Following Surface Transportation Board approval, CSX and NS took control in August 1998, and on June 1, 1999, began operating their portions of Conrail. (Credit - Wikipedia)
 Shirts are printed in cycles based on demand, and typical turn-around is 5-7 business days.  Depending on other factors, the turn-around could be longer.  You will be notified if the expected ship date is longer than 7 business days from your order. 
*Image is a representation and may not be exact
---
Share this Product
---
More from this collection