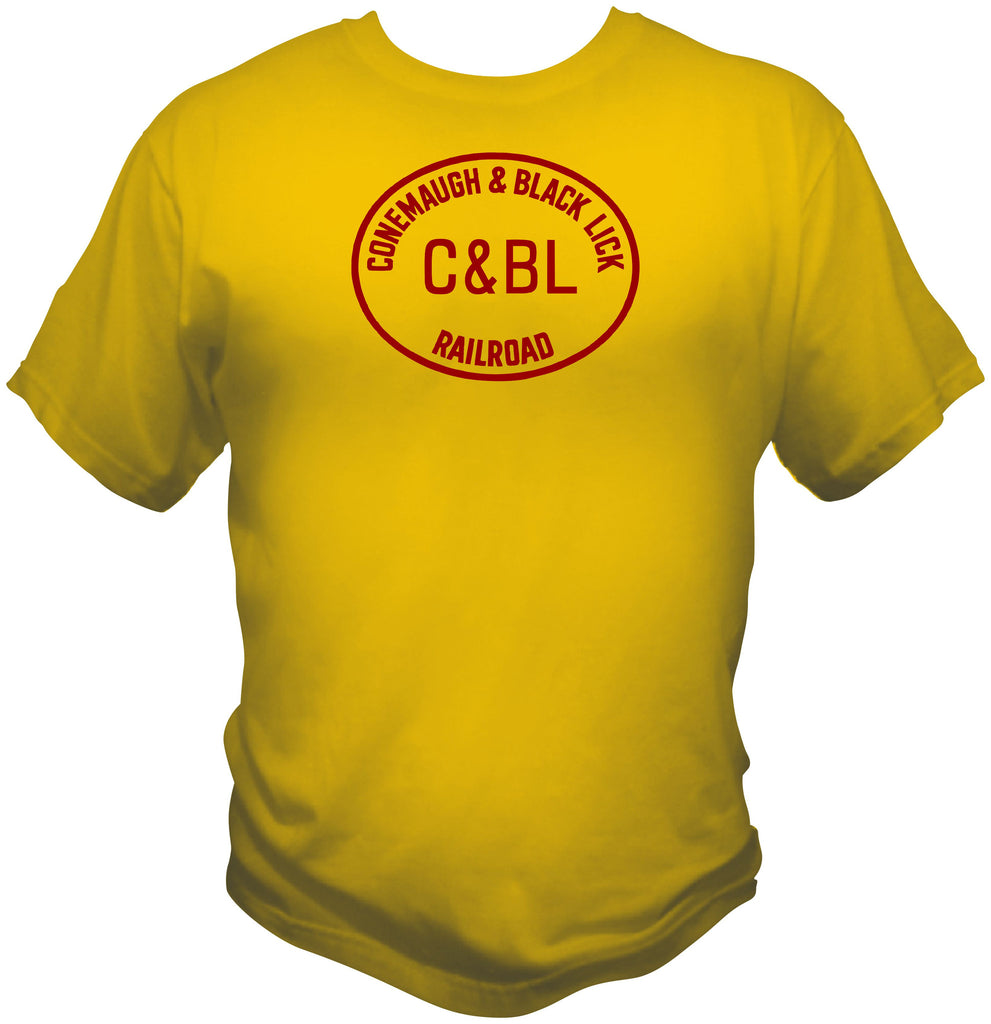 Conemaugh & Black Lick Railroad Logo Shirt
---
Conemaugh & Black Lick Railroad Logo Shirt
Logo Printed on Front
100% Cotton
Shirt Color - C&BL Yellow
The Conemaugh & Black Lick Railroad Company, hereinafter called the carrier, operates a standard-gage, steam switching railroad, in and near the corporate limits of the city of Johnstown, Pa. The road is divided into three segments called respectively the Western, Northern, and Hinckston divisions. Due to the peculiar layout of the property there are eight main tracks. The owned property consists of 2.133 miles of first main track and 0.593 mile of yard tracks and sidings located at the northern end of the Hinckston division. The property comprising the Western and Northern divisions and southerly portion of the Hinckston division is owned by the Cambria Iron Company but subleased to the carrier by the Bethlehem Steel Products Company. The leased mileage consists of 7.030 miles of first, 8.489 miles of second, 1.009 miles of third, 0.144 mile of fourth, 0.814 mile of fifth, [where'd sixth go?] 0.976 mile of seventh, and 0.450 mile of eighth main tracks, and 30.786 miles of yard tracks and sidings. The operated road aggregates 52.424 miles of all tracks as classified in the trackage table in appendix 1.



CORPORATE HISTORY
The carrier was incorporated December 31, 1923, under general laws of Pennsylvania and was organized on January 14, 1924.

DEVELOPMENT OF FIXED PHYSICAL PROPERTY
Of 2.133 miles of road owned, approximately 1.803 miles was purchased from Bethlehem Steel Products Company and 0.33 mile from Manufacturers Water Company, as authorized in 94 I.C.C. 443, 450.The railway was operated by Bethlehem Steel.
---
Share this Product
---
More from this collection