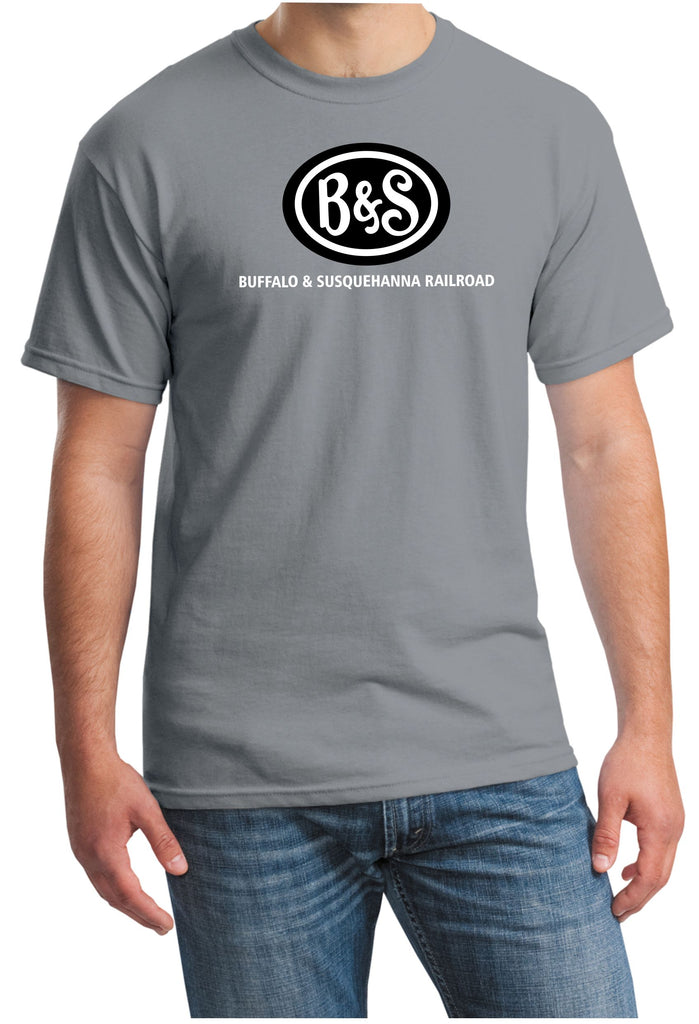 Buffalo & Susquehanna Railroad Logo Shirt
---
Buffalo & Susquehanna Railroad Logo Shirt
Logo Printed on Front
Gildan 100% Cotton 5.3 oz
Shirt Color - Gravel
The Buffalo and Susquehanna Railroad was a railroad company that formerly operated in western and north central Pennsylvania and western New York states. It was created in 1893 by the merger and consolidation of several smaller logging railroads.[1] It operated independently until 1929, when a majority of its capital stock was purchased by the Baltimore and Ohio Railroad. At the same time, the B&O also purchased control of the neighboring Buffalo, Rochester, and Pittsburgh Railway. The Baltimore and Ohio officially took over operations of both roads in 1932.[2]

In 1954, the Buffalo and Susquehanna Railroad and its remaining subsidiaries were formally merged into the Baltimore and Ohio system.[3] Then in 1956, the Baltimore and Ohio sold the remaining 97 miles (156 km) of former Buffalo and Susquehanna track to the H. E. Salzberg Company, who organized the Wellsville, Addison and Galeton Railroad to operate the line. The line was finally abandoned in 1979.

The Buffalo and Susquehanna Railroad was created and constructed by Frank H. Goodyear, a Buffalo fuel dealer, to move his lumber and coal from north central Pennsylvania to his businesses and companies in Buffalo, New York. The line was started in Keating Summit, PA, and extended into Galeton, where it branched off to Wellsville, Addison, and Ansonia. The Wellsville branch was briefly extended to Buffalo, New York. Near Keating Summit, the line was extended south from Wharton, through Du Bois, terminating 75 miles (121 km) south at Sagamore, Pennsylvania. At its peak, the railroad ran 250 miles (400 km) from Buffalo to Sagamore, Pennsylvania and had more than 400 miles (640 km) of track.
---
Share this Product
---
More from this collection