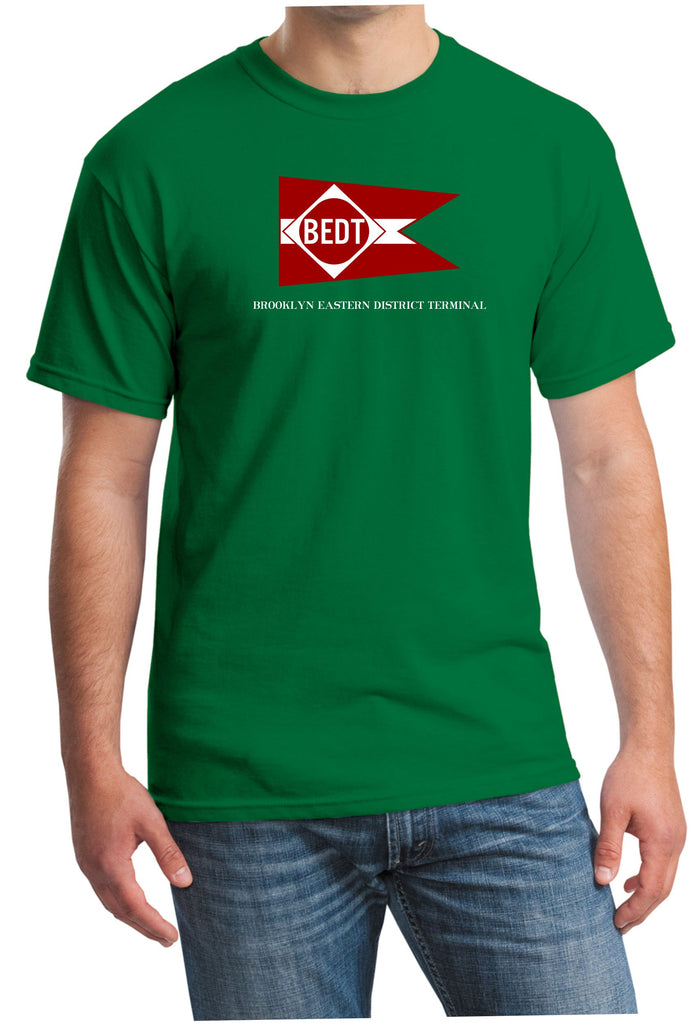 Brooklyn Eastern District Terminal Logo Shirt
---
Brooklyn Eastern District Terminal Logo Shirt
Logo Printed on Front
Gildan 100% Cotton 5.3 oz
Shirt Color - Turf Green
The BEDT was first organized in 1906 as a marine and navigation company independent of the railroad operations of the East River Terminal Railroad, incorporated in 1907, but its parentage precedes that date to the company Palmer's Docks. Palmer's Docks was the original combined rail-marine operation and from all research to date, it was the first rail-marine terminal to operate in Brooklyn.

The BEDT was not large, with a cumulative total of 11 miles (18 km) of track at its peak. BEDT however had many locomotives, and was 100% steam powered until 1963. It would be the largest of the four independent rail-marine terminals in Brooklyn, the others being Bush Terminal Company, Jay Street Terminal (Jay Street Connecting Railroad), and New York Dock Railway.

Throughout its history, the BEDT would have no less than six floatbridges along the Brooklyn waterfront, located at North 3rd Street, North 5th Street, North 6th Street, North 9th Street, Wallabout Market (1935-1941) and Brooklyn Navy Yard (after 1941). The company maintained one floatbridge in Queens at Pidgeon Street and one in New Jersey at Warren Street (1910 – ca. 1929). There was one pier station at Queensboro Terminal in Queens at 14th street in Long Island City. Wallabout Market opened around 1933 and was eventually merged with Navy Yard operations in 1941. Queensboro Terminal had a long run, opening in 1914 and closing around 1930.

For most of its history, the BEDT operated around the clock; Monday through Saturday with occasional Sunday operations. In its later years, days of operations were reduced to Monday through Friday with occasional Saturday operations.

The BEDT is famous for being the last operator of steam locomotives for freight service in New York, with steam locomotive operations ceasing on October 25, 1963. Operations continued until 1983 with diesel locomotives.
---
Share this Product
---
More from this collection