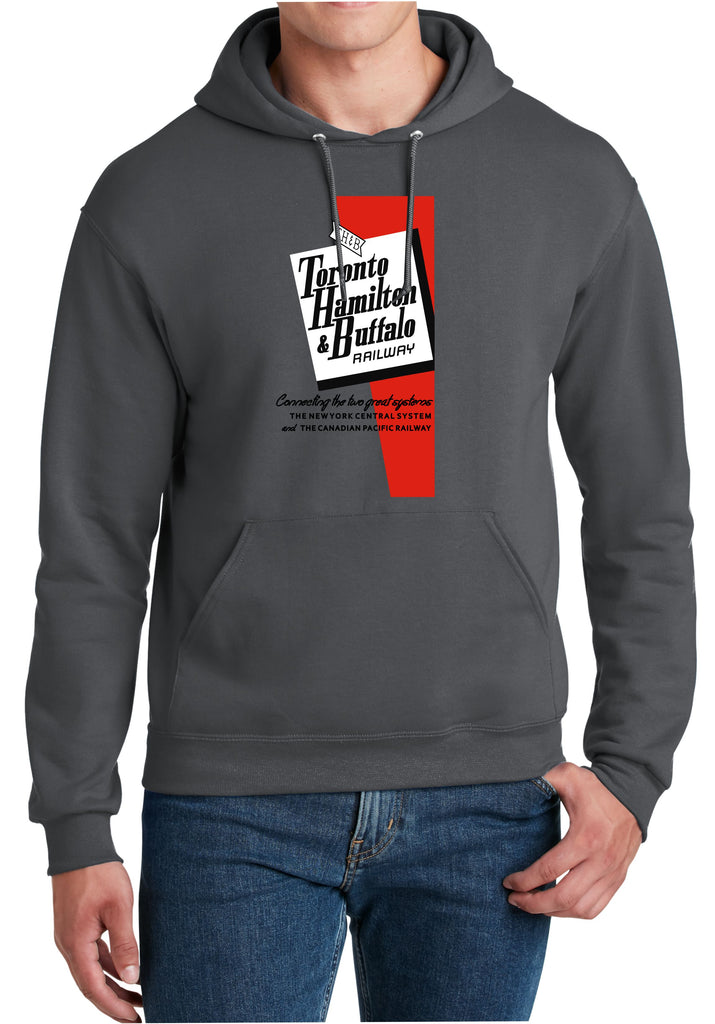 Toronto Hamilton & Buffalo Railway Logo Hoodie
---
 Toronto Hamilton & Buffalo Railway Logo Hoodie    
9-ounce, 50/50 cotton/poly fleece, Port & Company PC90H

Printed Front Only   
Color Charcoal Grey                           
 The railway was originally chartered in 1884 by the Ontario Legislative Assembly to run from Toronto to the International Railway Bridge, connecting with local lines to Buffalo. The original charter forbade the company any attempt to merge with, lease from, sell to, or pool with any other railway. Given the business conditions at the time, this turned out to be an impossible condition. The original corporation was unable to complete the line before the original charter expired, so the government revived the act, requiring the line to be completed by 1894, with a new group of promoters.

It began operations in 1892, when it took over the incomplete line of the Brantford, Waterloo & Lake Erie Railway between Brantford and Waterford. The line reached Hamilton in October, 1894 and Welland on December 30, 1895.

In 1895, the Canadian Pacific Railway and the New York Central Railroad bought the TH&B.


TH&B locomotive No. 22 with crew, circa 1900-1910.
The TH&B was jointly owned by the CPR and the NYC for several decades. NYC and its subsidiaries (Michigan Central Railroad and Canada Southern Railway) owned 73%, while the CPR owned the other 27%. It never built into Toronto or Buffalo, but used its parent companies' trackage to reach the two cities. Passenger service on the TH&B was discontinued on April 26, 1981 when Amtrak's Maple Leaf began service. In 1977, CP Rail acquired NYC's portion (at that point part of the bankrupt Penn Central giving the CPR 90% ownership and destined not to be included in Conrail) which held a 10% ownership, The CPR merged the TH&B into its system in 1987. While the TH&B line between Hamilton and Welland is still in use, its former line west of Hamilton to Waterford via Brantford has been abandoned past Aberdeen Avenue in Hamilton. The portion between Hamilton and Brantford was abandoned in the 1990s after trackage next to the Grand River was washed out. Some former TH&B industrial trackage still remains in the city of Brantford, although it is now operated by Canadian National Railway.

Increased operating costs, and tighter profit margins in that decade meant the future of the railroad was much in doubt. The TH&B Railway was merged into the Canadian Pacific Railway on January 1, 1987.

A portion of the branch of the former TH&B railroad (CP's Dunnville Spur, built by the TH&B in 1914), running from Smithville to Port Maitland via Dunnville, was abandoned on May 7, 2001, when the Port Maitland Turn made its final run between Smithville and E & O on that line. Trains were redirected onto the former NYC CASO subdivision, at Welland, to the remainder of the Dunnville spur, via a new connecting track.
*Image is a representation and may not be exact
---
Share this Product
---
More from this collection