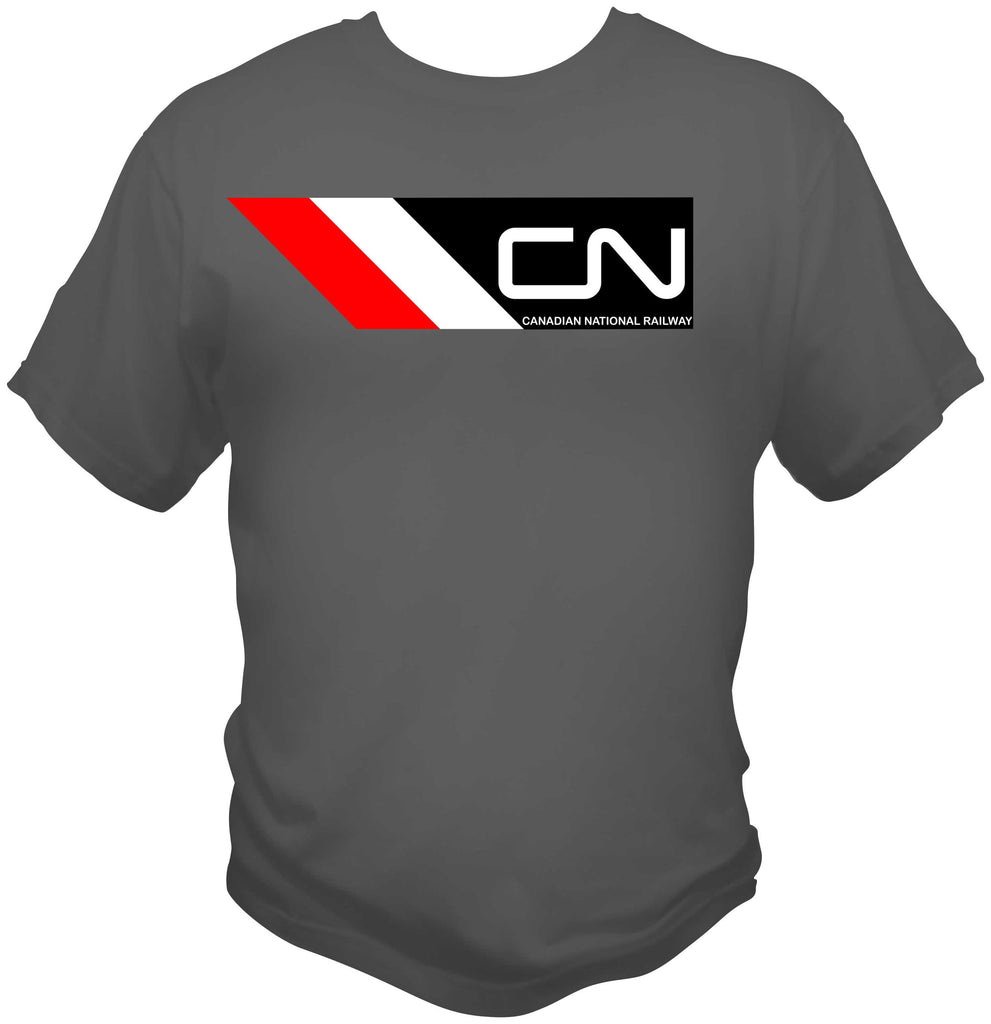 Canadian National Engine Logo Shirt
---
The Canadian National Railway Company (reporting mark CN) is a Canadian Class I railway headquartered in Montreal, Quebec that serves Canada and the Midwestern and Southern United States. CN's slogan is"North America's Railroad". CN is a public company with 24,000 employees.[1] It had a market capitalization of 32 billion CAD in 2011.[2] CN was government-owned, having been a Canadian Crown corporation from its founding to its privatization in 1995. Bill Gates was, in 2011, the largest single shareholder of CN stock.[2]
CN is the largest railway in Canada, in terms of both revenue and the physical size of its rail network, and is currently Canada's only transcontinental railway company, spanning Canada from the Atlantic coast in Nova Scotia to the Pacific coast in British Columbia. Its range once reached across the island of Newfoundland until 1988, when the Newfoundland Railway was abandoned.
Following CN's purchase of Illinois Central (IC) and a number of smaller US railways, it also has extensive trackage in the central United States along the Mississippi River valley from the Great Lakes to the Gulf of Mexico. Today, CN owns about 20,400 route miles (32,831 km) of track[3] in 8 provinces (the only two not served by CN are Newfoundland & Labrador and Prince Edward Island), as well as a 70-mile (113 km) stretch of track (seeMackenzie Northern Railway) into the Northwest Territories to Hay River on the southern shore of Great Slave Lake; it is the northernmost rail line anywhere within the North American Rail Network, as far north asAnchorage, Alaska (although the Alaska Railroad goes further north than this, it is isolated from the rest of the rail network).
The railway was referred to as the Canadian National Railways (CNR) between 1918 and 1960, and as Canadian National/Canadien National (CN) from 1960 to the present. From Wikipedia, the free encyclopedia.
Logo is printed on Charcoal Grey 100% cotton shirt
---
Share this Product
---
More from this collection